Urgent Meeting-Massive wind storm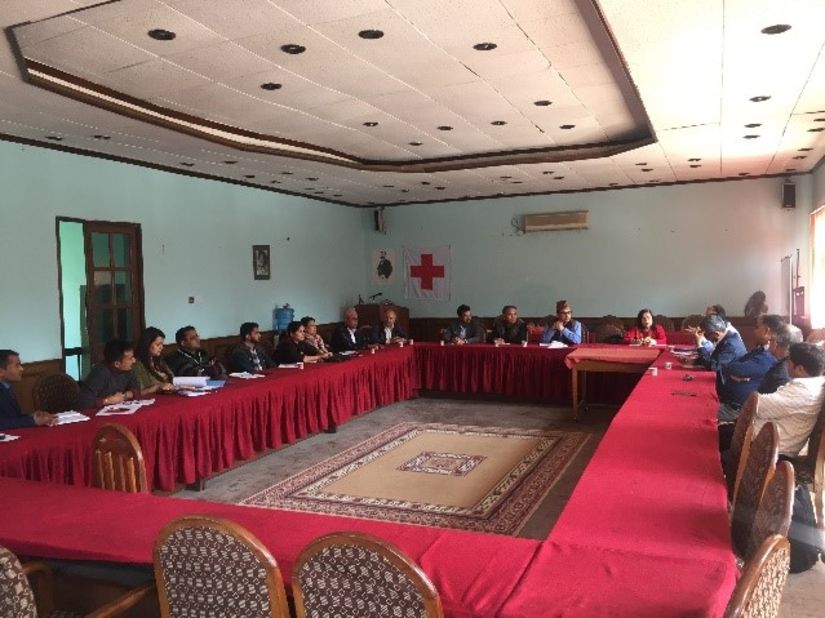 Meeting Minutes-Urgent meeting
With its' aim to discuss the relief, rescue and way forward regarding the massive storm that claimed 27 lives, leaving 400 people injured on 31st March 2019, the urgent meeting was organized by DPNet-Nepal on 1st April 2019. Altogether 19 participants representing member organizations of DPNet-Nepal participated in the meeting.
Major Updates and Discussions
Surya Bahadur Thapa, Chairperson of DPNet-Nepal welcomed all participants and briefly shared the situation update of the storm and opened the floor for discussions.

Ms. Mona Aryal, Director of Disaster Management Department of Nepal Red Cross Society shared the situation report about the loss of lives and information about the stockpiling and the decision of NRCS to support the storm affected people with NFI's, temporary shelter and food items. The Assessment Coordination Team is also deployed to support the Initial Rapid Assessment team. The assessment will be conducted through IRA application. She also shared that blood for the injured people will be provided free of cost.

Participants raised their concern regarding the coordination mechanism to avoid the duplication in response and the need of psycho-social counseling and support required for early recovery.

The government has provided the subsidized loan and supported the earthquake affected people to construct the house and doesn't provide the similar support in case of other disasters, so there is a need of advocacy on this regard.

Also, the provincial government has announced the monetary support for the family who has lost their loved one but similar support is not announced for the injured person, so there should be at least some support for the family of the injured person as well.

Member of DPNet-Nepal can be mobilized to establish a coordination desk at Bara to avoid the duplication in response.

There is a need to ensure the effective functioning of the Early warning system and circulate the information accordingly. There is a need to develop the EWS capacity of the government.

There is a data gap in event occurrence and response time. It's our responsibility to narrow down the gap and address it.

An emergency meeting of DPNet-Nepal has to be organized as soon as possible within two to three hours of the occurrence of the event.
Decisions
Coordination desk will be established by tomorrow morning at Bara by DPNet-Nepal in coordination with different stakeholders including DiMANN, NCDMC, NRCS for coordination and need assessment.

Since the storm season has just started and may last till the end of Jestha, so considering the possible loss and damage, DPNet-Nepal will request the government to strengthen the EWS and share the information accordingly.

DPNet-Nepal will organize an emergency meeting within five hours, either it is by webinar or physical presence.

DPNet-Nepal will request AINTGDM to support in establishing a coordination desk at Bara.