DISCUSSION ON "DISASTER AND CLIMATE CHANGE IMPACTS ON CHURE WATERSHEDS; ROLE OF LOCAL AND PROVINCIAL GOVERNMENT FOR CONSERVATION AND RESTORATION STRATEGIES"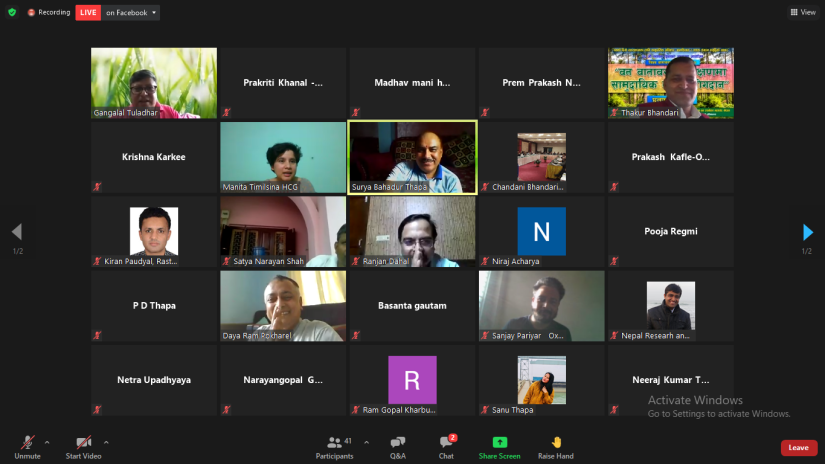 The webinar entitled "Disaster and Climate Change Impacts on Chure Watersheds; Role of Local and Provincial Government for Conservation and Restoration Strategies" was organized by DPNet in collaboration with Himalaya Conservation Group (HCG) on the occasion of 'World Environment Day'- June 5, 2021. Dr. Gangalal Tuladhar, Chairperson of HCG presented background information of the program. The program was chaired by Dr. Gangalal Tuladhar and Mr. Surya Bahadur Thapa, Chairperson of DPNet in the first half and second half respectively. Mr. Surya Bahadur Thapa welcomed the participants and facilitated the program. Mr. Prakash Kafle from OXFAM highlighted the objectives of the program. The Special Guests of the program was Chairperson of President Chure-Tarai Madhesh Conservation Development Board Dr. Kiran Paudyal. Altogether 108 participants comprising representatives of various sectors including academia, media, private sectors, development partners, project beneficiary group, government agencies joined the webinar.
Major Highlights
Dr. Kiran Paudyal highlighted on the importance of Chure conservation along with ecological restoration. Chure area is prone to disasters like landslide, flood and soil erosion which affect the upstream and downstream population, agriculture, land and watershed. So, these need to be addressed by local, provincial and national government for better conservation. Artificial ponds also help in conservation and management. He added that there should be focus on inclusive development with civil society organizations as well.

Dr. Manita Timilsina, Executive Manager of HCG gave presentation on "Major issues identified in the Mahuli and Chandi watershed, two typical watersheds of Chure". The objective of the study was to identify the effects of climate change and address frequent disaster in Mahuli and Chandi watershed. Her presentation included the effects of climate change on watershed, agriculture, forest, land and socio-economic factor. Certain increases in monsoon rain, fluctuation in temperature, over flowing of water were major problems addressed in those watersheds and these areas are highly vulnerable to landslide, flood and soil erosion but it was noted that the vegetation cover was increased in recent years.

Dr. Ranjan Kumar Dahal, Associate Professor of Tribhuvan University and Advisor of HCG gave presentation on "Role of local and province government for conservation and restoration strategies". He highlighted the scoping, upstream and downstream relationship, origin, history, river channel, rock and soil composition, sediment settlement and vulnerability of Mahuli and Chandi watershed. He addressed the problems of these areas such as flooding and flowing debris from upstream to downstream. He pointed about the positive aspects from the watershed such as water from watersheds could be used for irrigation, authentic agricultural food/goods could be beneficiary aspect, large biodiversity of species in watershed increase tourism and so on.
Major discussions
The discussion was based on conservation of forest resources. The idea about construction of artificial ponds also helps in forest conservation and watershed management.

Ecosystem based conservation and management should be practiced more by collaborating local and provincial government in Chure conservation

It was discussed about the role of Environment Protection Act, 1997 and Environmental Protection Rules in Chure conservation and ecological restoration.

Women and socially excluded group should be included in watershed conservation, management and restoration.

Mines needs to be used in the national level projects such as Nijgadh Fast Track Roads, hydro-electricity. So, as a piloting should be start from certain mines only and monitor the consequences caused due to extraction.
Closing
Mr. Surya Bahadur Thapa gave vote of thanks to, presenters, guests, support agencies and participants for their time and efforts.
Dr. Gangalal Tuladhar thanked all for participating in the webinar and requested for collective actions and effective implementation for disaster management and closed the program