Coordination for AMCDRR-2018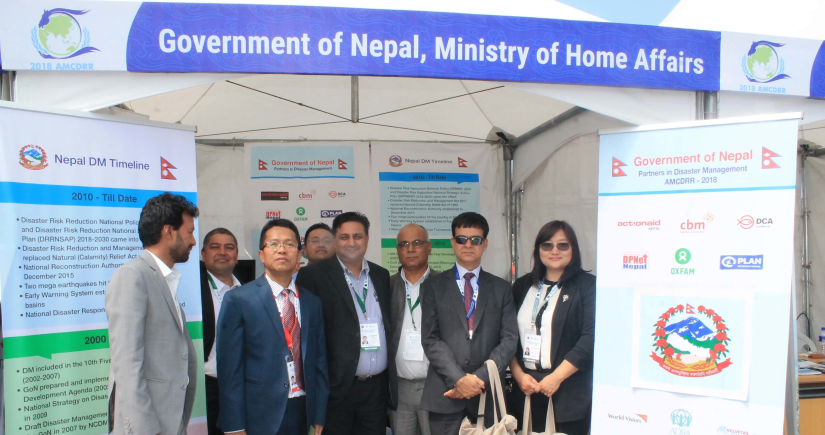 Disaster Preparedness Network Nepal (DPNet-Nepal) with support of Association of International NGOs Task Group on Disaster Management (AINTGDM), UN and other humanitarian agencies collaborated with MoHA to provide technical support in preparation and coordination for the AMCDRR 2018. Five members committee (representative of MoHA, DPNet-Nepal, AINTGDM, UNRCO and NSET) for the preparation of AMCDRR was formed by the AMCDRR preparatory meeting held on 14th May 2018 at MoHA. The overall process was lead by MoHA and coordinated by DPNet-Nepal. The major objective for the collaboration was to represent Nepal in single Nepal delegation. With reference to the decision of AMCDRR preparation committee, DPNet-Nepal raised a basket fund to support the government of Nepal in developing the National Position Paper, video documentary and overall coordination. DPNet-Nepal also coordinated with non-governmental agencies to collect the detail database of participants participating in the conference.
On behalf of Government of Nepal, MoHA had booked the market place for the conference. The market place was utilized to share the position paper of Nepal, video documentary and IEC materials to the participants of AMCDRR-2018. Pre-conference and pre-departure meeting with wider stakeholders was organized at MoHA 21st June and 28th June respectively to share Nepal's plan and preparation before the conference and to finalize the national position paper and video documentary.
National position paper on disaster risk reduction and management in Nepal was developed to share the status and achievement of Nepal basically on legal frameworks and national/additional initiatives. Similarly, short (15 minutes) video documentary entitled "Disaster Risk in Nepal, Problem, Prospects and Measures", in English language along with subtitles was developed to include Nepal's efforts towards disaster resilient nation; preparedness, response, recovery and reconstruction after 2017 flood and 2015 earthquake and other various disasters. The video was played in the market place and also disseminated in pen drive. DPNet-Nepal hired consultant to develop National position paper and video documentary and were prepared in consultation with MoHA, AINTGDM, UN agencies and relevant stakeholders. Nepal DM time line (1980-till date), Braille version of Disaster Risk Reduction National Policy, pen drive with print (soft copy of DRR&M Act 2017, series of National Disaster Report from 2009 to 2017, National Position paper, video documentary, various documents from contributing organizations etc) were prepared/collected, displayed and disseminated.
Post conference meeting was organized at MoHA on 17th July to share the key outcomes of the 8thAMCDRR and its relevancy to Nepal.