Coordination and Preparation for AMCDRR 2018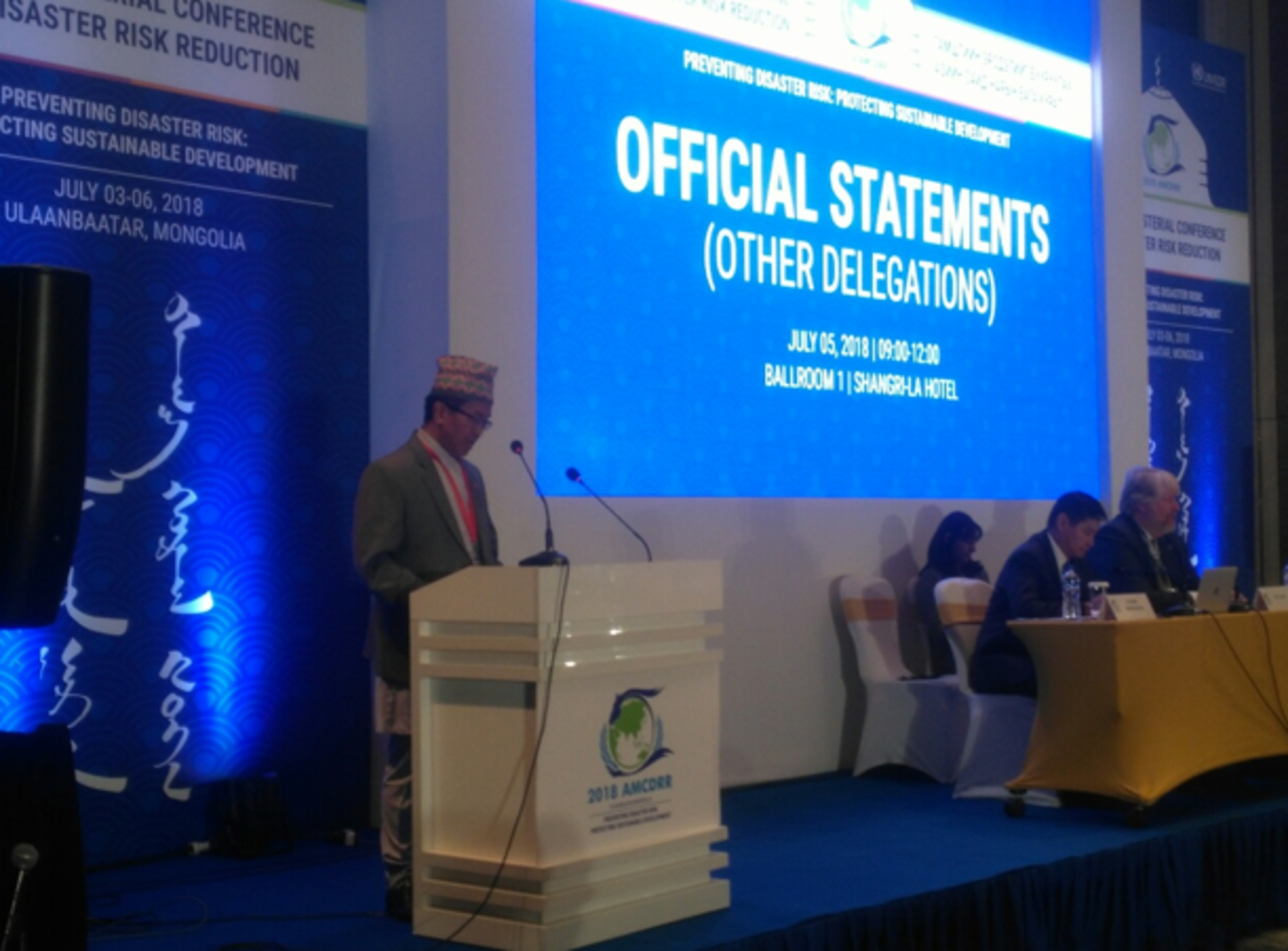 DPNet-Nepal in close collaboration with MoHA, AINTGDM, UNICEF and Nepal Red Cross Society took the responsibility for the coordination and preparation of AMCDRR-2018 for the representation of Single Nepal Delegation in the forum. DPNet-Nepal coordinated to organize Pre-conference meeting, Pre-departure meeting and post conference meeting. Furthermore, basket fund was raised to develop the National Position Paper and video documentary and was displayed in the conference.
DPNet-Nepal in the leadership of the Ministry of Home Affairs and close coordination with AINTGDM applied the following methodologies for successful participation in the Conference:
A five members steeringcommittees was formed including Under Secretary of DM division MoHA, General Secretary of DPNet-Nepal, AINTGDM Co-coordinator,Advocacy and Outreach Manager of NSET and National Field Coordinator of UNRCO. The committee was formed as a working groupfor the preparation of the participationof Nepal in the conference.
Regular steering committee meetingswere organized for the preparation of Market place and other important decisions. The market place was registered by MoHA, to be represented as a market place of Nepal delegation.
National Position Paper for AMCDRR was developed by hiring a consultant with discussion and close supervision of the working group and finalized by MoHA with the consultation of wider stakeholders. Similarly, documentary, IEC and visibility materials for the exhibition were prepared by DPNet-Nepal with suggestions and endorsement from stakeholders and MoHA.
Relevant documents were collected from the member organizations for dissemination in the AMCDRR.
DPNet-Nepal also coordinated with non-governmental agencies to collect the detail database of participants participating in the conference.
DPNet-Nepal prepared Viber Group to co-ordinate among Nepal Team.
DPNet-Nepal team reached Ulaanbaatar one day before the pre-conference meeting to manage program events including collection and preparation of various materials for market place.
DPNet-Nepal team disseminated vital information and program update via viber group and email. To maintain the quality of Governmental and Non-Governmental presentations, DPNet team gave continuous inputs. It also played vital role to pick up and drop to the needy participan
Program Highlights
Pre-conference meeting was held on 2nd July, 2018. DPNet Nepal representatives actively participated in the relevant different parallel sessions of pre-conference meeting. DPNet team also collected and managed resources for market place.
The inaugural Ceremony was held on 3rd July 2018. The program included inaugural video, curtain raiser ceremony, welcome speech, video message, opening remarks and childrenperformance. The welcome speech was given by His Excellency U. Enkhtuvshin, Deputy Prime Minister of Mongolia. He welcomed all participants urging a strong focus on disaster-resilient infrastructure in national plans to implement the global plan for reducing disaster losses, the Sendai Framework for DRR adopted by UN member States in 2015. He also added that "This conference is about reducing and mitigating the risk of disasters and aligning risk reduction activities with the Sustainable Development Goals. Opening remarks of the conference was delivered by His Excellency U. Khurelsukh, Prime Minister of Mongolia, UNISDR Asian Champion for Disaster Risk Reduction. In his opening remarks he urged participants to use the conference to review challenges in the region on disaster losses through increasing action at the local level in the world's most disaster-prone region which saw over eleven million people displaced by disaster last year, notably in east and south Asia and the Pacific islands.
Market place for the event by Nepal Delegation was managed by DPNet in coordination and collaboration with MoHA and AINTGDM members. IEC and visibility materials pertinent to disaster risk reduction and resilient communities collected from various agencies working on DRR and soft copy were distributed in the conference. Flex banner including the logo of contributing agencies for the preparation of AMCDRR was displayed in the program along with the flex of Nepal DM timeline depicting the major achievements since 1980-till date. Considering the concept of inclusiveness, Braille version of Draft Disaster Risk Reduction National Policy was also displayed in the program and pen drive with digital version of DRR&M Act 2017, series of National Disaster Report from 2009 to 2017, National Position paper 2018, video documentary, various documents from contributing organizations etcwere distributed in the program.
Different seven thematic events on, i. community/local action for resilience ii. private sector interventions, iii. social protection and vulnerability reduction, iv. gender and inclusiveness, v. ecosystems based DRR, vi. early-warning and early action and vii. technology and innovation were conducted in the conference. Joint Secretary of MoHA Mr. Kedar Neupane presented his presentation on the theme; 'social protection and vulnerability reduction' stating the provision and progress made by Government of Nepal in this area.
Altogether 173 presentations on various topic relating to DRR were presented in the ignite stage on 4th and 5th July 2018. Two presentation form Nepal's side were presented by Mr. Ram Nath Ojha, World Vision International and Mr. Hem Raj Bhatta, Mercy Corps on integrating DRR in education sector and sustainable way to community based DRR respectively. Joint Secretary of MoHA Mr. Kedar Neupane delivered his presentation entitled "Strengthening disaster resilient infrastructure and urban resilience" in the conference
60 minutes side events were run parallel to the main session in the conference. Six side events were managed by organizations working in Nepal. Four side events were managed by NSET and one event was managed by Practical Action and one by OXFAM.
The AMCDRR 2018 was formally closed with the adoption of documents including 'Asia Regional plan for Implementation of the Sendai Framework for DRR 2018-2020', 'Ulaanbaatar Declaration' and 'Statement of Voluntary Commitment of Stakeholders'.
In addition to final documents of the conference, cooperation agreements on disaster risk reduction were concluded with Vietnam and Kyrgyzstan. The parties agreed to focus on information exchange system during disasters. The next Asian Ministerial Conference will be hosted by the Government of Australia in 2020.
Active participation of Nepal delegation was observed in pre-conference meetings; opening ceremony; ignite stage program, side events, market place and closing ceremony. Achievements of AMCDRR 2018 have been stated briefly in the following points:
The event witnesses the commitments and initiativesof Asian countries towards disaster risk reduction and the successful implementation of SFDRR 2015-2030.
The conference shared 28 points Ulaanbaatar declaration for preventing disaster risk: protecting sustainable development.
Action Plan 2018-2020 of the Asia Regional Plan for Implementation of the Sendai Framework for Disaster Risk Reduction 2015-2030.
24 Ministerial Statements were released by 24 different ministers and 40 Official statements were released including Government of Nepal by Secretary of MoHA, two Stakeholder Statements of action were also released in the conference.
With the coordination of DPNet-Nepal and support of AINTGDM, Government of Nepal prepared the National Position Paper for the AMCDRR which was remarkably notable in the event.