World Humanitarian Day Observed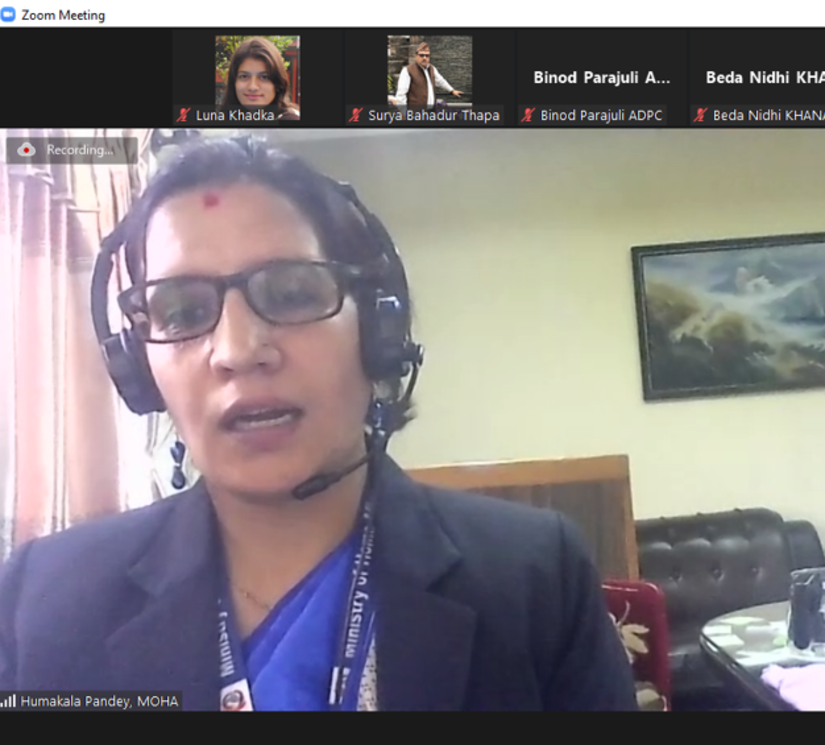 World Humanitarian Day Observed
Disaster Preparedness Network (DPNet), Ministry of Home Affairs (MoHA), Association of International NGO (AIN), National Disaster Risk Reduction Centre (NDRC), Asian Preparedness Partnership (APP), Asian Disaster Preparedness Center (ADPC), Bill and Melinda Gates Foundation jointly marked World Humanitarian Day in Nepal on 19th August 2021 organizing a national level discussion program. The program was chaired and facilitated by DPNet Chair Mr. Surya Bahadur Thapa. Mr. Thapa highlighted the objectives of the program and the relevance of the 'World Humanitarian Day' in Nepal. Mr. Pushkar Khati, Member Secretary, Social Welfare Council (SWC), Ms. Hum Kala Pandey, Joint Secretary and Chief of Disaster and Conflict Management Division, MoHA joined the program as a Special Guest. Whereas, Dr. Samir Kumar Adhikari, Chief of Health Emergency Operation Center (HEOC), Ministry of Health and Population (MoHP), Mr. Rishi Raj Acharya Under Secretary of Ministry of Federal Affairs and General Administration (MoFAGA), Mr. Bed Nidhi Khanal Under Secretary, National Disaster Risk Reduction and Management Authority (NDRRMA), Mr. Santosh Dahal, Coordinator Association of International ING Task Group on Disaster Management and Climate Change (AINTGDMCC), Mr. Prem Awasthi, United Nations Resident Coordinator Office (UNRCO) joined the program as a panelist. 91 participants from different agencies joined the virtual program.
Major Highlight
Mr. Pushkar Khati, Member Secretary of SWC highlighted that humanitarian organizations in Nepal are working on how can we contextualize the humanitarian standards in the context of Nepal. We need to reflect and discuss that the standards are just not the theory, but for the implementation. He further added that there is a lot to work in the social sector, the work we do should be appropriate in the eyes of the Government and the concerned stakeholders. If we won't able to maintain coordination among the government and stakeholders, it will be very difficult, so the humanitarian work should be coordinated complementing the Government's work. He urged to allocate at least 1% budget for DRR&M while developing the project for emergency purposes. SWC has provisioned that a maximum of 15% of the budget can be used during mega-disasters and the budget can be deviated swiftly.

He also highlighted the support of NGOs in the COVID Pandemic. 2600 oxygen cylinders were provided by the different organizations when oxygen was scarce in the country. 60% support was provided by NGOs more than INGO's so there is a need to strengthen the national organization, 30-40% health equipment support was provided by such organizations. However, 270 organization involved in COVID response has only reported, if all organization involved in COVID response reported the picture would be better. It will also help to ensure transparency. He concluded his remarks stating that SWC is ready to take the work conducted in the social sector in a consolidated way, if we work in this we can take the social service sector as the sector of national pride.

Ms. Humkala Pandey, Joint Secretary and Chief of Disaster and Conflict Management Division of MoHA shed light that most of the disasters in Nepal are climate-induced and this year's WHD theme also call for climate action on humanitarian ground. So we need to work on disaster preparedness and response as well as climate risk management. She further added MoHA is an apex body working on DRR&M and it is coordinating with NDRRMA for DRR&M work. She further added that our priority should be humanitarian service. Nepal has invested a lot in social security so we need to take DRR&M and social security together. She gave an example that providing cash support for the reconstruction of houses damaged by disaster and support for rebuild and food items is also a part of "social protection", Government has been doing this for so long. She said that recently 5,143 people are trans located to a safe place. She summarized the gist of the presentation and urged the need to view DRR&M as a "whole of the society approach". We need to establish an early warning system (EWS) at all local levels so that we can save the lives of more people. Coordination with wider stakeholders is needed and there is also a need to strengthen the NDRRMA.

She shared that geological study is completed in 13 districts, we need to prioritize this as well so that we can reduce disaster risk and it also helps in risk assessment. Furthermore, she emphasized that there is a need to take "development and disaster" together considering EIA/IEE as an important part. There are lots of legal documents and institutional structures but we need to implement and strengthen them respectively and also the disaster management (DM) fund and technology at the local level should be strengthened. Further, she highlighted the importance of social security in disaster management and humanitarian assistance. She also emphasized the need to produce trained and capable human resources for DRR&M and thanked everyone for their effective participation.

Dr. Samir Kumar Adhikari, Under Secretary and Chief of HEOC, emphasized the need for a collaborative effort. He highlighted that without collaborative effort, sustainable development cannot be achieved. Many organizations have worked together for COVID response. Most of the medical equipment is provided by non-government organizations, we are not able to do the same for the vaccine. The vaccine is provided prioritizing the risk. We need to have a common understanding, risk mapping, and resource mapping. Collaboration scope is high in Nepal, a single organization cannot do all, so a collaborative effort is required. From the time of preparedness to response we need to work collaboratively and have institutional documentation.
Mr. Bed Nidhi Khanal, Under Secretary of NDRRMA, explained that humanitarian service is the value of Eastern culture, now these values are maintained in the form of humanitarian standards. He thanked all humanitarian workers and expressed respect for all past and present humanitarian workers on behalf of NDRRMA. Climate Change has variously impacted us and even the IPCC report has illustrated the same. So studies are needed. This year we faced the Melamchi flood and felt that climate change has impacted us in the worst way. He requested organizations working on DRR&M to share their information in MDSA and thanked all who have included data in MDSA. We need to reduce duplication and increase the capacity. There is a need to work on segregating the sector rather than all organizations working on the same thing. He also emphasized to interlink social security in disaster management and informed that NDRRMA will come up with policy document related to shock responsive social protection soon. He concluded his remarks by stating that the campaign for humanitarian assistance is since a long time so we need to do it from heart and soul.
Mr. Man Bahadur Thapa Country Representative, ADPC delivered welcome remarks, he emphasized the need for collaboration with different organizations in the humanitarian sector. He presented about the Asian Preparedness Partnership Humanitarian Standard (APP HS) Tools 2021. He mentioned that we are not able to take the Humanitarian Standards at the Province and Local Level, even if we can reach the Local Level we are not able to strengthen their capacity. So there is a lot to do on implementing the humanitarian standards. His presentation included the information about Core Humanitarian Standard. He also shared the general information about the APP HS tools namely, i) Core Humanitarian Standard Assessment Tool (CHSAT), ii) Institutional Capacity Assessment Tool (ICAT), and iii) Self-Assessment Tool for Institutional Engagement (TIE). Furthermore, he added that the APP HS tools were developed by the involvement of representatives from six countries. And it was rolled out from April to June 2021 and was applied in Melamchi Floods in Nepal too, the finding report will be shared once it is completed. He also shared that these tools are tested by nine different organizations in Nepal, concluding with his presentation he added that this is the small effort intended to make our effort more effective in the humanitarian sector.
Mr. Krishna Adhikari, Researcher, RSS presented about the Core Humanitarian Standard (CHS) and its rollout in the Melamchi flood based on field observation and discussion with the concerned agencies. His presentation included the nine commitments of CHS, CHS monitoring tools; based on the commitments, he presented that the Local Level Government and NGO's have partial achievement and the medium achievement respectively; and the achievement of the private sectors was minimal. The presentation also included the tool for the assessment of the Institutional Capacity for applying the CHS based on the 8 indicators, where he presented a similar result as the first tool. The achievement of the Local Level Government and NGO's achievement is good enough and the achievement of the Private Sector is minimal in the Self-Assessment Tool for Institutional Engagement in DRR&M. He further shared his findings that all three agencies are willing to apply the CHS and ready to collaborate for the capacity building for the implementation and adoption of CHS in their institutions work.
Mr. Sunil Sun Shakya delivered a presentation about the CHS Training Manual. Where he explained the manual layout included the session plan, reading materials, presentation slides. The target group of the manual is humanitarian actors. There are 12 session plans in the manual including the session about the legal provisions on humanitarian assistance and disaster management historical backgrounds of humanitarian principles and standards, commitments of CHS, Sphere Standard, preparation of Sphere exercise, the exercise of Sphere Standard, etc. The manual is in draft form; it will be shared once it is finalized. A copy shall be availed to the interested participants for feedback purposes.
Dr. Raju Thapa, General Secretary of DPNet-Nepal presented about the use of Social Security in Humanitarian Assistance. He informed that DPNet-Nepal is a country focal point for Sphere in Nepal and added that the Sphere Standard is the Standard of Standards. He shared that concerned stakeholders in Nepal are applying the Sphere Standard and DPNet-Nepal has been working to institutionalize Sphere in Nepal by translating the Sphere Standard in the Nepali language as well as its standard companion in Nepal, organizing training of trainers and training in different Provinces of Nepal. He also shared that DPNet-Nepal has provided 1,506 sets of the Nepali version of Sphere Handbook to UN IOM to distribute in all 753 local levels while they organize DRR&M training at all the Local Level Governments.

Furthermore, he shared the experience relating to applying the humanitarian standard for humanitarian assistance in Nepal. He added that we are yet not able to interlink social security with DRR&M in Nepal, we need to do this. The Government of Nepal is implementing 86 different types of Social Security schemes. About 3.5 million people have already been benefited through social security allowance in Nepal. He also shared about the poor household identification survey and its implication to disaster management. Similarly, he also informed about the upcoming shock responsive social protection system that is being graduated for Social Security in Nepal under the DRR&M sector.

Mr. Santosh Dahal, the AINTGDM Coordinator, thanked AIN members for contributing to saving lives by working in the field of DRR&M and humanitarian assistance. He also thanked DPNet-Nepal for the coordination, CSO's and SWC. He emphasized that some things need to be done proactively for saving the lives of people, given example a decade ago when we used to talk about EWS, it used to be surprising but nowadays the 3 days forecast of DHM has contributing to save lives of thousands of people exposed to flood and landslides. We are not able to avoid duplication due to a lack of inter-agency coordination. So there is a need to have a strong disaster information management system. If there is interagency information sharing, we can contribute more.

Finally, he expressed condolence to frontline workers who lost their lives saving the lives of disaster survivors and COVID-infected people.

Mr. Prem Awasthi from UNRCO gave his best wishes on the occasion of WHD. He highlighted that the WHD is the day to honor humanitarian Aid workers, either it is 40,000 women volunteers or 20,000 Red cross, or thousands of security forces working on humanitarian assistance. We need to reflect humanitarian standards in our work. The Nepal Government provided relief and shelter to Indian citizens during the Koshi flood, which is an example of humanitarian assistance regardless of the border.
Issues flagged during the session
Climate change is viewed as a humanitarian crisis; since MoFE is the focal ministry for climate change. We need to include MoFE representatives in such a program so that we can interlink DRRM and climate change.

There is a need to have some policy frameworks and legal documents on shock-responsive social protection systems integrated with DRR&M.
Closing
Mr. Surya Bahadur Thapa, Chairperson of DPNet-Nepal in his closing remarks requested MoHA and other concerned agencies to conduct a review of the legal documents that worked and what didn't work and assess the gaps. If a revision is needed, needs to be revised for effective disaster management. For example, the Disaster Management Fund initiated is a good aspect, but the Fund is used only for the response, we need to think about how such Fund can be utilized for the preparedness and disaster risk reduction interlinking it with social security. He also questioned, as the food for thought, how much we became successful to mainstream DRR&M in development? We are in the same boat if there is a hole in one part, we all will fail! So, we need to work collaboratively and collectively. To safeguard of all, let us work together!!
The meeting was ended as per the scheduled.