Workshop on Sphere Companion Standards Translation in Nepali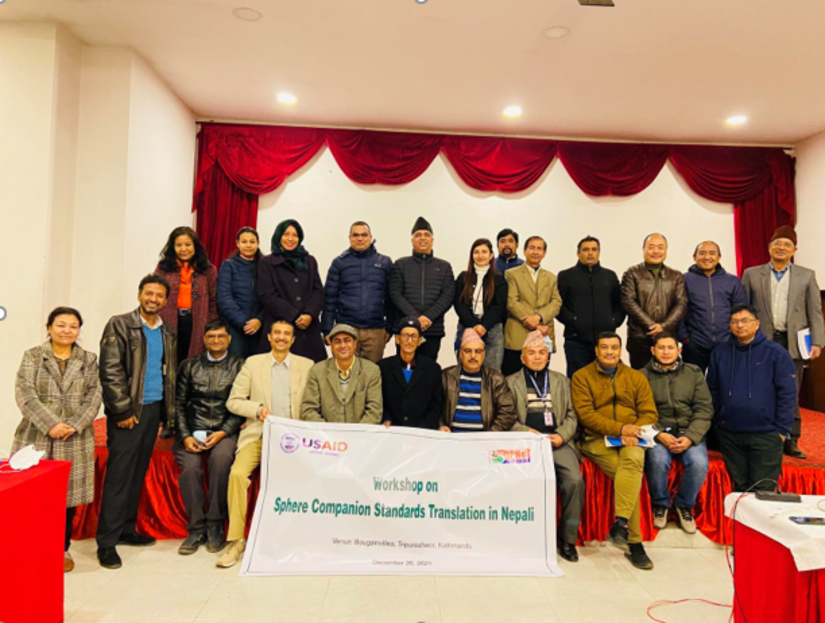 The Workshop on Sphere Companion Standards Translation in Nepali was organized by DPNet on December 26, 2021 in Kathmandu. The program was chaired by DPNet Chairperson, Mr. Surya Bahadur Thapa. On the occasion, Mr. Pallav Pant, Chairperson of Atullya Foundation handed over the 'Disability Inclusive Disaster Risk Reduction (DIDRR)' Handbook to DPNet Nepal. He shared that Atullya Foundation prepared the DIDRR handbook in close consultation with concerned stakeholders conducting a series of discussion programs and workshops. He also shared that the handbook has considered the Sphere companion 'humanitarian inclusion standard'

Dr. Raju Thapa, Vice Chairperson of DPNet and Coordinator of Sphere Nepal shared about the importance of six Sphere Companion Standards in Nepalese context. He expressed his sincere thanks to USAID/Tayar for providing financial support to translate three companion standards namely 'Humanitarian Inclusion Standard', 'Minimum Standard for Market Analysis' and 'Minimum Economic Recovery Standard'. He also expressed sincere thanks to Atullya Foundation for completing translation work in the stipulated time. He further informed that the electronic version of the draft translated copy was shared to relevant experts and received feedback was incorporated. He requested all the workshop participants to have a look at translated copy and provide feedback as early as possible. The Translator Consultant, Mr. Ram Gurung shared his experience on translation work and challenges he encountered while performing this task. Peer Reviewer Dr. Meen Bahadur Poudyal Chhetri, also shared his experience.

After this, the participants were divided into four groups and requested them to provide feedback. Some of the major points shared by the groups are as below;
· The Nepali grammar should be understandable and the group will provide suggestions to be accommodated.
· The major key words and phrases should be simple and it should be in line with Government adopted terminology
· Special attention should be given in legal and technical terminology
All groups agreed to provide major feedback in track change mode earliest as possible.
Mr. Surya Bahadur Thapa in his concluding remarks, reminds the history of DPNet to translate vital documents like Sphere Standard, SFDRR and other documents of significant importance. He further mentioned that translation is a kind of art work and that it should be consciously created to justify the original text. He thanked USAID/Tayar, consultants and participants to be a part of this process and closed the program.