Webinar-Policy, Program, and Budget of Government of Nepal and issues of DRR&M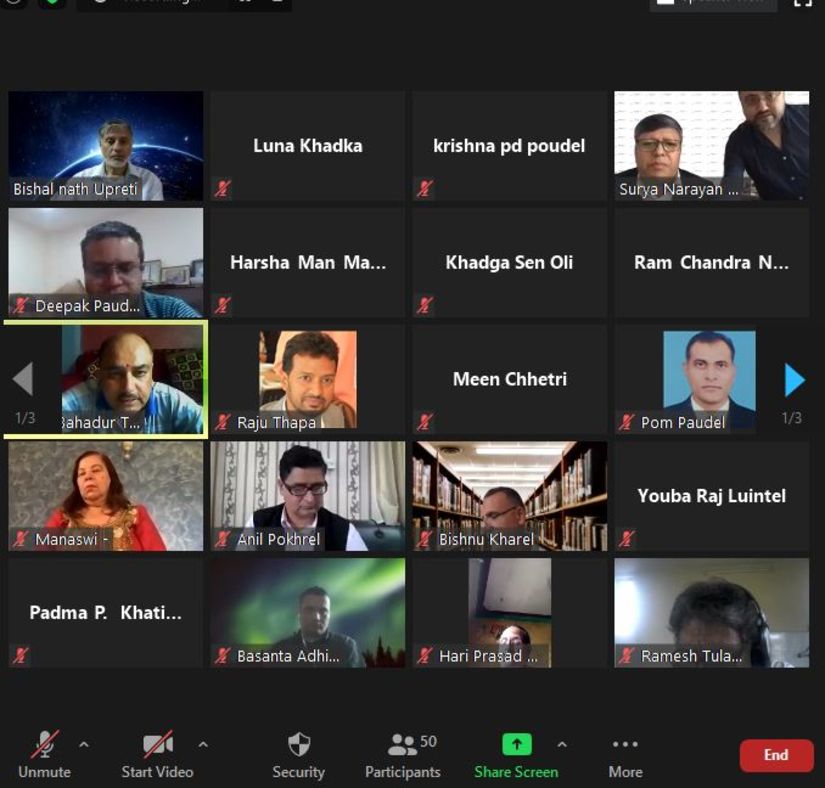 Summary Note
Policy, Program, and Budget of Government of Nepal and Issues of DRR&M
Background
The webinar entitled "Policy, Program, and Budget of Government of Nepal and issues of DRR&M" was organized jointly by DPNet-Nepal and DiMaNN on 3rd June 2020. The program was chaired by Mr. Surya Bahadur Thapa, Chairperson of DPNet-Nepal, and DiMaNN. In his opening remarks, he shared the background of the program and shared that whether the policy, program and budget presented by the Government of Nepal is good enough or does it need a further recommendation for amendment or not. He also thanked participants for joining the webinar. Mr. Bishnu Timilsina, General Secretary of DiMaNN shared that the policy and program are good it has covered issues like social protection issues, the establishment of the warehouse, making effective information Centre. He also shared that, how to promote NDRRMA is covered but budgeting parameter is not covered. He shared his concerns stating that why NDRRMA could not play an active role in COVID-19. If we failed to be prepared for the upcoming monsoon and possible disasters, we may face more disaster loss than COVID19. Furthermore, he added that we need to discuss what could be our way forward. Altogether 54 participants joined the webinar.
Major Highlights
Mr. Anil Pokhrel Executive Chief of NDRRMA thanked organizers for inviting in the event. He shared the initial highlights of the program plan relating to DRR&M and included in the budgetary part. 50 million ceilings is allocated to NDRRMA however exact figure is not shared yet. He shared that policy and program spell out about the DRR&M and institutional improvement of NDRRMA. He also shared that coordination will be maintained among three tiers of Government for Preparedness and disaster response. He also shared that the Organization & Management Survey of NDRRMA will be finalized and the NDRRMA structure will also be finalized soon. The budget allocation for DRR&M should be looked at from the large scale budget allocated for reconstruction after earthquake 2015 along with the development of embankment for flood risk management in major rivers. He also said that early warning system is prioritized considering the DRR&M and as well as the irrigation part. 5000 sallow tube wells and 200 deep tube wells in the Terai region to manage the draught. Youth role in terms of DRR&M is also mentioned. Disaster risk financing strategy will be approved this year which will provide guidance to move ahead. The substantial thing not reflected in the budget is risk transfer investment, contingency budget allocation. The government of Nepal has signed an agreement for a catastrophic drawdown option from World Bank for 50 million USD last year. This type of budget will be available and used in any type of disaster emergency. The expenditure from donor agencies, private sectors, and I/NGO's will not be reflected in budget.
Furthermore, he added that this year NDRRMA will initiate how to look on public expenditure review on DRR&M and also trying to speed up who is doing what and where. NDRRMA is in the last stage to finalize the system to track the information on. He also shared that the budgetary allocation for NDRRMA in the initial phase is satisfactory. The larger section of the budget is required for COVID-19 response and requested everyone to view this budget as satisfactory. We need to disperse timely and next year we can have a substantial increase in budget in a collective effort. Monsoon preparedness is in the final stage. Monsoon is more viewed as flood centric. We are framing the plan in three key areas of risk, flood, landslide, and water-induced disasters like snake bite, and epidemic. We cannot plan differently without considering COVID-19. We have analyzed the data of the last 10 years, and have worked on identifying high mid and low risk considering flood, landslide, and waterborne disease considering COVID-19. We are preparing an action plan for the next 100 days will finalize this week and share it.
Dr. Ganga Lal Tuladhar, Former Minister of Education and DRR&M expert, said that we need to take preparedness initiatives as a part of our lifestyle. The establishment of NDRRMA should be taken as the climax of our struggle for DRR&M in Nepal. He also shared his experience and emotions about the time when the DRR&M bill was passed but authenticated quite late. Regarding the policy and programs, he said that the activities are very traditional. Only two points 259 and 260 spells about the DRR&M focusing on coordination between three tiers of Government for relief search and rescue operation. The program is traditional. Institutional strengthening of NDRRMA is clearly spelled out, which is a good part. He also said that relating to COVID-19 we are finding it quite different than the legal provisions of the DRR&M Act. This situation should not be established as a practice in case of other future disasters. At least NDRRMA could have worked as a secretariat for COVID-19 response. He also said that disaster affects disproportionately and does not look gender, religion, border, developed or least developed countries nor ruling party nor opponent. We cannot develop a healthy nation, without focusing on disaster prevention and preparedness. This year specifically budget is not allocated for DRR&M. 2.31 billion is collected for COVID-19, but due to lack of procedure and guideline to spend this budget the quarantine haven't meet any universally practiced standard and people are suffering. There is also almost 1.5 billion in a disaster management fund. But the disaster management fund is not mobilized yet. We have expected the budget and program policies would be comprehensive but it could not be so.
He also referred the proverb, as said, there might be a silver lining in darkness COVID-19 has created an opportunity to change our lifestyle for DRR&M. Though it's good that fewer people have lost their lives due to COVID-19, going through the news like suicidal case high than COVID-19 death case is very sad. COVID-19 has shown the need for the establishment of hospitals or medical centers at each local level. This will also be preparedness initiatives for future disasters. He also said that campaigners of DRR&M should be satisfied that the budget allocated for DRR&M will be utilized for the proposed initiatives. We need to be united to work together and continue our campaign for DRR&M.
Major concerns
The government seemed quite weak in relief management, for citizens of the same country there is discrimination in relief distribution 2 Kg rice is distributed in some places and somewhere 30 Kg rice is distributed. One door system is not maintained. Why the government is afraid of deploying humanitarian organization for quarantine management? What could be the role of NDRRMA and DPNet for this?

NDRRMA's role is felt very weak in this pandemic, however, the future way forward is important. DPNet can organize the interaction with MPs about budget and MPs can raise the concerns in the house of representatives.

COVID-19 is not handled properly and experts are not involved in the committee. It is just viewed as a health issue rather than a disaster. The only planner, economist, and health experts are invited as experts in a meeting called by Prime Minister.

NDDRRMA can play a coordinating role. What could be our advice to CCMC? DPNet should also play the role of a pressure group.

COVID-19 response is a missed opportunity for NDRRMA. Can we bring COVID-19 response under NDRRMA? DPNet should coordinate to have interaction for next year's budget for DRR&M.

The budget and program policy had more focused on post-disaster, whereas there is no budget for preparedness. Quarantine is not well managed.

Our recommendation should be strong. We need to consider a multi-hazard monsoon scenario for preparedness. If there are a hundred thousand COVID-19 cases in Nepal, what will we do? Why the test kits are very few?

There is a different understanding of the response of civilian-led response and army led response. We need to have a comprehensive discussion in the future.

INGO has supported the government directly by providing cash and kind support of around 40 million for COVID-19 response.
Concluding Remarks
Mr. Anil Pokhrel in his concluding remarks said that NDRRMA is the result of the engagement for 20 years of DRR professionals and organizations. So there is a high expectation from NDRRMA. Nepal is a global hub for lightening, we are not focused on lightning, fire, and snakebite, felt it was overlooked. We are in finalizing 5 years action plan of NDRRMA. The resource of the Government and NDRRMA is not enough so, there should be a collaborative effort. COVID-19 is a serious issue, we need to have a separate discussion for COVID-19. He also shared that, NDRRMA office has moved out of Singhadurbar premises and has allocated a separate desk for NPDRR to engage all concerned DRR stakeholders.
Dr. Ganga Lal Tuladhar shared his experience of forming a National pressure group for the need for a comprehensive DM act decade before. Together we are united, separated we fall. So we should be united for the issue of DRR&M. NDRRMA should have worked as a secretariat for COVID-19 response rather than forming CCMC. The climate change effect is drastic, so we need to focus on preparedness. He also said that DPNet should initiate interaction with members of Parliaments, including provincial MPs, and provide suggestions to MPs so that they can speak in parliament. There needs to be a collaborative effort and NDRRMA will not have a funding crisis. He thanked organizers for this good initiation.
Mr. Raju Thapa General Secretary of DPNet-Nepal thanked both speakers and all for their participation, remarks and concerns. He also mentioned that discussion note along with recommendation will be prepared and circulated to the concerned stakeholders. After this, he announced the closure of the program on behalf of Chairperson Surya Bahadur Thapa.
Recommendation
DRR&M should be considered as an integral part of sustainable development, hence the budget for DRR&M should be increased so that the investment for DRR&M will be increased as spelled out in the National DRR Strategic Plan of Action.

The Monsoon preparedness plan should be developed considering the COVID-19 perspective. Prevention and preparedness measures should be adopted coordinating with all tiers of Government.

Relief items should be distributed as per the relief standard so that uniformity is maintained.

COVID-19 should not only be considered as a health issue but as a disaster as mentioned in DRR&M Act. DRR&M experts should also be included in CCMC meetings.