Webinar on: Monsoon Disasters in Nepal: Appraisal of current state and way forward for effective preparedness and mitigation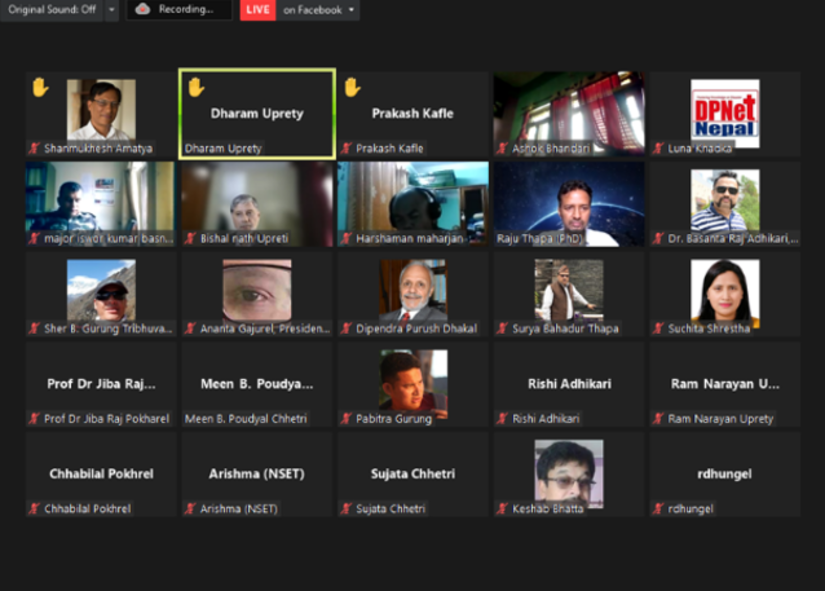 The Webinar entitled "Monsoon Disasters in Nepal: Appraisal of current state and way forward for effective preparedness and mitigation" was organized by Nepal Centre for Disaster Management (NCDM) in collaboration with National Disaster Risk Reduction Management Authority (NDRRMA) and Nepal Geological Society (NGS) on 24th September 2021. It was coordinated by Disaster Preparedness Network-Nepal (DPNet-Nepal). Altogether 81 participants joined the program virtually. Prof. Dr. Bishal Nath Upreti, Chairperson of NCDM, chaired the program, whereas, Mr. Anil Pokhrel, Chief Executive of NDRRMA joined the program as a chief guest. Mr. Dipendra Purush Dhakal, founder President of NCDM welcomed all participants and shared his experience regarding the DRR&M paradigm shift in Nepal. He shared information about the establishment of NCDM in 2002 and said that before there were limited organizations working in DRR&M and programs were mainly focused on earthquakes. It was a long struggle to bring out the present DRR&M Act. NCDM drafted the DRR&M Act and policy document and submitted it to Moha and the National Planning commission. On the legal footing of the DRR&M Act 2017 NDRRMA has been established to look after the whole gambit of disaster management. He further spoke about the history of how the pe-monsoon disaster preparedness program was initiated by NCDM and later was taken forward by DPNet-Nepal. Dr. Raju Thapa, General Secretary of DPNet-Nepal moderated the program.

Major Highlights

Mr. Anil Pokhrel, thanked all for organizing the program. He said that NDRRMA is established due to the dedication and effort of a decade-long journey. He shared about the initiatives taken by NCDM for monsoon disaster preparedness. He said that monsoon preparedness and response plan were prepared by NDRRMA as per the decision of the National Disaster Risk Reduction Council meeting.

Dr. Ananta Gajurel, President of Nepal Geological Society said in his remarks that earlier we were dealing with the disasters in a traditional way but now we have managed to reduce disaster risks using modern technologies. While proceeding for development, challenges of disaster come along. He further said that we have huge challenges to overcome the disasters. There is the need for consolidated work to share the knowledge and information in order to reduce the risk of disasters.

Mr. Surya Bahadur Thapa, Chairperson of DPNet-Nepal in his remarks said that we have more knowledge about DRR&M these days than before. So we need to work in a concrete and collective way. He also shared briefly about programs to mark the IDDRR 2021. He also said that we need to share the status of the implementation of monsoon preparedness plan and reflect the gaps, challenges and learnings.

Dr. Basanta Raj Adhikari from Institute of Engineering (TU) presented on the "Monsoon disasters in Nepal: causes and consequences". His presentation included information about the incidents during the monsoon of 2078 that included landslide, flood incidents and heavy rainfall from June to September 23, 2021. He also shared about the monsoon disaster and human casualties, monsoon precipitation from June to September, landslide debris flow focusing on Melamchi debris flow, flood events in Manang and Mustang, and rainfall at high altitudes. He summarized his presentation as environmental, geological, and geographical factors that should be considered while tackling such monsoon disasters. He also suggested considering and understanding the cascading effects during settlement and infrastructure planning.

Prof. Dr. Bishal Nath Upreti delivered his presentation entitled "Monsoon Disaster preparedness: Need for Concrete Actions". His presentation, research works in landslides in Nepal, included monsoon disasters in Nepal, focusing on information regarding the debris flow, Landslides, flood hazard mitigation, and way forward. He shared the view that we have not made any progress in reducing the loss of lives due to landslides. 90-95% of people are killed in Nepal due to debris flow and landslides. In his way forward, he shared about the need for institutional development for landslide research, hazard mapping, and capacity building. He emphasized the establishment of an early warning system by installing enough weather stations in each Municipality so that real-time early warning systems can be functional. He emphasized the need for the formation of a dedicated national unified rescue force for DRRM. Prof. Upreti suggested the establishment of a center for excellence for landslide research at the DMG while without this there will be no focal institution in landslide research. He emphasized strengthening the DHM and reenforcing the NDRRMA. Without Geologist any development work cannot be carried out, so the position of Geologist should be provisioned in all Provinces and Local governments. He concluded the presentation by sharing the long-term actions for DRR&M in Nepal.

Dr. Suchita Shrestha summarized the gist of both technical presentations and mentioned the positive aspect of the presentations. She said that in DMG there should be positions of enough geologists in the landslide section. Presently, she is the only staff member in that section. and human resources are lacking. When MoHA or NDRRMA requests DMG to conduct a landslide study, it has to conduct the study by requesting staff from other sections of the department.

Discussion
We don't have information regarding the amount of precipitation and after how many hours there will be inundation, flood and landslide. The information is lacking about the threshold. Data and information are lacking. NDRRMA or other government authorities should review those thresholds based on current risk and changing context.

Department of water-induced disaster, the important department was closed by the government, we can use the studies and research conducted through that department. Different Landslide and flood mitigation technologies and Technological guidelines are available in the DWIDM building library.

It is always important to get real-time rainfall data in landslide studies. But DHM has limitations of local data.

Need to work with everyone to contribute to a single platform, like BIPAD, for the risk and hazard mapping.

ADPC had prepared the National Landslide Susceptibility Map (Rainfall-triggered) more than 10 years ago. Still, we are stuck in mapping and creating a new susceptibility map. Many researchers/students from different fields of education have been mapping the landslide for their study and whenever a new plan comes to conduct a new study, people don't get previous data and again start their own mapping. Thus, there is a need for a Data Hub (either in NDRRMA or DPNET) so that researchers can be upgraded to the next level. If we can train students on mapping, then the Data Hub can be annually updated while innovation can be introduced in landslide research.

The issues, problems, and concerns were raised in this program, but the preparedness and mitigation is lacking in today's sharing.

Closing

Prof. Dr. Jib Raj Pokhrel, former President of NCDM and former Vice-Chancellor of NAST thanked both presenters summarizing their sharing. He also said it is difficult to cover wider contents and aspect of the topic in limited time. He thanked everyone for their participation and closed the program.