Webinar on "Disaster governance and translating scientific knowledge on landslide risk to inform policy and decision makers"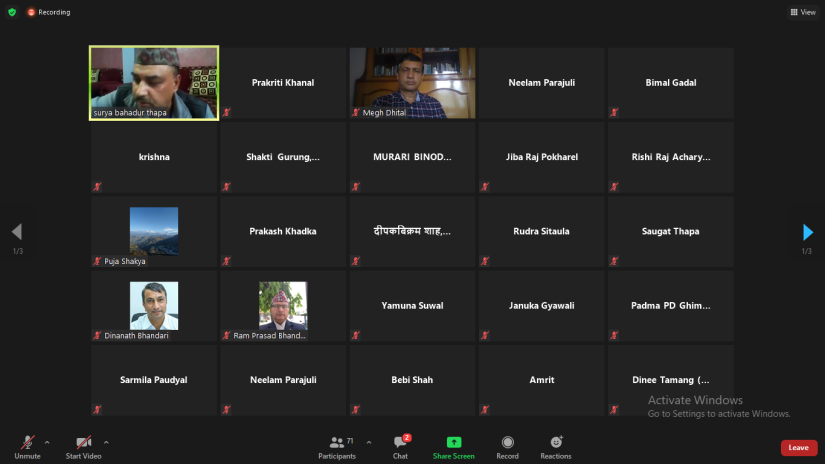 The webinar entitled "Disaster governance and translating scientific knowledge on landslide risk to inform policy and decision makers" was organized by DPNet in collaboration with Practical Action Consulting and Landslide Environmental Virtual Observatories (Landslide EVO) on May 28, 2021. The program was facilitated by Mr. Bimal Gadal, Team Leader and Technical Advisor for DPNet Nepal. The program was chaired by Mr. Surya Bahadur Thapa, Chairperson of DPNet Nepal. Dr. Raju Thapa, General Secretary of DPNet welcomed the participants and shared the objective of the program. The guests of the program were Mr. Bed Nidhi Khanal, Under Secretary from NDRRMA, Mr. Rishi Raj Acharya, Under Secretary from MoFAGA and Mr. Ganesh Gaire, Under Secretary from MoHA. Altogether 73 participants joined the webinar.
Major Highlights
Ms. Puja Shakya from Practical Action Consulting gave presentation on "Engaging Local Stakeholders in Trans-disciplinary Research and Resilience Building for Landslide Risk Reduction". She highlighted that the project is an interdisciplinary citizen science research project which was implemented to build local resilience against hydrological induced landsides and floods in mountain region of Nepal project through the following four key activities:
Hydro-meteorological characterization and prediction

Landslide and flood risk mapping and prediction

Knowledge co-generation and polycentric risk governance and

Impact
The project was implemented in Bithadchir Rural Municipality of Bajhang and Budhiganda Municipality and Chhededaha Rural Municipality of Bajura with the objective to strengthen resilience to hydro-meteorological disasters in the mountain region of Nepal by utilizing scientific information generated through the project in collaboration with local citizens, bridge the gap between and among researchers, practitioners and policymakers and to use the research findings to inform and influence policy and practice.
Dr. Dharam R. Uprety, Thematic Lead-Climate and Resilience, Practical Action highlighted about the importance of local stakeholders including local government in the research project for the sustainability of project activities, knowledge transfer and use of scientific knowledge in day-to-day practice.

Mr. Prakash Khadka, Research Officer of Practical Action provided a brief outline of project activities that included OSM, pre-crisis market assessment, and citizen science in school, orientation on mainstreaming DRR and CC in municipal plans. He also shared information about the risk assessment tools. Practical Action provided an orientation on the use of assessment tools before the HH survey to understand landslide risk perception- involving students from Far Western University, risk sensitive land use planning to validate and inform municipalities.

Mr. Rajendra Sharma, Central committee member, NGO Federation and Executive Director, Janahit Gramin Sewa Samittee shared about Lipi landslide in Sindupalchok, which is one of the landslide prone districts in Nepal. Last year, more than 85 people lost their life with millions of loss and damage and displacement caused by the landslide. Therefore, districts like Sindhupalchok should be given highest priority for the landslide risk reduction and mitigation.

Mr. Rishi Acharya gave presentation on "Localization of Disaster Risk Management Practices and MoFAGA Leadership Role". He shared about disaster related act, plan and policies that are developed to support local level DRR practices. He also highlighted on the importance of DRR, Sustainable Development and role of local government to ahieve them.

Mr. Bed Nidhi Khanal highlighted on the importance of research to be conducted in the field DRR&M to bring practical DRR&M Framework. He added that future mitigation should be carried out by identifying the vulnerable areas. Local government capacity should be strengthened to identify disaster risk and prioritize them.

Mr. Ganesh Gaire said disaster management along with relief fund should be managed and mobilized at local level. There are many research and findings in disaster but mitigations also should be carried out based on findings from the research. He added that the relief funding also should be mobilized in relevant sector.
Major Highlights:
Gender Equality and Social Inclusion (GESI) should be integrated across the DRR&M Cycle and stages, which was duly considered in this project
Bajura, Bajhang and Accham districts are highly prone to landslide induced by water affecting road and other infrastructure and access to these areas has been made very difficult.

The discussion was made on how project worked closely with local disaster management committee (LDMC)

It was discussed about how the scientific knowledge generated by all the experts can be best utilized for policy and practice at Bajhang and Bajura.
Closing
Mr. Surya Bahadur Thapa finally closed the webinar giving vote of thanks to every participants for their time and efforts.