Webinar on "Climate risk and resilience in Nepal, Experience of working with community"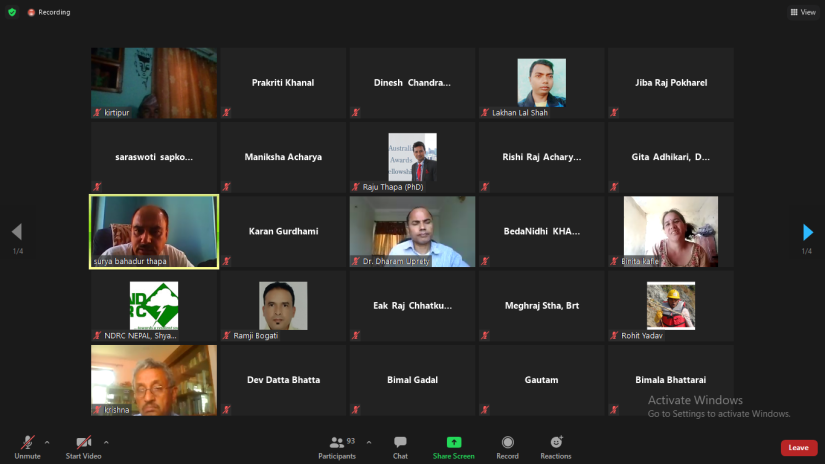 The webinar entitled "Climate risk and resilience in Nepal, Experience of working with community" was organized by DPNet in collaboration with Practical Action on June 2, 2021. Mr. Bimal Gadal, Team Leader and Technical Advisor of DPNet presented background information of the program and DPNet. The program was chaired by Mr. Surya Bahadur Thapa, Chairperson of DPNet Nepal. Dr. Raju Thapa, General Secretary of DPNet welcomed the participants and Dr. Dharam Raj Uprety, Thematic Lead, Climate Change and Resilience; Practical Action highlighted the objectives of program. The guests of the program were; Mr. Bed Nidhi Khanal, Under Secretary from NDRRMA, Mr. Ganesh Gaire , Under Secretary, MoHA, Mr. Rishi Raj Acharya, Under Secretary, MoFAGA, Mr. Bijendra Krishna Singh, Under Secretary Ministry of forest & environment/ Climate Change Department), Mr. Narayan Dev Bhattarai, Chief, Environment and Climate Change Division, (MoIFE) Lumbini Province, Mr. Bharat Prasad Shrestha Planning Chief, Environment & Climate Change & finance Division, Ministry of Industry Tourism, Forest and Environment(MoITFE) , Sudhurpaschim Province, Mr. Sher Bahadur Shrestha, Senior Watershed Management Officer, Soil Conservation and Watershed Management Office, Surkhet, Karnali Province. Altogether 114 participants comprising representatives of various sectors including academia, media, private sectors, development partners, project beneficiary group, government agencies joined the webinar.
Major Highlights
Dr. Raj Kumar Bhattarai, gave presentation on "Role of cooperatives in climate resilience and risk transfer". He highlighted the objective of the project which was to address the review of cooperatives' management plan and assess their stages of implementation to bring the knowledge and learning of their contribution to livelihood diversification, as well as addressing the issue of climate fragility risk. A total of 11 cooperatives were assessed in Kailali and Bardia districts in 2020.

Mr. Anil Bhandari and Dr. Sudeep Thakuri gave combined presentation on the "Application of climate change fragility risk and resilience framework" The study was carried out in four Rural/Municipalities: Rajapur, Geruwa in Bardiya and Tikapur and Janaki in Kailali district covering the local resource competition, livelihood insecurity and migration, extreme weather events and disasters, volatile food prices and provision, unintended climate policy and trans-boundary water management. The presentation included the resilience to climate change fragility risk status from the perspectives of climate change adaptation, sustainable livelihood and peace building. Presenters clarified about the analysis of climate resilience policy framework of Nepal and provided recommendation to the local government as well.

Dr. Keshab Sharma presented on "Provincial level strategic action plan on early warning system of Karnali Province, Nepal". The study was carried with request of The Karnali Province Ministry of Internal Affairs and Law (MIAL) to Practical Action, Nepal Red Cross Society and ICIMOD to prepare "Early Warning Strategic Action Plan". The objective of this study was to reduce the risk of hydro-meteorological hazards. The review of policies, acts, rules and regulations, assessments of existing facilities and major consultations were highlighted.

Mr. Ram Gurung, Consultant of Atullya Foundation presented about the "Learning documentation of climate change fragility project (CCFP) interventions and their contribution to peace building: Key sharing". The project was conducted with collaboration of UN Environmental Programme, and Practical Action. The project was carried out to strength resilience to climate change fragility risk at the community level in Bardiya and Kailali. The project worked at two levels, policy and community level in Nepal to integrate climate change across the governance level and reduce fragility risks. The project intervention were in collaboration with local government, community disaster management committees(CDMCs), community forest user groups(CFUGs), water user groups(WUGs), women groups and framers' cooperatives and so on.

Chadani Joshi, addressed the problems in disaster from gender equality & social inclusion (GESI) perspectives. She said women are highly vulnerable to disaster so these issues should be managed during disaster management.
Major Discussion Points:
The relocation of displaced community and providing livelihood options to vulnerable communities.

The discussion was based on conservation of community forest. The ideas about construction of ponds to control floods, landslides and soil erosions which can also be used for domestic propose and to extinguish wild fire as well.

Ecosystem based conservation and management should be practice to conserve monsoon rain/water basins without affecting land.

The discussion was made on how project worked closely with local disaster management committee (LDMC).

The discussion was about addressing disaster prioritization and mobilization of action oriented research in local and province level.

GESI should be integrated across the DRR&M cycle and stages and promote women leadership in CDMC structures, ward committees for localization of meaningful participation.
Closing
Mr. Surya Bahadur Thapa finally closed the webinar giving vote of thanks to every participant for their time and efforts.