WEBINAR – Discussion to provide suggestions on legal provisions to operate health services effectively in emergency situation to concerned Ministry of Government of Nepal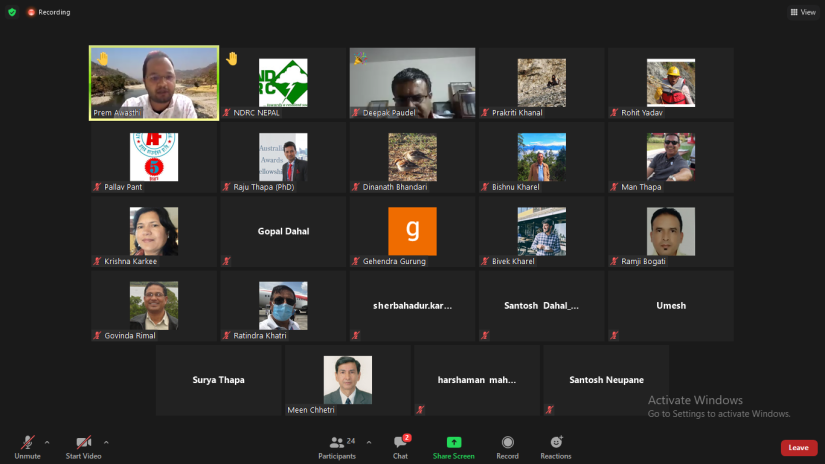 The virtual meeting with Disaster Preparedness Network Nepal (DPNet) Board Member, Advisory Committee and Technical Advisors was held on 17th May 2021. The program was initiated with welcoming notes from Chairman Mr. Surya Bahadur Thapa. Dr. Raju Thapa, General Secretary of DPNet initiated the meeting welcoming all the members inviting Chairperson to highlight on the objectives of program.
Major Highlight
In view of the current situation, the Government of Nepal has directed the Ministry of Law and other concerned stakeholders to draft legal provision to combat against the ongoing COVID pandemic. So the program was conducted to give suggestions to the concerned government stakeholders on what kind of legal provisions are needed to deal with the current situation and to operate health services effectively in every epidemic and emergency situation. Taking this into consideration, Mr. Surya Bahadur Thapa requested the participants to come up some points that need to be incorporated in the upcoming legal provisions.



Major Discussion:
We can request to enact DRRM Act instead of amending introducing other legal provision to fight against current pandemic

We have some gaps in the DRM Act to address comprehensive Public Health issue.

Some technical and managerial provisions are required to response such pandemic outbreak.

Mechanism should be developed in such a way that in case of epidemics and emergencies, medicines and other supplies are accessible and criteria for advance payment, management for immediate procurement must be ensured.

Arrangements for distribution of medical supplies, custom clearance and transportation of supplies and other assistance must be made easy. Likewise, effective coordination, facilitation, capacity building, archiving of health related information in all sectors and at the federal, provincial and local level not duplicating the work of the authority formed under Disaster Risk Reduction and Management Act, 2074.

Arrangements should be made to empower a legally formed institution with resources and manpower to conduct study and research and participation of relevant ministries related to health services, planning commission, health-related organizations, stakeholders, security agencies, disaster management authorities, private sector, communications, civil society organization and health sector experts.

During epidemic and similar disaster, all service providers, businesses, regulatory bodies should work to save the lives of the citizens by being more accountable towards the people. It has also been requested to provide vaccine and other services to the volunteers working in the forefront of humanitarian service.

The overall disaster risk reduction and management task must be done under already established institution Disaster Risk Reduction and Management Authority.

Authority must be placed under the Prime Minister's Office with additional resources, tools, human resources and with additional rights to perform the duty.



Closing



Mr. Surya Bahadur Thapa, Chairperson of DPNet, in his closing remarks thanked all participants, advisory board member for their valuable time. He requested the stakeholders to be humble by sending suggestions and help by 1 pm the day after in bullet form and further draft will be created.