Subjective committee meeting (Semi Government) under the National Platform for Disaster Risk Reduction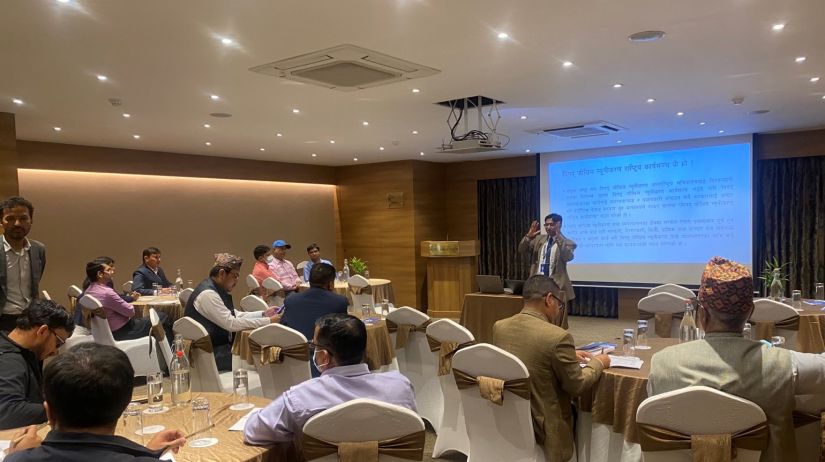 The subjective committee meeting (Semi Government) under the National Platform for Disaster Risk Reduction was organized by DPNet in collaboration with National Disaster Risk Reduction and Management Authority (NDRRMA) at Ambassador Hotel, Lazimpath, on 24th March 2022. Mr. Bishwo Raj Baral, Chief Executive Officer, Nepal Bank chaired the program. Dr. Raju Thapa Acting Chair, DPNet Nepal welcomed everyone and highlighted the objective of the program.

Major Highlights
Dr. Dijan Bhattarai, Under Secretary of NDRRMA shared the objectives of the status of NDRRMA. He explained about the different NPDRR thematic groups and each group has their own guideline which provides support to the group for collaboration among its members. He further clarified about the working area of NDRRMA and shared the importance of coordination and collaboration with different stakeholders. He shared how semi government organizations can strengthen the country's DRRM sector. He urged the thematic group to act as a liason from their organization and to implement DRR measures in their respective organizations to ensure the safety of individuals during a disaster.

Dr. Raju Thapa, Vice Chairperson of the DPNet, highlighted the importance of semi government thematic group and exhibiting a position paper from Nepal in the Asia-Pacific Ministerial Conference on Disaster Risk Reduction (APMCDRR) 2022. He requested the semi government group to put forth ideas for a position paper. He added that the semi government thematic group is an integral group that can help the nation with its DRRM activities.
Major Discussions
To ensure the sustainability of the group there needs to be funding to host such events.

The representatives of the thematic group should establish the preventive measure for their organization and make suggestion in the group.

We need to identify areas that we can work on to achieve resilience.

The Nepal Transit and Warehousing Co. Ltd. is the organization where the goods are stored before they are released into the nation, all goods that come through them however they do not have the infrastructure to store the goods in an event of a disaster.

The coordinator of the thematic group should be appointed on a yearly basis.

The working guideline was finalized at the event, the group appointed a Sub-Coordinator Mr. Rewati Raj Adhikari and a Women's representative Ms. Sharmila Neupane Subedi.
Mr. Bishwo Raj Baral, Chief Executive Officer, Nepal Bank, thanked all participants for participating in the meeting and closed the program.