Subjective Committee Discussion Program (INGOs) under the National Platform for Disaster Risk Reduction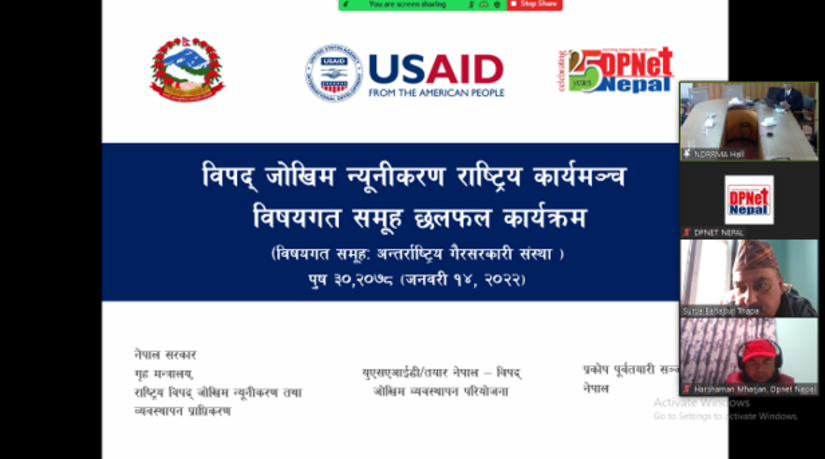 The Subjective Committee Discussion Program (INGOs) under the National Platform for Disaster Risk Reduction was organized by DPNet in collaboration with National Disaster Risk Reduction and Management Authority (NDRRMA) virtually on 14th Jan, 2022. The program was chaired by Mr. Sajan Neupane, Co-coordinator of the INGO subjective committee. Mr. Surya Bahadur Thapa, Chairperson of DPNet welcomed everyone and highlighted the objective of the program. He highlighted the importance of collaboration and coordination of all subjective committees. He said that we need to focus on forming functional subjective committee. He further added that INGO group can contribute to make DRR&M resilience. Altogether, 35 participants joined the program.

Major Highlights
Dr. Dijan Bhattarai, Under Secretary of NDRRMA shared the status of NDRRMA, its challenges and way forward. He explained about the NPDRR Guideline and its implementation in all level. He shared about the working area of NDRRMA and shared the importance of coordination and collaboration with different stakeholders. He shared about the Risk information, strengthening the system at the federal, state and local levels, promoting public and private investment for risk mitigation, preparedness response, reconstruction and rehabilitation, early warning systems and the DRR&M challenges. He further explained the DRRM Act, Policy and Strategic Action Plan of Nepal. He highlighted the priority areas of NDRRM such as understanding disaster and climate change risk, strengthening disaster risk governance at Federal, Provincial and Local Levels, enhancing disaster preparedness for effective response, research- training and capacity building, multi- hazard early warning system and disaster risk financing. He shared the vulnerability map of people and households and said that vulnerability/hazard mapping systems are very important. He finally elucidated the information of bipadportal.gov.np as well. He further highlighted the importance of the INGO group in disaster risk reduction and management. INGO can help in vulnerability mapping, donating in priority hazard zones, can provide policy suggestions and coordination.
Major Discussion
It was discussed about the inclusion of INGO and its contribution in the 5 year NPDRR Action Plan and Position Papers.

It was discussed about the 8 priority sectors of NDRRMA.

DRR&M and Bipad portal localization is very important. Leadership of local governments can play a very good role in DRR&M.

The INGO subjective committee can contribute to Global influence, piloting and risk visualization.

It was discussed about the stakeholders' ownership and time frame management by INGO.

There should be Multi-sectoral Strategic Planning and Resilience planning to make the committee stronger.

The role of National, Provincial and local government should be different for proper utilization of resources.
Dr. Dijan Bhattarai, Under Secretary of NDRRMA said that INGO group also should collaborate with each other and make a strong NPDRR Platform which is closely connected with the government. Knowledge, ideas, research sharing could be more addressed and put it in bipad portal as well. He further said that the 5 year action plan of NPDRR should be strengthened.
Mr. Sundeep Bista said that all the stakeholders are equally responsible for strengthening NPDRR. He further said that NPDRR will be continued after the Tayar Project as well. Since NDRRMA has taken the lead. Mr. Surya Bahadur Thapa, Chairperson of DPNet thanked every participant and closed the program