Subjective Committee Discussion Program (Disaster Affected Community) under the National Platform for Disaster Risk Reduction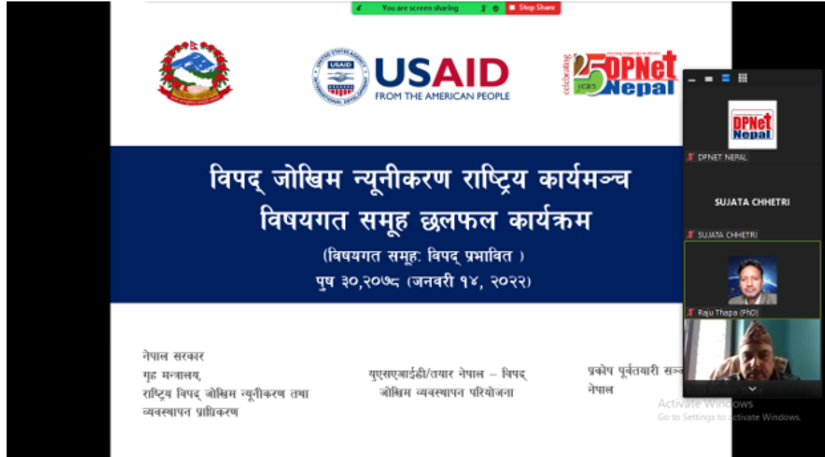 Discussion program on Disaster Affected Subjective Committee under the National Platform for Disaster Risk Reduction was organized by DPNet in collaboration with National Disaster Risk Reduction and Management Authority (NDRRMA) virtually and on NDRRMA hall on 14th Jan, 2022. The program was chaired by Mr. Jaganath Prasad Kurmi, Coordinator of Disaster Affected Community Subjective Committee. Mr. Surya Bahadur Thapa, Chairperson of DPNet welcomed everyone and highlighted the objective of the program. He highlighted the importance of collaboration and coordination of all subjective committees. He further added that Disaster Affected Community Groups can contribute to make a resilient society from grass root level. Altogether, 20 participants joined the program.

Major Highlights
Dr. Dijan Bhattarai, Under Secretary of NDRRMA shared about the NPDRR Guideline and its implementation at all levels. He shared about the working area of NPDRR and shared the importance of coordination and collaboration with different stakeholders. He further mentioned that Disaster Affected Community Group can identify the real problem of the community and come up with an amicable solution so the affected community has great significance in NPDRR structure. He further mentioned that since everyone is directly or indirectly affected by disaster, we all represent this community.
Major Discussions
It was discussed about gathering the knowledge-ideas-experiences by accommodating and prioritizing disaster affected communities.

The Voice of disaster affected community is generally undermined and often neglected.

The plans and policies should also address the affected community.

Disaster affected communities should be included in every sphere of disaster management.

Local regulations and laws are not so strong for disaster affected communities. These kinds of issues should be addressed.

We should try to make the community self-reliant. So training to make yourself self-reliant will play a vital role in disaster management.
Dr. Raju Thapa, Vice Chairperson of DPNet mentioned that all the development partners, policy makers and concerned stakeholders should engage disaster affected communities to identify their real problem in a participatory way. Bottom up approach could be the right strategy to engage affected communities and hear their voice to design effective programs and plan to make a resilient society.
Mr. Anil Pokhrel, Chief Executive of NDRRMA said that this type of subjective group envisioned in NPDRR Guideline aims to reduce the loss of lives and property by disaster events, engaging the community that need to deal with the disaster events on a regular basis. Only one organization could not solve the disaster problems but it could be possible by coordination and collaboration with stakeholders. NDRRMA is ready to work and prioritize disaster-affected communities.
Mr. Jaganath Parsad Kurmi, Coordinator of disaster affected community thanked everyone and closed the program.