Sphere Standard Discussion and Sphere Handbook Hand Over Program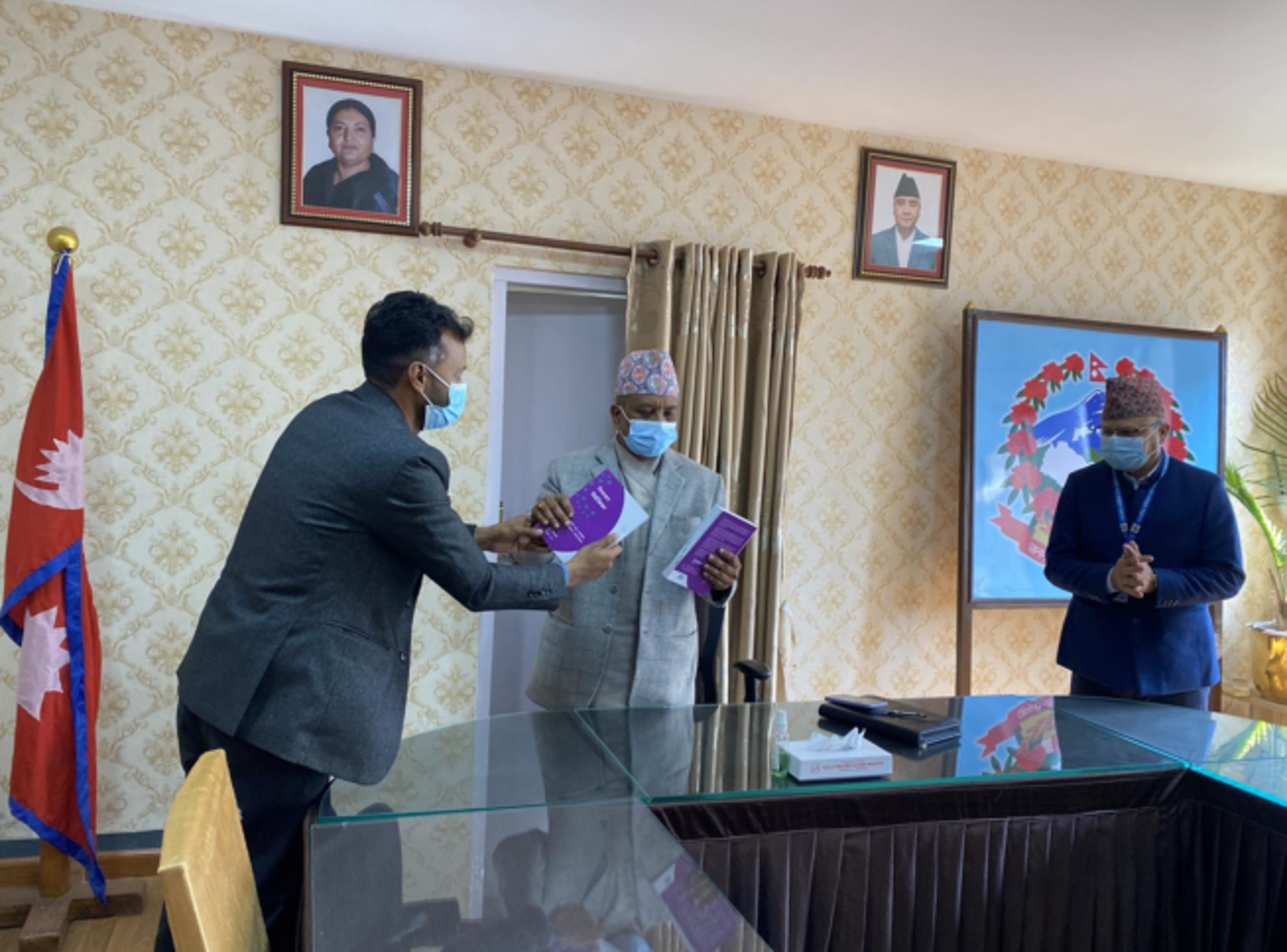 Dr. Raju Thapa, Vice Chair of DPNet and Coordinator of Sphere Nepal has handed over 800 copies of Sphere Handbook to the Secretary of Ministry of Federal Affairs and General Administration (MoFAGA) in 'Sphere Standard Discussion and Sphere Handbook Hand Over Program'.

DPNet as a country focal point for Sphere Standard in Nepal, has formed the 'Sphere Nepal' and conducts various activities to institutionalize and localize the sphere standard in Nepal. After the Nepali translation of Sphere Handbook 2018 by DPNet, it has been disseminating the books to wider stakeholders. Continuing the practice, UNICEF supported reprinting 1600 copies of the translated version of the Sphere Handbook and 1506 copies were provided to UN IOM by DPNet-Nepal on July 5, 2021. The UN IOM and MOFAGA is in the process of delivering disaster risk reduction training programs in all 753 Local Levels in Nepal. During this training program the two copies of handbook in each Local Level will be distributed.

Same training program has been producing 800 plus DRR Trainers to train more than 18000 local government representatives and staff. So, DPNet has handed over another 800 copies of Sphere Handbook to MoFAGA to disseminate to these trainers. In the program, the Under Secretary of MoFAGA mentioned that the DRR Localization Training Manual has a special session of Sphere Standard and that intends to sensitize local level representatives on minimum humanitarian standard in the conflict and disaster situation.

Mr. Santosh Neupane, representative of UN IOM mentioned that Sphere standards help concerned stakeholders, especially local governments, to determine the minimum level of quality in humanitarian support. He further mentioned that the effort of DPNet adds another brick to lay down the foundation to localize widely accepted humanitarian standards in Nepal.

In the handover program, Dr. Raju Thapa General Secretary of DPNet & Coordinator of Sphere Coordination Committee expressed his sincere thanks to Sphere Geneva for the reprint and UN IOM & MoFAGA for supporting the initiation to institutionalize and localize the Sphere Standard that promotes quality and accountability around the globe.

Mr. Suresh Adhikari, Secretary of MoFAGA expressed his sincere thanks to DPNet for providing Sphere Handbook to the DRR Trainer through MoFAGA. He mentioned that Nepal is a hotspot of various types of disasters so at least local governments should be sensitized in a way that they will follow widely accepted humanitarian standards to save the life and property during and after the disaster events. He also expressed his commitment to support the process to institutionalize and localize sphere standards in Nepal and formally closed the program.