Sharing Program on Nature Based Solutions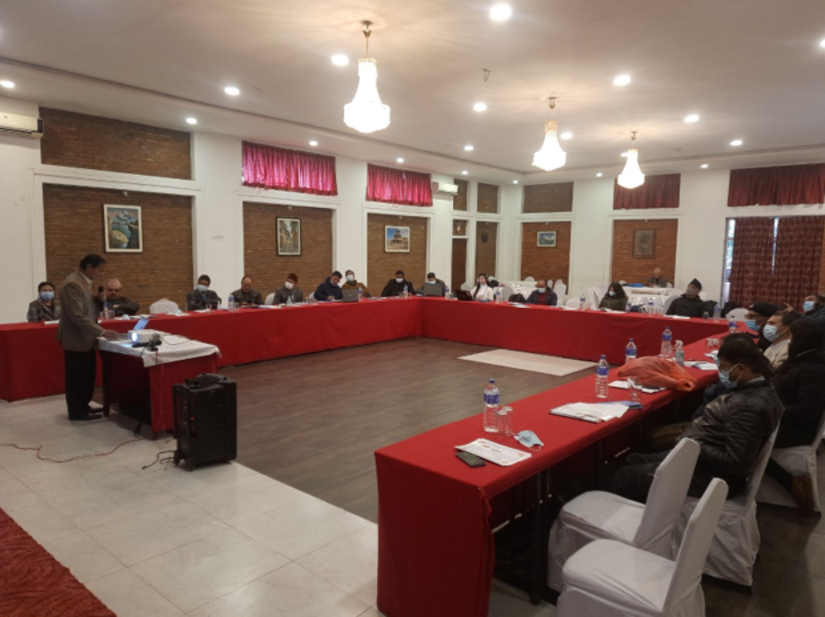 The sharing program on Nature Based Solutions for Effective DRR was organized by DPNet in collaboration with National Disaster Risk Reduction and Management Authority (NDRRMA) and DCA on December 26, 2021 in Bougainvillea event Tripureswor, Kathmandu. The program was facilitated by Ms. Santona Devkota K.C, Program Coordinator of DPNet. The program was chaired by Mr. Surya Bahadur Thapa, Chairperson of DPNet. Mr. Kailash Rijal, General Secretary of DPNet gave the welcome speech and highlighted the objective of the program. Altogether, 27 participants attended the program.

Major Highlights
· As the program was also attended by newly appointed Advisors and Technical Advisors of DPNet, Dr. Raju Thapa, Vice Chairperson of DPNet shared the major recent achievements of DPNet highlighting some of the DRRM and nature based interventions. He said that DPNet implemented 15 projects, signed agreements with 19 different partners and completed more than 91 different activities and documented in webpage and collected more than 667 online resource center documents. He said that the website created by DPNet is disable friendly. DPNet has prepared and published braille and audio versions of various draft DRR policy documents to collect feedback from persons with disabilities. He shared that DPNet has worked on translation of Sphere Handbook and various training on Sphere. DPNet has worked on policy paper, DRR toolkit and supported NDRRMA to finalize NPDRR Guideline. He highlighted the success story about Low-cost landslide mitigation technology using indigenous practices and handbook of this practice and about the low-cost flood and landslide mitigation technology tested in Gorkha, Mahottari and Khotang. He further said that DPNet has supported MoHA to finalize DRR Policy, 2018 and DRR Strategic plan of action 2018-2030. DPNet has created Google group with 2000 plus members, prepared covid-19 contingency plan and work from home guideline developed and disseminated, developed emergency information desk established in Bara and Parsa Tornado event. He further shared the DPNet plan for 2022 and highlighted the importance of cost-effective nature based DRRM intervention.

· Dr. Meen Poudyal Chhetri, Advisor of DPNet shared the presentation on Nature Based Solutions-A model for disaster risk reduction in Nepal prepared by Prof. Dr. Jiba Raj Pokhrel, past Vice Chancellor of National Academy of Science and Technology (NAST). He shared some glimpse of the World Disaster Report-2020. He shared the background, flooding and inundation which is a Global problem. He explained the macro-level reasons for increasing disaster. There is increasing disaster due to interventions in wrong areas, sources or the causes of disaster are not targeted, re-active approaches are taken, engineering solutions are adopted even in cases where unnecessary and have been exhausted and nature-based solutions and indigenous knowledge have been ignored. He also described the simple solutions for micro-level disasters. And nature-based solutions for DRR. He further explained Nature Based Solution, its principle, objectives and study methodology and shared the glimpse of pond condition in Khotang, Mahottari and Tanahu districts and landslide condition of Gorkha districts. He gave some recommendations regarding nature-based solutions. He shared about the manual which includes pond size, reason to construct pond, suitable place to construct pond and plan and section.

Major Discussions
· Nature Based Solutions helps in mitigation of climate induced and human induced disasters. It helps to mitigate landslides, floods, forest fires and other disasters. It also promotes cost effective disaster management.
· There are long term and short-term impacts of nature-based solutions.
· It was discussed about localization of nature-based solutions. DPNet should digitally connect and form virtual platforms for localization and knowledge sharing.
· Disaster should be previewed on multi-dimensional aspects such as psychosocial, technical, biological and livelihood aspects. Disaster management should be based on holistic development.
· It was discussed about the reason for pond construction in selected locations/areas and responsible authority for future pond conservation. These kinds of activities should be linked with sustainable development.
· It was discussed about ensuring prevention of accidents/ falling of children in the pond. It is important to make a ladder/bamboo or any support inside the pond to prevent children and animals from drowning.

Closing
Mr. Surya Bahadur Thapa, Chairperson of DPNet shared the different works of DPNet in knowledge management, policy advocacy, capacity building for disaster risk reduction and management. He emphasized nature based cost-effective intervention to make a resilient community to save life and property. He finally gave vote thanks to the board, advisory, technical advisory, presenter and all participants of the program and closed the program.