Sharing of Low Cost Technology for Reducing Flood and Landslide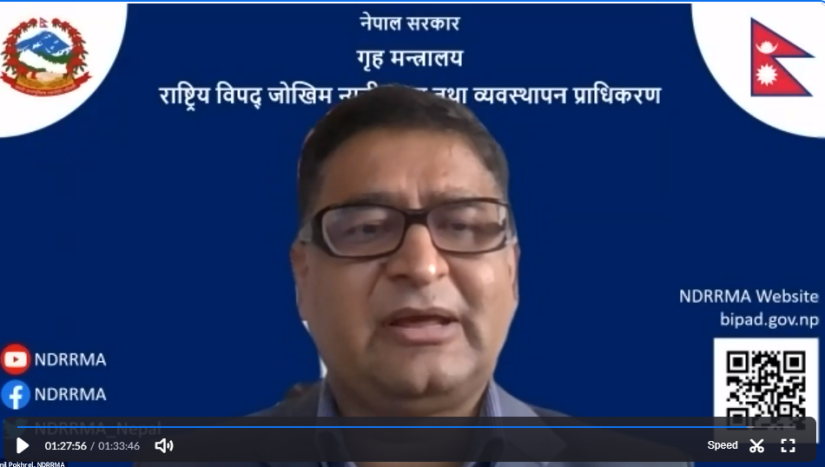 The webinar entitled "Low Cost Technology for Reducing Flood and Landslide" was organized by National Platform for Disaster Risk Reduction (NPDRR) on 6th September 2021. The event was coordinated by NPDRR Secretariat, DPNet Nepal. The = program was chaired by Mr. Anil Pokhrel, Chief Executive of NDRRMA/Chairperson of NPDRR.Mr. Surya Bahadur Thapa, Chairperson of DPNet-Nepal/Member Secretary of NPDRR facilitated the program. He shared about the use of the low cost technology for reducing the flood and landslides by DPNet-Nepal in the Siarnchwok Rural Municipality of Gorkha district and the Altogether 78 participants joined the webinar.

Major Highlights
Mr. Anil Pokhrel, Chief Executive of NDRRMA appreciated the concept of pond construction. He shared about the experiences of the field visit from Sindupalchok to Udaypur. He shared about the current status of Koshi that the river has changed its direction and started flowing in the previous direction like before the Earthquake of 2045 BS. The initiatives done there and the possibilities of disaster in that area. He added that some areas from Ramechhap to Udaypur were left barren due to lack of irrigation, so pond construction may help in irrigation and landslide mitigation as well. He said that if there were no ponds during fire and drought, there would be a major loss in Taplejung this year. He added that NDRRMA is revisiting the startegy to make the country resilient within 10 years. He emphasized on taking this technology in Local Level and preparing the manual and guidelines for this technology. He also shared that they have requested INGOS and agencies to construct ponds. Mr.Pokhrel, in his closing remarks shared that these types of initiatives should be mobilized, more research, E- training should be carried out for resilience. He thanked the resource person for sharing the technology and DPNet for coordinating to organize the program.
Prof. Dr. Jib Raj Pokhrel, Former Vice-Chancellor of NAST gave presentation on small ponds: Panacea to multiple disaster problems focusing the low cost technology for reducing the Floods and Landslides He shared about the flood prevention in ancient time and shared the history of ponds in Nepal. He highlighted the importance of ponds for resistance and resilience building. He said that there is a direct linkage of rainfall and pond. His presentation included information about the flood resistant design, preparation of map, construction of ponds, determination of pond size, information regarding the rainfall in Nepal, role of ponds for typical large events along with the return period of floods. He also shared that ponds usually help in reduction of flood, sediments, slip surface and water leakage, wildfire and pollution risk reduction, less possibility of wild animal attack, water retention in ponds, less possibility of lightning, sustainability of ponds and many more. He also shared about the pan for the construction of the pond and use of cost effective technology.
Major Discussions
The discussion was based on taking this technology further to Local Level, considering the low cost, utilization of local resources and also the opportunity of employment to local people. This technology should be carried out by the government and other DRR stakeholders.
The pond construction is an opportunity for local people so locals should take initiatives in pond construction and should be aware about the benefits.
It was discussed about the process of pond construction and other multi-initiatives for resilience. It is a useful solution without damaging nature because the pond does not only control floods but is a useful recharge system for water sources as well.
The life of the pond also should be determined as 4ft deep sediments would fill it up quickly in high erosion areas. Also need to stress on its scientific validation. Without checking the porosity and permeability of soil, there might be drawbacks, let's take this good initiation academically through publications.
The soil status and soil porosity also affects the stability of water. So, these need to be addressed during the construction.