Provincial DRR Policy Implementation and Learning Program at Bagmati Province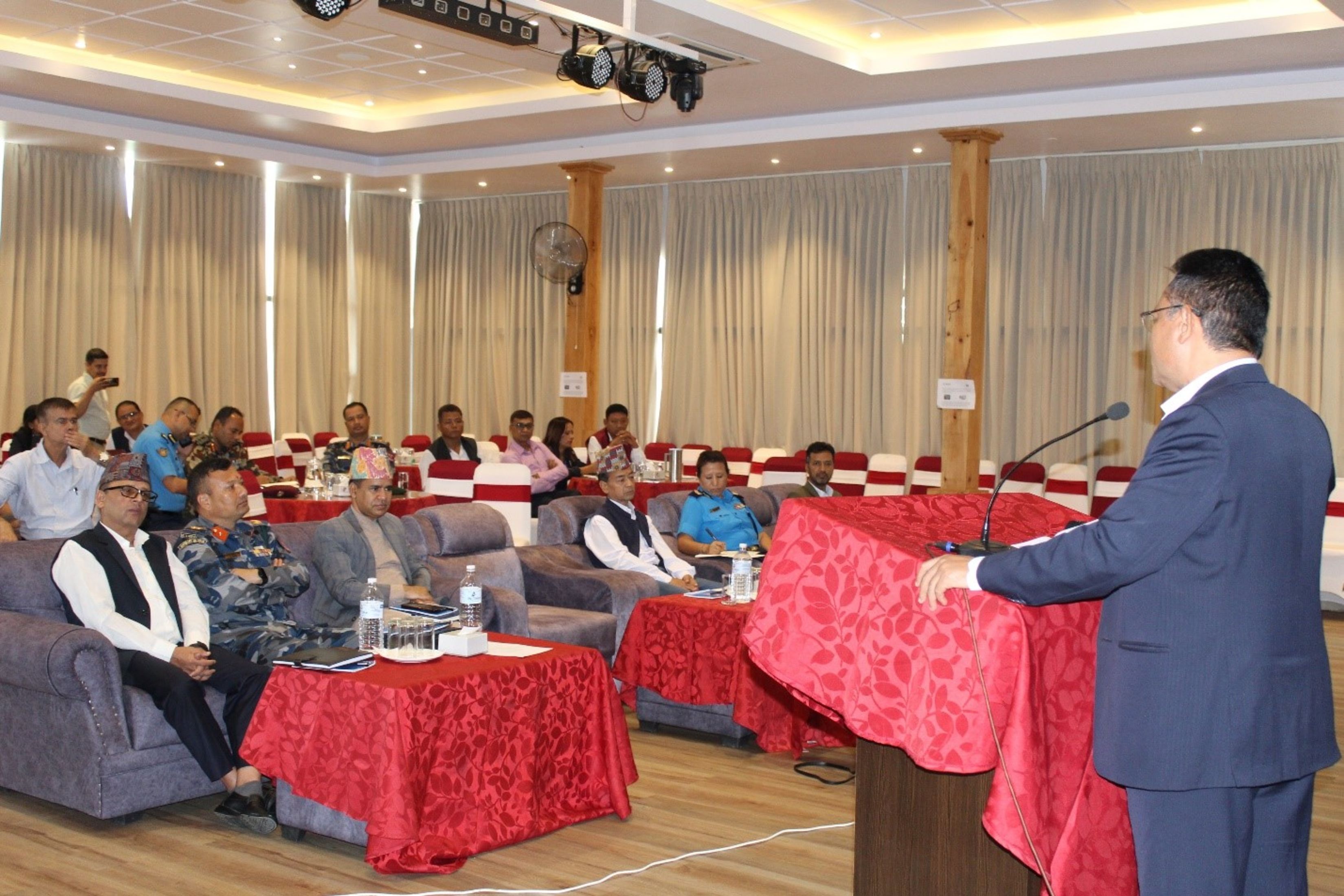 Makwanpur, September 5, 2023 - DPNet-Nepal with financial and technical support from USAID's Tayar Nepal, organized an event aimed at enhancing Disaster Risk Governance, inclusion, and accountability in Bagmati Province, Nepal. The event was chaired by Mr. Dhruba Gaida, Secretary, MoIAL, Bagmati Province while Hon. Ganga Narayan Shrestha, Minister of Internal Affairs and Law, Bagmati Province as a Chief Guest. and Mr. Ghanshyam Upadhyaye, Chief Secretary at Bagmati Province as Special Guest along with Mr. Netra Prasad Sharma, Deputy CDO of the Makwanpur District, Dr. Raju Thapa, Acting Chair of DPNet Nepal and representatives from the Nepal Army, Nepal Police, Armed Police Force, Nepal Red Cross Society and NGOs working in Bagmati Province.
Key insights were shared during the technical session.
Mr. Kedar Neupane, Former Secretary of the Government of Nepal, highlighted the vital role of Disaster Risk Assessment in effective disaster risk mitigation. Using examples from Bagmati Province, he emphasized the consequences of haphazard construction practices, stressing the need for engineering solutions. Given the province's susceptibility to various disasters, he advised the provincial government to lead in the implementation of existing disaster plan policies and strategic plan of action. Mr. Neupane also talked about the connection between poverty and disaster casualties, questioned current preparedness efforts, and discussed shortcomings in provincial disaster response. He offered insights into the status of firefighting resources and concluded with a brief sharing of the expected outcomes of the discussion.
Dr. Raju Thapa, Acting Chair at DPNet Nepal commenced his presentation by analyzing Nepal's earthquake history, with a particular emphasis on the tragic Gorkha Earthquake of 2015. He highlighted the nation's vulnerability to disasters and pointed out that the earthquake had devastating consequences, including the destruction of over 19,000 school classrooms, severely affecting education across 31 districts. He underscored the multi-dimensional impacts of disasters on society, urging the necessity for stronger DRR policies and addressing vulnerability fault lines to enhance resilience and preparedness. Moreover, he discussed the complex geographical landscape of Nepal and its inappropriate infrastructure development efforts, which contribute to induced hazard risks with pictorial representations. He specifically addressed the risk scenario in Bagmati Province, disaster types, and intensities with detailed disaster data. He highlighted that Bagmati Province faces significant hazards, particularly related to landslides. He further spoke on preparedness initiatives and lessons learned from past experiences to mitigate disaster risks in the future emphasizing the crucial role of enhanced DRR policies. Dr. Thapa further shared with the floor that Early Warning Systems have mitigated the Disaster Risks, especially in case of Flood, and added the need to develop EWS regarding Landslide, Earthquake, and other major disasters. He focused on the challenges we are currently facing, particularly those related to haphazard construction practices and the issue of cabinet boxes installed by the Nepal Electricity Authority, which have been covering footpaths in recent days. He also mentioned about comprehensive risk assessments, and future predictions, and stressed the importance of localized preparedness measures. He highlighted the essential roles of the National Platform for Disaster Risk Reduction (NPDRR) in coordinating disaster response efforts and posed thought-provoking questions to engage participants throughout the session.
Dr. Thapa recommended that the security sector play a pivotal role in disaster preparedness by organizing community-level campaigns that encompass essential training in crafting life-saving jackets, providing swimming lessons, and harnessing social media platforms to disseminate awareness. He added that disasters can also be considered opportunities in many cases. Instead of cultivating crops and building human settlements in these areas, which can amplify the risks of animal-related hazards, he proposed promoting tourism as an alternative.
Mr. Deepak Prasad Neupane, Under Secretary at MoIAL, Bagmati Province, emphasized the importance of collaboration between the government and non-government sectors for effective disaster management. He provided a comprehensive overview of the province's disaster situation from 2012 to 2023, which included incidents like floods, landslides, fires, and earthquakes. Mr. Neupane highlighted the significant impact of fire-related disasters across all districts, along with a growing occurrence of floods and landslides. Mr. Neupane further stressed Bagmati Province's efforts in disaster management, specifically focusing on the preparation and implementation of various plans and guidelines, such as the Bagmati Province Monsoon Preparedness and Response Action Plan 2023, the Bagmati Province Environment Protection Act 2020, the Contingency Plan for the Housing Sector 2022, Bagmati Province Disaster Management Act 2018, and the Province Disaster Management Policies and Strategic Action Plan 2019-2030, among others. He mentioned that the province is currently in the process of formulating the Disaster Preparedness and Response Plan for Bagmati Province. Mr. Neupane explained that, in line with the province's fund mobilization guidelines, one million units of currency are being provided to all districts and hazard-prone local levels to enhance disaster preparedness and management. He also discussed awareness campaigns, relief allocations for private housing reconstruction by the provincial government, and highlighted challenges such as proper data management, interagency and intergovernmental coordination, limited human and economic resources, and the integration of disaster management with development initiatives.
Mr. Furba Dorje Tamang, Ward Chair, Hetauda Sub-Metropolitan City Ward No. 10 highlighted ongoing DRR efforts of Hetauda Sub-Metropolitan City focusing on proper budget allocation and readiness of Sub-Metropolitan City for disaster with the formation of committees at Metro and ward level. He shared the fact that the budget under DRR is being frozen due to a lack of proper periodic planning. He focused on the fact that the planning should be done before the fiscal year and monsoon season focusing on preparedness rather than relief distribution. Giving an example of a recent fire incident in ward on 17, 18, and 19, he explains the inadequate relief fund and rescue mechanism and focused on enhancing this.
Ms. Ramila Sapkota, Chairman of the NGO Federation, Makwanpur stressed academia's role in disaster research, focusing on geography and housing issues. She advised policy implementation, guideline obedience, and non-governmental collaboration with the government for effective disaster management.
Ms. Kiran Rana, Deupty Inspector General of Police at the Bagmati Province Police Office, expressed her concerns regarding the rising number of human-made disasters, including issues like cabinet boxes and unmanaged wires on roads. She raised concerns about the need for immediate action by district-level authorities and security forces to reduce road accidents. Ms. Rana also noted a 6.22% reduction in accidents during the last fiscal year in Bagmati Province, attributing it to preparedness efforts. However, she highlighted the lack of coordination among infrastructure development organizations. She suggested that the MoIAL should consider consulting organizations like DPNet when developing plans related to DRR.
Mr. Laxman Bahadur Singh, APF highlighted coordination issues among stakeholders and shared his firsthand experience as a first responder during the Jure Landslide. He stressed the importance of timely information sharing, community inclusion in drills, and forming local entities for efficient relief distribution. He also discussed APF's efforts in training disaster response personnel and establishing disaster bases.
Mr. Ganesh Bhandari, Coordinator at INSEC stressed the importance of incorporating recharging centers in housing and settlement projects to replenish groundwater and ensure urban water sustainability. He emphasized the need for laws and policies, prioritizing animal-induced hazards, and considering people with disabilities in disaster-related policies.
Mr. Bhola Rupakheti, Chairman of NRCS, Bagmati Province stressed the need for reorganized development models, mobilization of community-level volunteers for information dissemination, and collaboration among various entities to address climate-related disasters and enhance disaster preparedness, citing a recent flood in Mustang as a critical example.
Mr. Netra Prasad Sharma, Deputy CDO of Makwanpur District, provided insights into the need for effective coordination between federal-level government agencies and local authorities within Makwanpur District. He also emphasized the significant delays in the promulgation of the District Public Risk Reduction Plan, primarily attributed to the lack of active involvement from relevant organizations. Mr. Sharma urged agencies similar to DPNet to assume responsibility for addressing DRR issues, not only at the provincial level but also at the national level. Additionally, he stressed the importance of having storage facilities at the local level.
Mr. Ghanshyam Upadhyaya, Chief Secretary of Bagmati Province, acknowledged that due to the higher population density and increased incidence of human-made disasters in Bagmati Province, it is crucial to maintain a high level of preparedness and vigilance. According to Mr. Upadhyaya, the presentation by Dr. Thapa provided valuable insights into the challenges we are currently facing particularly concerning haphazard construction practices, and the issue of cabinet boxes installed by Nepal Electricity Authority. Mr. Upadhyaya emphasized the importance of a collective effort in DRR and expressed his commitment to communicating with the CDO of Kathmandu to ensure swift action in addressing the concern related to cabinet boxes. Furthermore, he underscored the significance of officials not neglecting their responsibilities, especially in light of the problems faced by our citizens.
Hon. Ganga Narayan Shrestha, Minister of Internal Affairs and Law, Bagmati Province suggested that this program would have been more effective if it had been conducted two months before the start of the fiscal year. This timing would allow for a better understanding of Bagmati Province's actual orientation. He emphasized that Bagmati Province needs to identify strategic and short-term planning measures to build a resilient society within the province. This would involve volunteer mobilization and raising public awareness. Hon. Shrestha discussed Bagmati Province's approach to reducing road accidents by using CCTV cameras. Referring to Dr. Thapa's presentation, he highlighted that Bagmati Province faces significant hazards, particularly related to landslides. He noted that the province had previously been more centralized in addressing flood-related issues but would now also prioritize landslide prevention with the installation of an early warning system. He underscored that the provincial government would focus on rescue efforts, training, and the utilization of indigenous knowledge and techniques. Regarding the concurrent powers of the three tiers of government, he called for the resolution of problems. Hon. Shrestha mentioned that Bagmati Province is attempting to establish a separate disaster authority for DRR but faces challenges due to limited budgetary resources. He requested assistance from DPNet, seeking their expertise in identifying gaps and shortcomings in the formulation and implementation of DRR policies within Bagmati Province.
Mr. Dhruba Gaida, Secretary, MoIAL, Bagmati Province, Program chair emphasized the need to concentrate on the preparedness and collaboration of different concerned stakeholders with mutual respect and coordination for each other's coexistence. He shared his experiences while working in Disaster Management and mentioned the process ongoing with an emphasis on the mitigation efforts with an approach for working together with security forces, including the local community for simulation and sensitization and gave a commitment to continue the ongoing efforts in the coming days too. He further emphasized the need for implementing a one-door policy to enhance better coordination among three tiers of government while working for DRR mitigation. Mr. Gaida announced the program conclusion with a brief summary of the event and a vote of thanks to the participants.