Online Resource Center and Virtual DRR Platform Review and Planning Virtual Meeting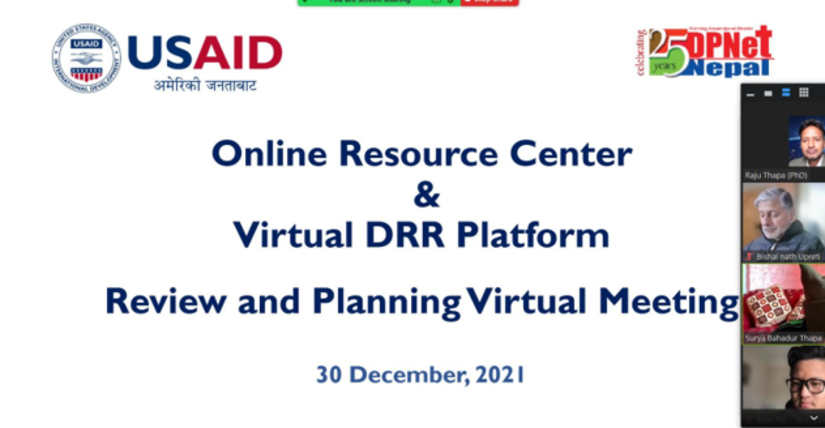 The Online Resource Center and Virtual DRR Platform Review and Planning Virtual Meeting program was organized by DPNet Nepal on December 30, 2021 virtually. The program was chaired by DPNet Chairperson, Mr. Surya Bahadur Thapa. DPNet Vice Chairperson Dr. Raju Thapa, shared the objective of the program. As he has generated the idea of Online Resource Center and Virtual DRR Platform, he highlighted the evolution of the idea and shared salient features of those online platforms. He further shared about Virtual Platform as well. Virtual Platform is such a platform where people can share their ideas, skills and knowledge by discussing a particular topic virtually.

Major Highlights:
Mr. Bijay Rai, Consultant from Ikagai Technology shared the details about Virtual DRR Platform. He shared about the searching procedure, discussion topic and details about the platform. He further shared about the documents uploaded and process to upload in the online resource center of DPNet website. More than 770 documents has been uploaded in ORC with different categories such as DPNet publication, Legal document, sample Legal document, book, hand book, journal, research paper, bulletins, position paper, conference paper, review article, factsheets, case studies, presentations, training materials, flyer, brochure, template, report, manual, official statement, GESI and videos and sub categories such as important legal documents, act, ordinance, court decision, rules and regulation, policy, strategic planning, action plan, standards, guidelines, framework, procedure, circular, district level, province level, local level, international treaties, federal level, state level and central level documents.

Major Discussions:
· Sustainability of Virtual DRR Platform and Online Resource Center is very important so DPNet should design these platforms in a cost-effective way and should make part and parcel of the DPNet website to continue it for a long run.
· The documents can be collected from various agencies, past programs like Flagship Program, Prevention web and many more.
· Individuals who work in various organizations might have a better collection of DRRM documents so individuals also need to be consulted.
· This initiation should be reviewed time and again for better knowledge sharing.
· DRRM Psycho Social research study carried out by various individuals and organizations could be another area to be added in the online resource center.
· This is a wonderful idea to preserve resources as well as easy to search materials needed.
· It was discussed about the criteria to upload the resources (documents) in ORC. The documents should be scanned, reviewed then uploaded finally.

Mr. Surya Bahadur Thapa, Chairperson of DPNet said that this concept may promote and help to find the documents easily. He finally gave a vote of thanks to the participant and closed the program.