NGO Subjective Committee Discussion Program under the National Platform for Disaster Risk Reduction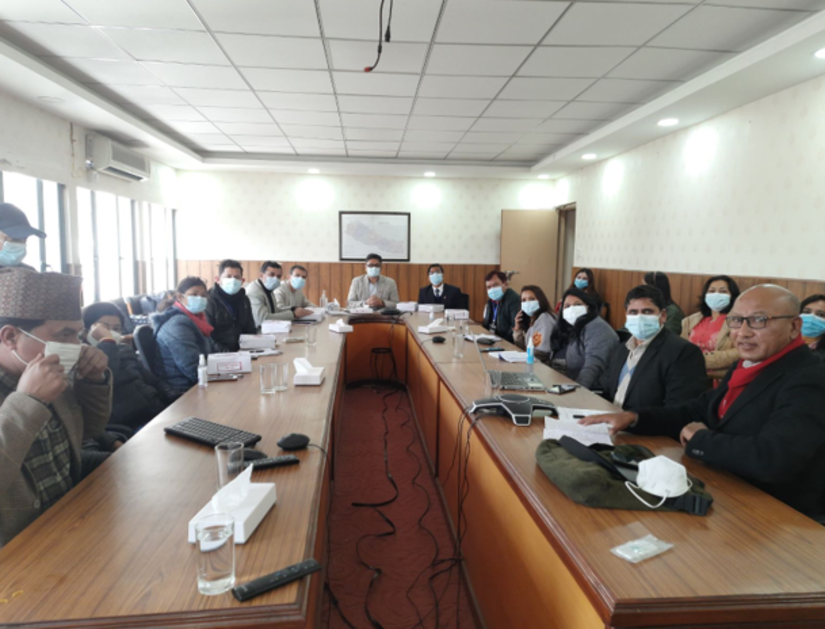 The NGO Subjective Committee Discussion Program under the National Platform for Disaster Risk Reduction (NPDRR) was organized by DPNet in collaboration with National Disaster Risk Reduction and Management Authority (NDRRMA) on NDRRMA hall on 13th Jan, 2022. The program was chaired by Mr. Daya Sagar Shrestha, Coordinator of NGO subjective committee. Mr. Kailash Rijal, General Secretary of DPNet gave a welcome speech and highlighted the objective of the program.

Major Highlights
Dr. Dijan Bhattarai, Under Secretary of NDRRMA shared the status of NDRRMA, its challenges and way forward

. He

explained about the NPDRR Guideline and its implementation at all levels. He further clarified about the working area of NDRRMA and shared the importance of coordination and collaboration with different stakeholders. He further highlighted the importance of NGO Group in disaster risk reduction and management.

Mr. Bishnu Timilsina, Consultant from DPNet shared the draft guideline of the NGOS Subjective Committee. He shared the objectives, provision regarding the members in the committee, power, yearly meeting procedures, roles and responsibility of the Subjective Committee. He also said that the draft will be shared with NGOs groups for their feedback and finalization.

Major Discussions:
It was discussed about the sustainability of the subjective committee and 8 working priorities of NDRRMA.

NGO work on an emergency basis so it would be easier if there is good coordination at the local and district level as well.

It was discussed about the update of the working organization in the portal system as well.

It was discussed about the localization of DRR&M.
Mr. Anil Pokhrel, Chief Executive of NDRRMA highlighted the importance of coordination and collaboration of different stakeholders from NGO, INGO, Media, academia and others in disaster. He said that disaster was portrayed as a response before but we need to advance this as well. There is enough space in the portal, so knowledge-exchange hubs and good resources can be included. He thanked everyone for the participation and closed the program.