Nepal Participation in Global Platform for Disaster Risk Reduction (GPDRR) -2022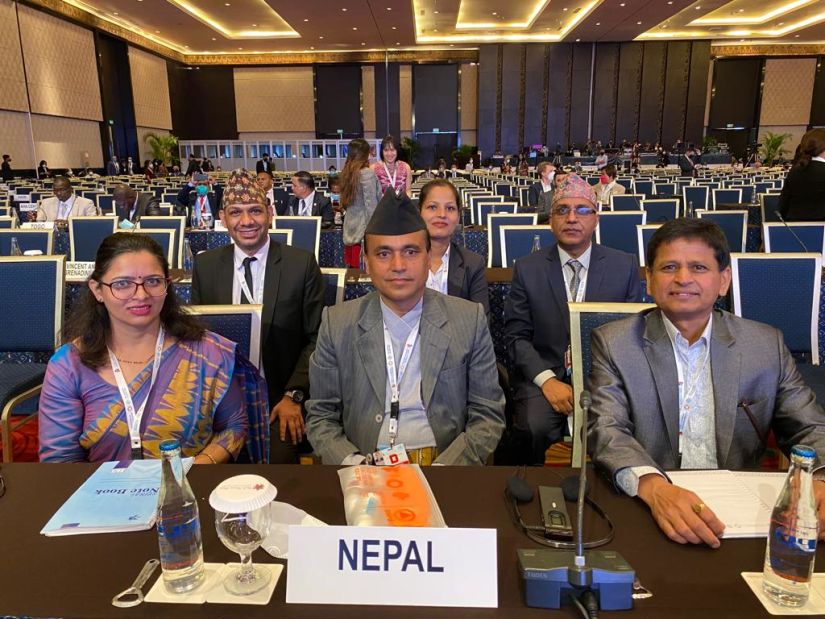 The seventh session of Global Platform for Disaster Risk Reduction(GPDRR)- 2022 was organized by the UN Office for Disaster Risk Reduction (UNDRR) from 23rd to 28th May, 2022 in Bali, Indonesia. The platform was hosted by the Government of Indonesia. The participants from different parts of the world participated in the event.
As a secretariat of National Platform for Disaster Risk Reduction (NPDRR), DPNet Nepal coordinated Nepal's GPDRR preparatory works and entire events. The Chief of Disaster and Conflict Management Division, Executive Chief and Joint Secretary of NDRRMA along with representatives from various organizations participated in GPDRR – 2022. Dr. Raju Thapa along with DPNet Team had coordinated virtually through various online platforms.

First Day 23rd May
Mr. Anil Pokhrel, Executive Chief of National Authority of National Disaster Risk Reduction and Management Authority (NDRRMA) was the speaker of WRC5: Plenary session: social, infrastructural and economic recovery from disaster - An opportunity to reset the development pathway towards a greener and more resilient future'. Mr. Rajendra Sharma from Department of Hydrology and Metrology (DHM) presented about the 'Impact Based Forecasting (IBF) and Anticipatory Action'. The participants from Nepal participated in various events like state of play on early warning systems, women and gender sessions and so on. Mr. Pradip Kumar Koirala, Chief of Disaster and Conflict Management Division delivered the 'Official Statement' on behalf of the Government of Nepal.

The events on GPDRR Platforms were related to lessons in building resilience - over the past 3 years and plans and opportunities for the future of SEM. There were parallel events on constituency sessions of NGOs, disability, women and gender, private sector and communities separately. The other parallel sessions were about constituencies on children and youth, IFRC and media. There were mingle events with the stakeholders. There were booths from Nepal throughout the event such as 'Innovation Early Warning System – by Mercy Corps', 'Visualizing Risk (VisRisk) – by Youth Innovation Lab'.

Second Day 24th May
Mr. Anil Pokhrel, Chief Executive of NDRRMA on high panel shared the perspective of Nepal on 'Multi Hazard Early Warning Conference (MHEWC) Thematic perspectives: preparedness, early action, anticipatory action: humanitarian angle'. The parallel events organized were about the gap between DRR science and technology with practice at local level, DRR financing – An ESG+R approach, scaling up local implementation of Sendai Framework for DRR and constituency sessions: displacements. Other parallel events were also organized which were related to disaster governance - engagement of stakeholders in national DRR strategies, integrating DRR into climate change policy & action and Sendai Framework midterm review. The key messages reported back from parallel sessions, whole society approach and constituency feedback sessions were also conducted.

Ms. Anita Niraula, Joint Secretary of NDRRMA won the surprise prize as a Bingo winner of the Early Action Panel. She participated as a panelist at the closing ceremony of 2nd stakeholder's forum on disaster risk reduction as well and presented her view regarding DRR.

Third Day 25th May
On the third day, the welcome program was followed by 'High Level Dialogue 1'. There were various parallel sessions on diversity in DRR leadership, improved understanding and governance of systemic risk - unpacking the 2022 global assessment report, breaking the silos – toward multi-hazard, multi-sectoral approaches to managing risk, building a better future: investing in resilient infrastructure for all along with ministerial roundtable about scaling-up disaster risk reduction to tackle the climate emergency. The other parallel events were about strengthening disaster and climate risk governance at national and local levels for accelerated progress on SFGs and early warning and early action.

There were various side events about DRR planning, conflict-climate change and COVID-19, adopting SFDRR, inclusive local actions, toward greater financial resilience, addressing loss and damages, indigenous knowledge, scaling up the technologies and community resilience. The Prestigious Sasakawa Award – event was organized on the platform. Atullya Foundation from Nepal shortlisted in the top five "Organization" category in the award ceremony.

Fourth Day 26th May
On the fourth day of GPDRR events were about the high level dialogues on COVID-19, nature based solutions, inclusive and resilient recovery in urban context, data challenges and solutions for DRR. The other sessions were about strengthening governance to reduce disaster displacement risk, financing local investment through risk informed and bankable strategies and building resilience through recovery.

Mr. Pradip Kumar Koirala, Chief of Disaster and Conflict Management gave a speech in ministerial roundtable discussions about resilience: changing the approach to disaster risk reduction financing. There was a midterm review session beyond natural hazards – operationalizing the expanded scope of the Sendai Framework.

Ms. Nisha Shrestha from Nepal presented about 'Making Displacement Safer'. There were other special and side events along with online side events and learning labs occurred in parallel. The events were related to leaving no one behind in the face of disaster, center of excellence on climate and disaster resilience, Sendai Framework monitoring voluntary commitments, child and youth perspectives on promoting Sendai Framework, innovation solutions, disaster loss accounting, early warning and early action, accelerating disability inclusion in disaster risk reduction, integrating biological hazards in national disaster management policies and opportunities for shared risk analysis.

Fifth Day 27th May
On the last day of GPDRR event, Mr. Anil Pokhrel, Executive Chief of NDRRMA and Dr. Ramesh Guragain, from NSET participated in panel discussion on 'Mainstreaming gender equality, disability, and social inclusion in anticipatory actions for disaster preparedness in Southeast Asia'. Dr. Dharam Uprety presented on 'Anticipating and acting early - putting communities and creativity at the heart of our learning and exchange'.

There were various learning labs related to subnational risk index, anticipatory action and impact based forecasting, comprehensive disaster and climate risk management, Sendai Framework monitoring, early warning systems and opportunities for shared risk analysis. The side events were about sharing session on regional standby mechanisms and their role in disaster preparedness and response, and anticipating and acting early - putting communities and creativity at the heart of our learning and exchange along with the online side events about breaking the systemic risk impasse with urban multi-hazard risk policy transitions, implementing integration - reflections and lessons from the Pacific, for the future, advancing DRR in building safe and resilient health facilities: lessons learnt from COVID-19 and governance of climate change and technological risks in trans boundary water bodies.