National Platform for Disaster Risk Reduction (NPDRR), Subjective Committee (NGO's) Discussion Program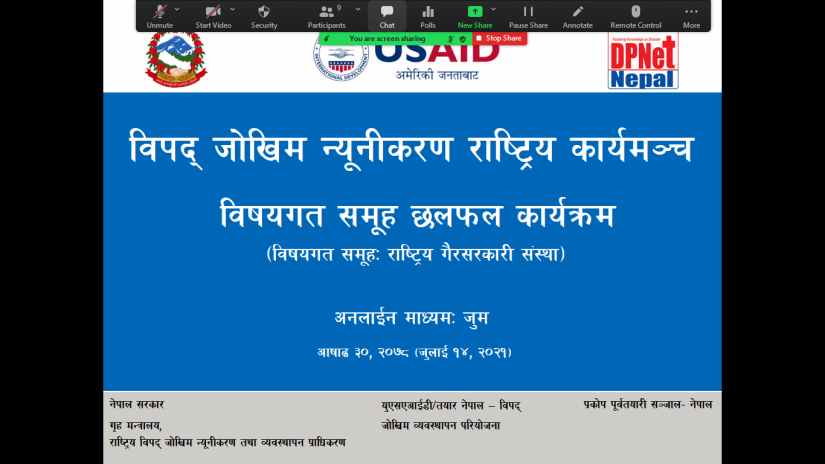 The Subjective Committee discussion program of NGOs Group under the National Platform for Disaster Risk Reduction (NPDRR) was organized virtually by DPNet-Nepal under USAID/Tayar's Capacity Enhancement for DRR&M project on 14th July, 2021. Mr. Beda Nidhi Khanal, Under Secretary of National Disaster Risk Reduction and Management Authority (NDRRMA) chaired the program. Mr. Surya Bahadur Thapa, Chairperson of DPNet-Nepal delivered opening remarks and he briefly shared about the role of NGO in DRR&M. He also highlighted the objective of program. Mr. Jitram Lama, Chairperson of NGO Federation was the Special Guest of the program. Altogether 40 participants joined the webinar.

Major Highlights
• Dr. Raju Thapa, General Secretary of DPNet-Nepal presented about NPDRR Guideline and its implementation. He shared the provisions of UNDRR regarding the formation of NPDRR in different countries, NPDRR in Nepal and highlighted the list of Subjective Committees under NPDRR Guideline and the provision regarding the formation of Province and Local Level platform for DRR. He further informed about the approval of NPDRR Guideline, nine different Subjective Committees of NPDRR Guideline. He also requested NGO's to support in localizing NPDRR by including the formation of NPDRR in Local Level in their program.
• Ms. Luna Khadka, Program Coordinator shared the objectives of USAID/Tayar Nepal's Capacity Enhancement for DRR&M project in relation to NPDRR. Furthermore, she said that Province Level Platform for DRR will be formed in Karnali and Sudur Paschim Province and the project will also support to form the Local Level Platform in three Municipalities namely, Godavari of Kailali, Rajapur of Bardiya and Tulsipur of Dang District. She also shared that the formation of Subjective Committee was pending since long time. Since the NPDRR guideline is approved, now it's high time to form the Subjective Committee and implement the Guideline.
• Mr. Bishnu Prasad Timilsina, Consultant shared the draft frame of the Subjective Committee Guideline for NGO's group within the provisions of NPDRR Guideline. The draft document included the provisions of formation of NGO's subjective Committee, their periodic meeting's, secretariat, power, roles and responsibility etc. He also said that the draft is shared with NGO's group through email for their feedback and finalization.
• The Subjective Committee of NGOs was formed and the team members were nominated by the participants. Mr. Daya Sagar Shrestha from National Disaster Management Network of Nepal (DiMaNN) was nominated as a Coordinator, whereas representative from NGOs Federation was nominated as Co-coordinator. Similarly, representative from Women Humanitarian and Disaster Risk Reduction Platform (WHDRRP) was nominated the Secretary, Woman Friendly Disaster Management Committee, NCE, NDR Network, Human Right Alliance, Institute of Himalayan Risk Reduction, Environment and Child Concern- Nepal, Sarokar Foundation and National Society for Earthquake Technology- Nepal (NSET) were nominated as a member.

Major Discussions
• The main role performed by the NGOs in DRR&M are providing relief materials, organizing health camp, involved in rescue operation, arranging temporary shelters and so on. So, that NGOs can work on coordination and mobilization of this network further.
• The wider networking organizations need to represent in these types of platform.
• The discussion was based on GESI Guideline for identifying and prioritizing vulnerable and marginalized populations for humanitarian response, recovery, preparedness and disaster risk reduction in Nepal
• Persons with disabilities are especially vulnerable when disaster strikes not only due to aspects of their disabilities, but also because they are more likely, on average, to experience adverse socio-economic outcomes than persons without disabilities. So committee formation should be disability friendly as well.
• Disaster risk reduction protects the lives and livelihood of community that are vulnerable to disaster. Likewise, disasters affect gender groups differently. So, gender priority should be included in every sector.
• Disaster management groups that operate at Local, District and State levels are responsible for the planning, organization, coordination and implementation of all measures to mitigate/prevent, prepare for, respond to and recover from disaster events.
• There should be proper networking for resource mobilization. So, committee formation would play vital role in mobilizing these.

Closing
Mr. Beda Nidhi Khanal highlighted the importance of NGOs in DRR&M and delivered vote of thanks and closed the program. He added that the NGOs plays an important role in disaster response and suggested NGO's to work more in disaster risk reduction focusing on recovery and reconstruction and coordination in different regions. The main role of NGOs is to implement strategies for saving life and livelihood which will help people fight against disaster. Furthermore, he suggested to name the draft document working procedure instead of guideline and to make it short.