National Level Workshop on 'Private Sector Role in Disaster Risk Reduction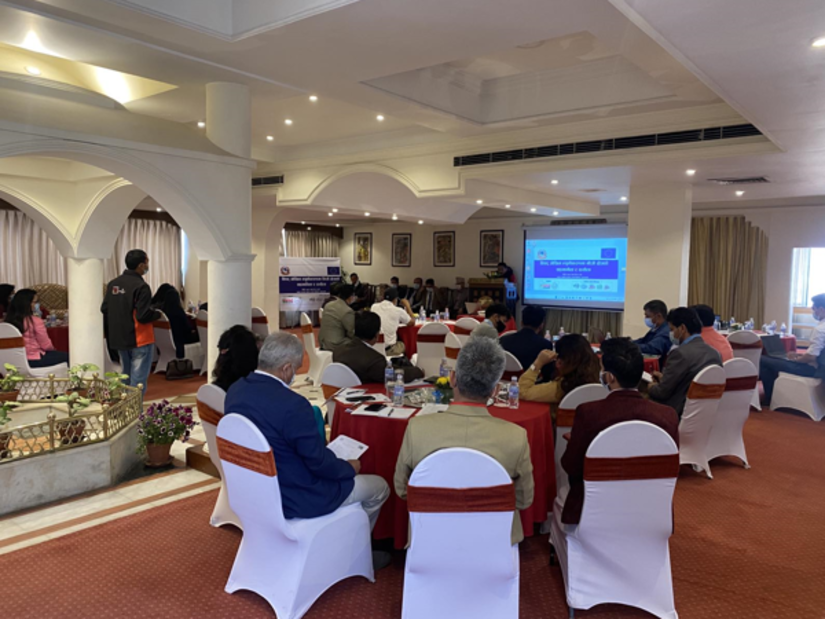 In collaboration with Ministry of Federal Affairs and General Administration (MoFAGA), Disaster Preparedness Network (DPNet), Disaster Management Network Nepal (DiMaNN), Volunteer Service Oversees (VSO), Association of Youth Organizations Nepal (AYON) & Association of Community Radio Broadcasters Nepal (ACORAB), FSCN has organized a national level workshop programs entitled 'Role of Private Sector in DRR' on 18th March 2022 at Hotel Everest Kathmandu. Altogether 36 participants joined the program among them 27.7% were women.
Major Highlights
Dr. Raju Thapa, Acting Chairperson of DPNet Nepal elucidated the objectives of the workshop. Elucidating the objectives of the program Dr. Thapa said NPDRR is in functioning since 12 years and its 9 subjective groups are formed as envisioned by the UNDRR guideline on NPDRR. NPDRR recognized and acknowledge the private sector as one of the important stakeholder of DRR. Private sector subjective group of NPDRR has been formed in federal level. This platform helps to discuss the issues private sectors have been facing and the way out for those problems to overcome. Since the local level have more roles and responsibility in DRRM, the platforms need to be formed in local level as well. This workshop will help private sector, NDRRMA and concerned DRR stakeholders to to prepare concrete plan of action. He said the following session and workshop have rigorous discussion on the importance of private sectors in DRR and how to strengthen their role, the suggestion receive will be widely disseminated.
Dr. Dijan Bhattarai, Under Secretary and Spokesperson of NDRRMA, in his presentation titled 'Disaster Management and Climate change Adaptation Governance' said, that private Sector has been working in DRR since long but their roles are not mainstreamed and recognized in government's system. Since the disaster risk reduction can't be successful unless all the stakeholders join their hands. Realizing the fact of collective action the Government of Nepal through NPDRR mainstreamed the roles of private sector in DRR as one of the important stakeholder of DRR with formation of Private Sector Thematic Group. Before Disaster Risk Reduction and Management Act, 2017 there was narrow definition of disaster management that addressed disaster response as sole act of relief distribution. The government had then, the mindset that responding to the disaster is rescue and distributing relief materials after disaster. Later our government has realized preparedness is one of the important component of DRR. New DRRMA Act, 2017 recognize the multi facets of disaster and responsibility of multiple stakeholders and 3 tiers of government. In his presentation, Dr. Bhattarai explained the Institutional Structure of Government of Nepal to carry out disaster related work effectively. The National Council for DRRM, chaired by the Prime Minister, Executive Committee chaired by the Minister of Home Affairs. The Executive Committee is the implementing agency of plans, policy. NDRRMA works as a focal unit of federal government in DRRM. The Executive Chief of NDRRMA acts as a member secretary of the committee and he also act as a Chair of NPDRR. So, NDRRMA is serious to strengthen the capacity of all NPDRR thematic group including private sectors. Dr. Bhattarai further elucidating the relevance of the private sector in DRR said, people have preoccupied thought that disaster management is the core responsibility of state. But, state alone can't do anything citing the present scenario of disaster worldwide. How the disaster scenario have change in short span of time, Dr. Bhattarai said, we have heard of Earth Summit of 1992 but not that much aware of that. But in recent years the global warming and climate change have caused so much disaster. Giving the example of this year's flood in Manang which is highly unpredicted yet happened with human casualties and material loss. 30 years' span has massive disaster in the world. Therefore government can't work alone and meet the challenges of disaster. Government takes the lead role and all the stakeholders should go hand in hand to mitigate the risk. Private sector can play vital role in disaster management, so NPDRR thematic private sector group be formed in both province and local level to accommodate all private sector in disaster management. He asked the private sector to have discussions within the group and expected proper five year plan. The actions they want to take in DRR sector need to be clearly articulated. The private business are the concerns of common and all individuals. Dr Bhattarai, stressed on the main 4 points: 1. Disaster Friendly Infrastructure: Private sector should be conscious to develop disaster friendly physical infrastructures, 2. Basket Fund for DRR: Briefing the importance of establishing a basket fund for DRR, he urged private sector to put at least 0.5 percent of the profit in the basket fund and mobilize the fund DRRM, 3. Insurance Policy: Insurance can transfer the risk. Even a rich country can't give full compensation for disaster and 4. Private Sector needs to encourage and launch massive campaign for insurance. Capacity Building: Private Sector have large scale human resources. He asked the Private Sector to organize DRR trainings to their human resources. Private sector can take lead in providing the DRR training to staff. Concluding his presentation, Dr. Bhattarai informed the private sector participants that, Ministry of Finance has recently circulated a letter that asked the NDRRMA to facilitate the private sectors to clearly state their concern and demand tax exemption while importing goods that are used in DRR. And how tax exemption on those goods in long run can contribute in DRR. He also asked the private sector to give feedback to government on how they can collaborate. Standing and working together in DRR always help to mitigate the risk of disaster.
Mr. Rishi Raj Acharya, Under Secretary of MoFAGA, in his presentation 'Role of Private Sector in DRR Localization' said, MoFAGA, is a focal ministry of province and local government. All the concerns of province and local government are coordinated through MoFAGA. Our trade and commerce are the concern of all communities and rural government. We need to focus on the coordination with local level while we talk and work on DRRM. During the time of disaster, private sector need to work together with Local Government. Giving the example of recent Covid-19 pandemic, he said, though, private sectors were hard hit during the pandemic they left no stone unturned to provide humanitarian assistance to people, government and organizations with lifesaving equipment, oxygen concentrator, masks, sanitizers etc. He praised the private sector's response during the pandemic and said they have successfully played important role in Covid-19 management. They played important role in awareness generation and halt the business to reduce the spread of COVID Pandemic. Even provided relief materials to daily wagers who lost their job during the Covid- 19 pandemic. He urged the sector to formulate an action plan of the group, implement and timely monitor and evaluate the action plan and voice their work in international community. Collective approach is a must to make our voice heard. When we join hands to work together, the risk of disaster can be reduced. We can achieve the expected result with collaborative approach while addressing the risk of disaster. We need to have a common understanding of disaster. For strengthening the governance system, we need to work with local government. He said international Community too stressed on public private partnership so as to mitigate the risk of disaster. Private sectors need to promote invest in those sectors where they can regain. Our trades and business are community centered, so our investment should focus on to uplift the community and develop secure physical infrastructure. Private Sector need to coordinate with local government and emphasized on to implementing building code and its implementation should be the priority of the private sector. Private sector need to know how fire brigade are managed and operated and how to coordinate with local government to take services. Private sector needs to be alert and conscious where the local government is investing the tax payers' money, it helps the government to be accountable towards the people. People have many expectations from this sector. In his presentation Mr. Acharya said, road accident is also increasing in alarming rate. We need to pay attention on road infrastructure, which are not driving friendly. Similarly, security of the passengers, transport workers should be our area of concern. We need to think and act, how we can invest in DRR in secured manner. Further, private sector need to pay attention on the inclusion of the groups who are left behind. During Covid-19 pandemic, private sectors have contributed also by providing reliefs to poor, old age people, and pregnant women as well. In conclusion he said there should be secure environment for trade and commerce and the sectors collaborate with local government in addressing the risk of disaster. Further, he asked the private sector representatives to facilitate the process of forming local platform of private sector in local level.
Dr. Nirmala KC, Board Member, FSCN, in her remarks said, private sector is one of the important sector of service delivery. She praised the management efficiency of the private Sector. She said private sector has human and technical competency. They have tendency of taking risk and invest. Private sector is important because 90% community returned to society in various form and helps to create harmony in society. In the meantime crisis are emerging. She urged to work in private public model to for building trust, transparency, cost effectiveness and quick service delivery. Government has owned the groups so private sectors should come in collaboration with government. This meeting is an opportunity for private sector as well. We need to take knowledge and moral together. Knowledge and moral must go together. In conclusion encouraging the private sector to invest in DRR she said, when you give, you achieve and will contribute for sustainability.
Mr. Kewal Shrestha, AYON, said AYON is an umbrella organization of 92 organizations. AYON voices the youth's concerns. AYON is active in advocating for youth's participation in DRR. With continuous advocacy, youth's participation in the Strategic plan of DRR have been integrated. He said, AYON is active advocating for the issues of climate change, carbon emission. We need to mitigate the use of materials that triggers the carbon emission.
He elaborated his remarks that to reduce the demand cycle, awareness campaign are being launched in local level. Facilitated to formulate plan to mitigate the demand of the plastic goods in local level. Private sector, according to him take responsibility to reduce production and use of the pollution generating goods. Private sector can maximize the utilization of local resources and promote the goods and industry that reuse plastic related waste. Such program helps to sensitize prospective youth entrepreneur who are DRR activists today can mainstream DRR in their business plan tomorrow.
Mr. Gokarna Awasthi, Deupty Director General, FNCCI, in his presentation, 'Mainstreaming private sector in DRR' said even in Malla and Lichhavi era, private sectors have played important roles during disaster. We need to focus on the way we can channelize the role of private sector the work government in Disaster response. The discussion have demand the role of private sector in reducing the risk of disaster. Briefing the role private sector had played during Covid-19 pandemic, he said, private sector have performed great responsibility. Kept the supply chain intact during pandemic that help to maintain the price intact with no hike. But Government did not prioritize private sector during vaccination. Economic survey have portrayed 77% contribution of private sector in National economy but Government and other stakeholders do not recognized and gave importance to their role. He said 1000 people were directly served during Covid-19 pandemic. FNCCI already have fund which have been used to support the member chambers in local level. For the Group operation guideline and action plan, the language should be understandable to members of chambers. For that we need your expertise. He said FNCCI have 113 networks nationwide. How to channelize and mainstream this networks in local level as well. In past Private sector were invited as witness but meaningful participation is needed. We have resource and investing in CSR but we do not get tax exemption. We need to discuss on what can be done in policy and behavior level. A strong mechanism to encourage the sector is needed. We need to have discussion on this tax exemption proposal. We will study the possible area and communicate our concern with the government. Participation with learning/ sharing perspective will help the private sector.
Mr. Bishnu Timilsina, General Secretary, DiMaNN, in his presentation 'Importance of Network in DRR', said, Private sector is linked with the people from dusk to dawn. Government regulates the private sector. The government should facilitate the working environment that sets the moral of private sector high. Unethical behavior/ business should be stopped. Private sectors fail to follow the building code during construction which will induced the risk of disaster. So private sector should be sensitive in making their business ethical. According to him, private sectors have large contribution in DRR. There are multiple opportunities in construction sectors after disaster. Private sector can be an important partner in making resilient society. To coordinate the rescue and relief work we need to know the status of import export. We can make the local market vibrant during disaster by giving priority to local market. The nine thematic groups and the private sector's common platform plays catalyst role in between government and private sector and enriched the process of listening to the sectors problems. He emphasized on the necessity to walk together in reducing the risk of disaster.
Mr. Bishnu Dutta Gautam, Joint Secretary of MoFAGA, in his guest remarks said, government alone can't manage the disaster. Nepal has accepted and internalize the role of multiple stakeholders in DRR. The NPDRR also accepted the fact and initiated to go together. Private sectors have important role to play in reconstruction as well. Previously, they were active in rescue and relief work, and they have role in risk financing as well. They have role in implement insurance policy in their business and industry which helps to reduce the risk factors of disaster. FNCCI too have formed the structures according to the federal structure of the government. He urged the sectors to go hand in hand in local level. More responsibility lies in federal government but local government have important role in DRR. Citing the example of Covid-19 pandemic, he said local government has played an important role. If we mainstream the private sector in local efforts of DRR, our efforts bear fruits. We need to discuss the area where Private sector and local government work together, how to integrate private sectors efforts with local government. Nepal can be an good example in the world when we mainstream private sector with local government in DRR. He assured MoFAGA's cooperation in collaborating and mainstreaming private sector in the initiation to reduce the risk of disaster.
Mr. Suresh Khatri, Federation of Heavy Equipment, said, they have network in 44 districts. Sharing the problems of the sector, he said, during the earthquake and Melamchi flood, they were unaware of the contact agency of government. They faced difficulties in taking the equipment to the site. Coordinated with Nepal Police and APF for search and rescue operation. We need to discuss how to address such type of disaster in near future. We have requested the government for parking area for the heavy equipment but government has not addressed the request yet. In disaster like Melamchi flood, one sector's response can't work. Multiple sectors need to come together. All need to know the importance of equipment during disaster. We need to develop a roster of equipment we have and we need to address the disaster. Federation of Construction Entrepreneurs' have equipment, government and stakeholders need to coordinate with the federation.
Dr. Raju Thapa, Acting Chairperson of the DPNet facilitated the question and answer session. Some of the remarks are as below.
Mr. Rajendra Sherchan, FNCCI, said, local level private sectors should not be left behind. All the private sector should come in DRRM architect. Beside natural disaster, Nepal need to get preparedness plan for human induced disaster.
Ms. Shanta Baskota Koirala, Vice Chairperson, FNCSI, praised the organizer's efforts to accommodate the private sector group as an important stakeholder of DRR. For the first time she is hearing so many praises of the private sector from so many stakeholders. FNCSI has network in community level therefore, she urged the government and stakeholders to integrate the networks effort of DRR and include the members of network while forming local level network of private sectors group. Member organizations, according to her is very enthusiastic to this approach of consolidating efforts of government and other stakeholders to mainstream private sector in disaster risk reduction & management. She emphasized on the necessity of segregating the nature and impact of disaster according to the geography and she said this will help to address the disaster risk properly. She put query on the mechanism for the basket fund management.
Mr. Bal Krishna Pokhrel, Director, Nepal Chamber of Commerce, said the institutional structure of NPDRR private sector needs to be reached to grass root level. Local community are the first responder of disaster event. Traders, business persons are the community people, so to maximize their role in DRR, their participation in this type of mechanism need to be enhanced.
Dr. Raju Thapa, Acting Chairperson of DPNet Nepal and resource person facilitated the session on 'Workshop on Strengthening NPDRR Private Sector Group' He highlighted the strength of the private sector group through participatory group work. Participants were divided in 3 groups and were given some questions. The groups had intra-group discussion and written the answer in the chart paper and presented in the open forum. Dr. Raju Thapa concluded the session with vote of thanks to all groups for their active participation in the workshop session.
Mr. Rishi Raj Acharya, Under Secretary, MoFAGA, in his concluding remarks said, there are lots of area of collaboration with private sector. We need to address and accommodate the problems and walk in forward direction. This type of discussion need to be continued. He urged the private sector to contribute in DRR fund and formulate the annual and periodic plans with resilient aspect. Collaboration with this sectors need to be stretched to national to local level. DRR's structural mechanism should be made flexible to accommodate the private sector's representatives. Since our governance starts with local level, we should develop a common understanding on how to come over the risk of disaster, from the local level. Localization of DRR is not possible without the collaborative approach. Three tiers of government and all the stakeholders should walk and act together to mitigate the risk. Local Government Operation Act, 2017 has directed the local level to collaborate with other sectors in DRR. Local government has established Emergency Operation System; private sectors can contribute there. In addition, private sectors need to promote safe construction. They can give suggestion to Local Government while formulating policy like land use policy, and can give input in infrastructure development. Private sector can collaborate with local bodies in planning, implementing plans, monitoring and evaluation of implementation and recommend the areas for improvement. He requested the participants to join hands together and make our country disaster resilient. He put his commitment to organize and facilitate this type of forum in future as well.
Conclusion:
The workshop on Private Sector's Participation & Responsibility in Disaster Risk Reduction, succeed to educate and internalize the participants about the roles of private sectors in DRR. Participants were well informed of the NPDRR and its nine thematic groups. Through series of presentation, experience sharing, group works, participants internalize the urgency to capitalize the private sectors' efforts in DRR. The need to mainstream the local level structures of private sectors in local DRR forum was strongly raised. The participants' commitment to contribute in DRR is visible through the group work presentation where though in a draft form they have put the points that need to be incorporated in 5 Year's Action plan.