Media Engagement on Hydro-Meteorological Forecasting Systems for Reducing Disaster Risk in Nepal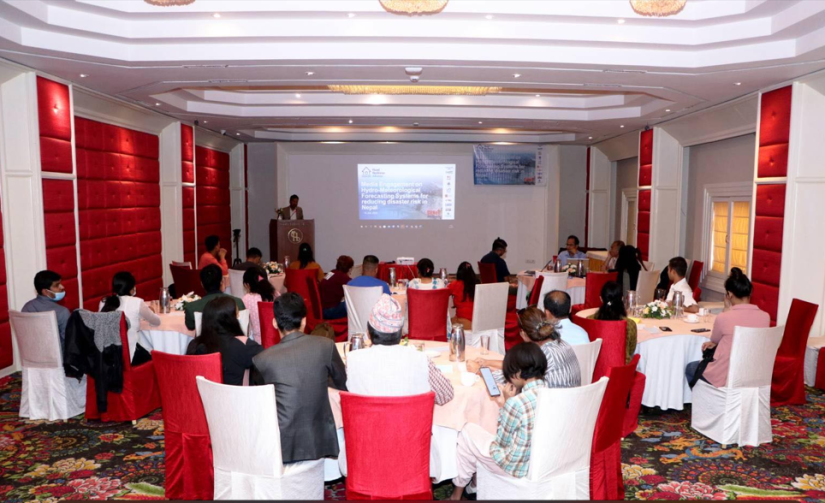 The program entitled Media Engagement on Hydro-Meteorological Forecasting Systems for Reducing Disaster Risk in Nepal was coordinated by DPNet-Nepal with the financial and technical support of Flood Resilience Alliance members Mercy Corps and Practical Action on 10th July, 2022. The program was facilitated by Dr. Raju Thapa, Acting Chair of DPNet.

Major Highlights:
Dr. Raju Thapa, Acting Chair, DPNet
Early warning systems have been recognized as an effective tool to reduce vulnerabilities and improve preparedness and response to natural hazards. Timely and effective information, through identified institutions, helps individuals exposed to hazard to take action to avoid or reduce their risk and prepare for effective response. If we integrate risk assessment studies and action plans, early warning systems can lead to substantive benefits. In recent years, we have institutionalized various dedicated government institutions and specialized agencies to generate precise hydro-meteorological information. Similarly, we have numbers to free open sources to generate precise forecasting. However, most of the media personnel working in the field of disaster and climate are not familiar with all these systems. Considering this fact, we conducted an orientation program for journalists a few weeks back. Most of the participating journalists in that program requested us to conduct a half day orientation program. So, we are conducting this program to orient journalists intensively on hydro-meteorological forecasting systems. We are in touch with various development partners to extend this program in all seven provinces of Nepal to sensitize provincial level journalists as well.

Mr. Sajan Neupane, Mercy Corps, Policy Advocacy Specialist/Coordinator, AINTGDMCC
Various Governmental and Non-governmental agencies have been working in Nepal to reduce the loss and damage caused by hydro-meteorological disaster. Yet current investment in flood resilience at the local level, where people are most affected by flooding, is inadequate. Evidence-based planning and investments in various risk reduction measures such as early warning systems, resilient infrastructures, financial protection, adaptive agricultural practices, and community capacity-building can help vulnerable populations to better prepare, mitigate, adapt, and respond to flood events. Considering this fact, The Zurich Flood Resilience Alliance (ZFRA) is trying to find practical ways to help communities to strengthen their resilience to flood risk. During our project, we have found that multi-sectoral partnership is very important to build flood resilience so the role of media is equally important to save lives and property due to flood events.

Dr. Dharam Uprety, Thematic Lead Climate and Resilience, Practical Action
The climate is changing due to rise in global temperature and concentration of carbon dioxide. This concentration of CO2 is increasing due to industrialization and deforestation with major effects on public health, livestock, biodiversity, ecosystem and agriculture. It has been affecting poor, marginalized women/girls and people with disabilities. It's very important to get informed earlier about the weather situation, so, EWS plays an excellent role for disseminating the information. The localization and community based EWS is an important aspect. Everyone should be aware of risk knowledge, risk monitoring, risk communication and community capacity building. Since the impact of rainfall is on visibility of flight, flooding in core areas, highway damages, riverine flooding and others, it's very important to get pre informed. There are different sources to get pre-informed (EWS) such as global forecast, website of ministry of energy, water resources and irrigation, department of hydrology and meteorology, India meteorological department, and various social media pages of these websites. Journalists should know how to use these free sources to extract hydro-meteorological data. Today's intensive orientation program for journalists is the continuation of our effort to manage hydro- meteorological knowledge on a wider scale.

Major Questions and Suggestions
Mr. Anish Mijar, NAN
What is the level of effectiveness of EWS in a particular area of Nepal? If our forecasting and now casting systems are precise, journalists can play a vital role to disseminate information to the community to save lives and property.

Mr. Amrit K.C
DHM generally disseminates the hydro-metro related information in Province Level. Due to the climate change impact, the same Local Level's receive rainfall in a different way in different places. In this context, the hydro-metro forecast taking the whole province as a unit doesn't make sense.

Ms. Indira Aryal, Rising Nepal
The accuracy of the forecast system is quite low, the authority should provide very accurate data to the media. I have many bitter experiences when we publish the news, tomorrow there will be a heavy rainfall but in reality it just goes opposite of what we say. So, generally people do not rely on what we disseminate via the media. In order to provide precise hydro-metro information, journalist also need to cross check the information via hydro-metro open online platform

Ms. Shova Ghimire, Nepal F.M.
The DHM should also take strong initiatives to provide accurate information considering Local Level as a unit. DHM webpage should be vibrant, informative and efficient. Media houses also need to strengthen the capacity of existing journalists regarding hydro-metro related bits.

Ms. Sogana Timilsina, CIN
Sometimes, there are cases of mis-information of weather, which creates trust issues in readers. How can anyone take initiative to minimize the flow of mis-information? Such programs help journalists to assess the reality of the information they receive.

Ms. Kamala Panthi, Radio Kantipur
The authentic weather information should only be disseminated by the media. For this the DHM should also provide the authentic data information. We should also focus on media empowerment. Plus such programs should target provincial level journalists as well.

Ms. Sujana Dhakal, Setopati
The frequency of dry landslide, other disasters should be studied more. We need to work on research and technology. Government has spent a lot on EWS but the existing information dissemination system is not efficient enough to disseminate such vital information at the community level. We journalists should also study and update on it so that we can disseminate accurate lifesaving information to the community people.

Mr. Krishna Adhikari, National News Agency (RASASA)
Media personnel and media houses should be sensitized on the overall aspect of disaster management. If the journalist conveys accurate early warning messages to the community, it will help to save the life and property, which ultimately contribute to mitigating rescue, relief, reconstruction, rehabilitation related activities that generally burden the Government. Such programs should continue to orient more and more journalists in the days to come.

Mr. Om Prakash Ghimire, Netizen Media
The credibility of media content should be strong so that the reader would trust the media. Media Personnel should check the authentication and reliability of the news and cross check. The information from DHM should be trustworthy but its unit of information is for the Province Level. It should be of municipal level so that trustworthiness of the news and early warning will be more acceptable by the general public.

Ms. Krishna Poudyal, Editor, News Agency Nepal
Media should not always take in a negative way only. Sometimes the understanding of the reader and level of news do not get matched which create mis-conception about the media. The level of accuracy also needs to be cleared through the media. Each bit of the media that covers hydro-metro related information should be empowered. Such orientation programs should continue and the disaster management community should onboard media in every sphere of activity to build a resilient society.

Other activities:
Dr. Dharam Upreti, Dr. Raju Thapa and Mr. Sajan Neupane tried to address the concern of the journalist and committed to extend such orientation program upto province levels in a near future. Dr. Dharam Upreti conducted a practical session with the journalists to make them capable of generating hydro-metro related data from various sources.

Closing:
Dr. Raju Thapa thanked Mercy Corps, Practical Action and Flood Resilience Alliance for the financial and technical support and thanked all the participants for active participation and formally closed the program.