Interaction on Low Cost Landslide Mitigation Technology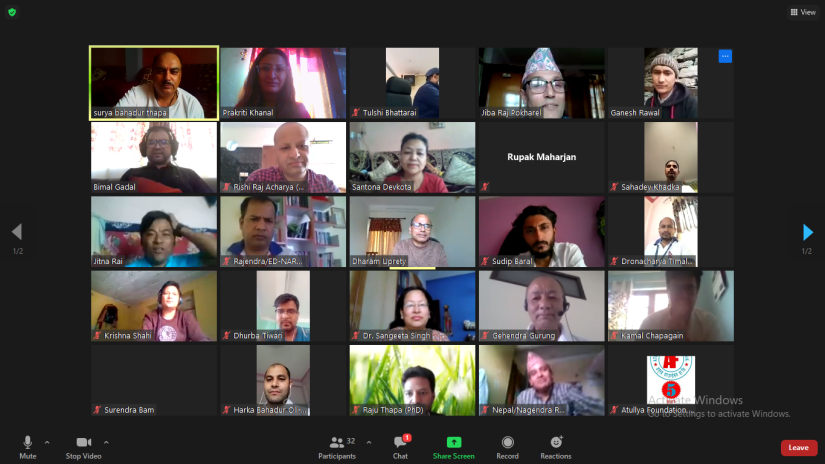 Background
The webinar entitled "Low Cost Landslide Mitigation" was organized by DPNet in collaboration with Shree Swanra Integrated Community Development Center (SSICDC) and CARE Nepal on May 21st, 2021. The program was facilitated by Mr. Bimal Gadal, Team Leader and Technical Advisor for DPNet Nepal. The program was chaired by Mr. Surya Bahadur Thapa, Chairperson of DPNet Nepal. Dr. Raju Thapa welcomed the participants and shared the objective of the program. Altogether 41 participants joined the webinar.
Major Highlight
Dr. Raju Thapa shared the video produced on low cost landslide mitigation technology that was experimented and accept by the community, local government officials and concerned stakeholders in Siranchol Rural Municipality of Gorkha District. Prof. Dr. Jib Raj Pokhrel, former Vice Chancellor of NAST, presented the content of the handbook prepared on "Low Cost Landslide Mitigation Technology". He emphasized about how an indigenous practice helps to reduce the landslide risk. His presentation included the following:
Removal of debris from landslide zone,

Trimming the possible fallen debris from the crown part of the landslide,

Diversion drain above the landslide zone to divert monsoon rain,

Sealing the crack,

Turfing the surface in tension cracks to minimize seepage and surface drainage on water-induced landslides.

Construction of breast wall,

Construction of gabben wall for retaining the fallen mass at toe of the landslide with wipe hole to reduce the pore water pressure.
Major Discussion Points
Technology should cover both the cost efficiency as well as the technology effectiveness

In addition to the cost efficiency, technology should consider the sustainability aspect as well

The technology is good but need to follow the guideline published by government as it is research based and more scientific

It was discussed that instead of low cost mitigation it is better to use the term either local level Landslide mitigation technology or Cost Effective Landslide Mitigation Technology.

Discussion covered the local knowledge and skills those were used during the implementation phase

Catchment area to be considered while doing the mitigation work.

To make the project initiative replicable, it should have followed the landslide science and govt. guideline

Monitoring visit should be conducted to check the critical stages of construction. The learning from such visits can identify the strength, weakness and gaps to be fulfilled in next mitigation work.
Closing
Mr. Rishi Acharya, Under Secretary of MOFAGA gave his closing remarks and highlighted that government is ready to adapt the technology if this benefits the public those are living with the landslide and facing all kinds of risk being posed by the landslide hazard.
Mr. Surya Bahadur Thapa thanked the guest, resource persons, participants for their valuable time and feedback. He also thanked Atullya Foundation for providing the zoom service for organizing the program virtually.