Interaction and sharing -"Low Cost Landslide Risk Management Measures Piloting at Siranchok Rural Municipality Gorkha"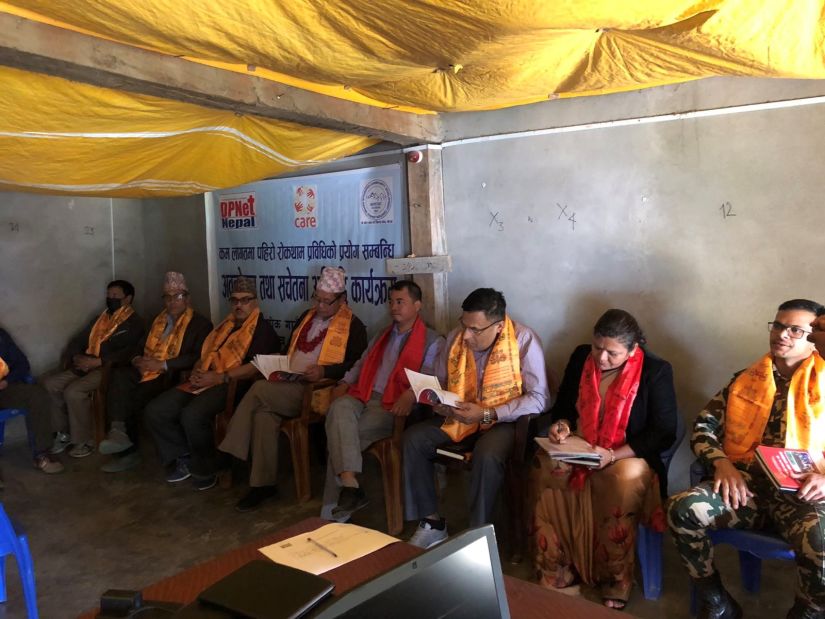 The program entitled "Low Cost Landslide Risk Management Measures Piloting at Siranchok Rural Municipality Gorkha" by Disaster Preparedness Network-Nepal (DPNet) in collaboration with Shree Swanra Integrated Community Development Center (SSICDC) and Care Nepal was carried out on 13th April, 2021. The interaction and sharing program was conducted on Swara Sadan, of Siranchok Rural Municipality under the Chairmanship of Mr. Raju Gurung, Chairperson of Siranchok Rural Municipality. The Chief guest of the program was Head of District Co-ordination Committee Gorkha Mr. Ashok Kumar Gurung with the participation of various National and District and Local stakeholders like DPNet Chairperson Mr. Surya Bahadur Thapa, General Secretary Dr. Raju Thapa, Deputy General Secretary Mr. Harsha Man Maharjan, other Government officials, Nepal Army, Nepal Police, Journalist and representatives from Municipal Association of Nepal (MuAN), District Disaster Management Committee, Local Disaster Management Committee, National Disaster Risk Reduction & Management Authority (NDRRMA), National Association of Rural Municipalities of Nepal (NORMIN), SSICDC, other concerned stakeholders. Altogether, 37 participants representing, government agencies and I/NGO participated in the program.
In the program Mr. Surya Bahadur Thapa welcomed and highlighted the objective of project. He added that if these programs got succeed then these kinds of action oriented research projects could be replicated to mitigate small landslides as a piloting in many places too.
Major Highlight
Dr. Prof. Jib Raj Pokhrel, Team Leader of the project and past VC of NAST presented the overall introduction of the project, its methodology, objectives and challenges of landslide mitigations at low cost. His presentation included the different stages of disasters, dry and wet landslides, how water is responsible for landslide and how the tension cracks affects the landslides. He also talked about the mitigation by clearing the debris, filling the tension crack and turfing the outer cover. His presentation included about creation of machinery walls with pipe holes to pass ground water and creation drainage to pass the surface water helps in mitigation of small landslides. He concluded his presentation as in recent days; a compressive technique of landslide mitigation works is available which required considerable investment of budget and sophisticated (modern) equipment. These techniques must be adopted in critical aces but not possible to apply always because of the economic constraints as well as not feasible for the hundreds of landslides occurring every year due to the geo-environmental setting of the country. Therefore it is an attempt to explore low cost techniques which can be implemented in community level by using locally available resources.

Mr. Bhim Prasad Dhungana, General Secretary of MuAN shared his experiences about Green Road and suggested to have this kind of implementation. He also talked about prevention of landslide before or at first stage could be better. He suggested applying this kind mitigation in other landslides too. He raised the question whether the technology is really cost effective or not. He suggested that there should be no way negotiates with the quality of the work. If it get succeed these kind of program should be further practiced in other places too

Ms. Rita Devkota, Vice Chairperson of Siranchok Rural Municipality explained that disaster comes sudden so we need to have pre-preparation such as gabben wall in toe of sloppy land, alert the vulnerable communities, shift the community if not possible to mitigate and many more. These types of activities help in future preservation of life and property. The techniques of monitoring mechanisms should be community based effort and team should be formed in the community level to clean the drain constructed to divert the water.

Mr. Tulshi Bhattarai, Section Officer of NDRRMA, shared that risk identification at first stage can be cost effective and he added that collaboration of I/NGOs with government could be better version for disaster management. The local government should also provide the permission and support to these kinds of activities.

Ms. Gita Shreesh, Policy Advocacy Officer of NORMIN suggested using more local resources and to have collaboration with government. She said these kinds of mitigations should be promoted and practiced in many different landslides using indigenous practice also.

Mr. Ashok Kumar Gurung, highlighted the importance of linkage of disaster with development. He added that sustainable development also helps in minimization of hazard and took concerned to save vulnerable communities too. He added there is possibility of expansion of these kinds of activities in other part of the Gorkha District as the official is ready to support and work further for these kinds of landslide mitigations in collaboration with DPNet.
After the presentation and sharing of participants, the floor was open for discussion and response. Participants raised various concerns, queries about the legal provisions of disaster risk management and suggest about the other mitigations. Participants thanked for this kind of project.
Mr. Raju Gurung closed the program by thanking all panelist for their presentation and sharing's. He also requested DPNet, SSICDC and Care Nepal for expansion of these kinds of project in other parts of Siranchok. He thanked for practicing piloting in Siranchok Rural Municipality and Siranchok Rural Municipality is ready to support partially for these kinds of projects. He also thanked DPNet, Care Nepal and SSICDC for the collaboration to organize the program and announced the closing of program formally.
Conclusion
Small scale landslides could be mitigated by using indigenous knowledge and practices. These types of mitigation are possible in small scale landslides by local people also with low amount of cost and local resources. These types of projects should be promoted and supported by Federal, Province and Local government too.