GPDRR- 2022 Review and Reflection Meeting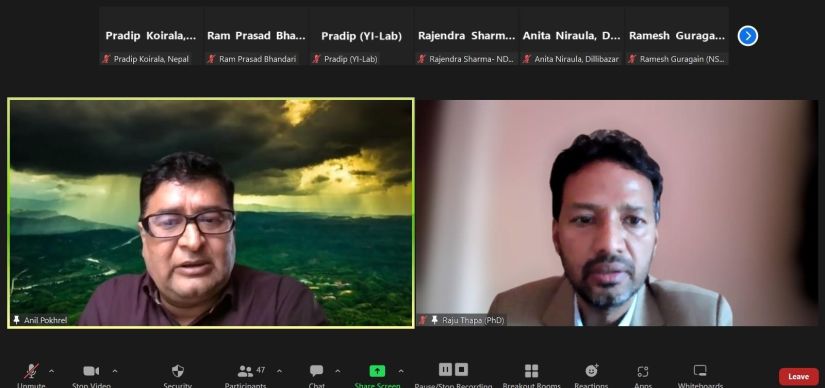 The GPDRR review and reflection meeting was organized by DPNet Nepal on 12th June, 2022. The program was facilitated by Dr. Raju Thapa, Acting Chair, DPNet and the Guests of the programs were Mr. Anil Pokhrel, Executive Chief, NDRRMA, Mr. Pradip Kumar Koirala, The Chief of Disaster and Conflict Management Division, MoHA and Ms. Anita Niraula, Joint Secretary, NDRRMA. Around 50 participants joined the webinar.

Major Highlights
Dr. Raju Thapa shared about the GPDRR event.
GPDRR event was organized on 23rd to 28th May, 2020 in Bali, Indonesia. There was active participation from the Executive Chief of NDRRMA, The Chief of Disaster and Conflict Management Division, MoHA and representation from various organizations. The various sessions were organized related to social, infrastructural and economic recovery from different disaster, early warning systems (EWS), constituency sessions of NGOs, disability, women and gender, private sector, children, youth, IFRC, media and communities with side events related to DRR planning, adopting SFDRR, inclusive local actions, COVID-19, indigenous knowledge, conflict climate change. There were different presentations from Nepal such as impact based forecasting and anticipatory action, making displacement safer, anticipating and acting early- putting communities and creativity at the heart of our learning and exchange. The Official Statement was delivered by Mr. Pradip Kumar Koirala, Chief of Disaster and Conflict Management Division, MoHA. The prestigious Sasakawa Award event was also organized where Atullya Foundation from Nepal was shortlisted in the top 5. There were booths about innovation EWS and visualization risk from Nepal as well.

Open Sharing
Dr. Dharam Uprety, Practical Action
There was various sharing related to multi hazard EWS, tomorrow's cities, nature based solutions, midterm SFDRR review and so on. For the upcoming participation of global platforms there should be strong coordination, more management, inclusion of different sector's voices and more preparation. The presence should be more encouraged and celebrated. Nepal's government's delegates the voice of the whole country, So GoN should also take strong initiative for next time as well.

Mr. Pallav Pant, Chairperson, Atullya Foundation
This year Atullya Foundation working on a disability from Nepal was shortlisted in top 5 of Sasakawa Award, which is a very proud moment for the whole country. Different international organizations and platforms were invited to share about the moments but there were literally no platforms to share about these kinds of achievements in our own country which reflects the sad reality. It was a great honor that DPNet now organized this platform to share about GPDRR. Nepal will have very strong inclusive participation in GPDRR-2024, if everyone supported the organizations/individuals working on disability.

Mr. Ramesh Guragain, from NSET
It was most probably the big event with more than 6000 participants after the COVID-19 pandemic. The event did not have very new topics but there were various lessons learned such as prioritization on localization, risk informed development, collaboration for all society approach and many more. The huge disaster always gets better attention from the government and organizations but the minor disaster usually did not get enough attention. This was a very strong lesson learned from the presentation 'making displacement safer'.

Ms. Anita Niraula Joint Secretary of NDRRMA
Thanks to DPNet for the great coordination. GPDRR was itself a great platform to share our achievements and learn about others' sharing. It was a fruitful participation and I got to learn about the strong management of the event which will further help in capacity building of our country. There were not many new terminologies but there was a conceptual clarity. The hazard EWS session showed that we are on the right direction and going through the whole of a society approach. The new concept of NPDRR was appreciated in the event and it was a good learning from the Sasakawa Award, we need to identify the gaps. It was a great learning that how we should focus on localization of policies, plans, indigenous knowledge, risk knowledge/information and should have more focus on strong coordination with different stakeholders.

Mr. Rajendra Sharma, NDRRMA
The sessions like multi hazard EWS and impact based forecasting showcased that Nepal is on the right track on DRRM. The importance of localization of DRR, GESI were cleared. It was an honor to know about the international program's management and processes. The participation of Nepal was enough but there was quite low coordination, due to which the work done by Nepal was not known by every Nepalese participation while being in Nepal.

Mr. Pradip Khatiwada, Youth Innovation Lab
There were encouraging participation from 135 different intuitions in the booth in Nepal. It was experienced that there should be more manpower in the booth and should explore Nepal's achievement more. The booth was about the technical advancement of Nepal to identify the household risk and mitigate it in good way.

Mr. Ram Prasad Bhandari, Technical Advisor of DPNet
The beautiful part of the event is the pre and post GPDRR meeting which helped in great coordination and sharing. The participants could have shared the experience in presentation view for better understanding. We should aim to organize these types of global platforms in Nepal within 10-15 years. Mini-conferences should be organized more frequently to identify and fulfill the gaps. Nepal is working on a good way and showcase it systematically.

Mr. Pradip Kumar Koirala, The Chief of Disaster and Conflict Management Division, MoHA
The presence of Nepal in GPDRR is itself a proud moment. Participants should raise the voice in every panel discussion in such a global pattern. This platform helps to validate and show the direction of the work. We should improve the sharing mechanism i.e. pre coordination before the event, content sharing during the event and post sharing after the event. It is important to present the content of post GPDRR which helps in further events like APMCDRR. The content shared should be understandable by everyone, not only by DRR stakeholders. The networking and coordination part should be very strong. He thanked DPNet for the strong coordination. Then the funding mechanism should be developed for better experiences.

Mr. Anil Pokhrel, Executive Chief of NDRRMA
The event consisted of very innovative learnings from SFDRR mid-term review, about world's interest in reconstruction and resilience in Nepal, direction of multi hazard EWS and effect of COVID-19 pandemic in DRR system. It was much honored to share good coordination of Nepal though WhatsApp group as well. Various presentations from Nepal showcased the condition of the risk information system and health system. Booths from Nepal focused on EWS, anticipatory actions were very informative. The learnings were about the way of international agencies in GESI and DRR. It would have been better if we could highlight the work of National Reconstruction Authority (NRA) in such global platforms, which could win the Sasakawa Award. The participations from MoHP, MOFAGA and media were huge missing. It is very important to gather the lesson, experiences and present better in APMCDRR event.
Dr. Raju Thapa thanked everyone for sharing the experiences of GPDRR-2022. He further said this learning, sharing will help in participation of APMCDRR