DPRP Formulation Meeting Organized in Lalitpur District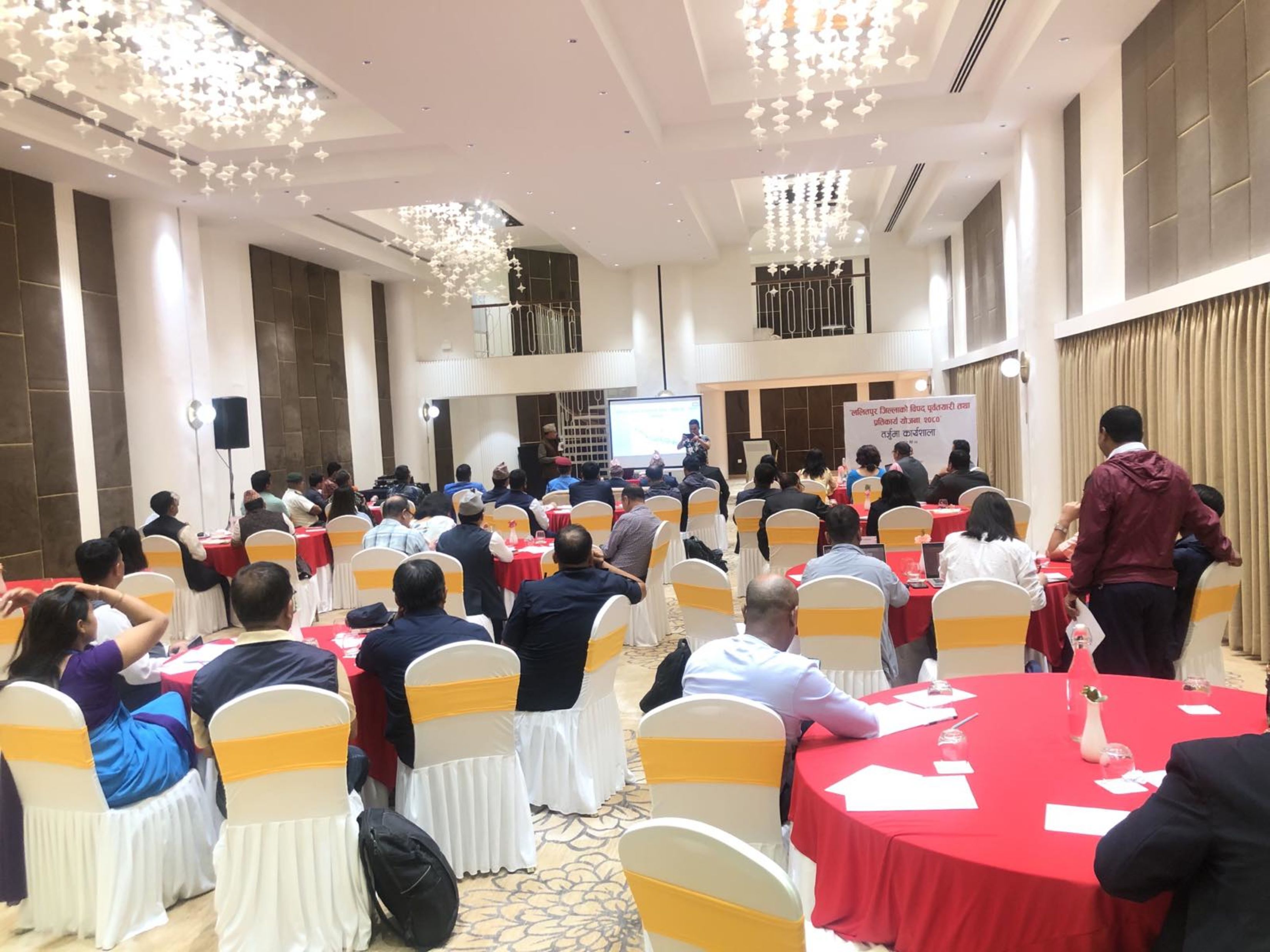 On 7 June 2023, District Administrative Office, Lalitpur organized a workshop on "Disaster Preparedness and Response Plan (DPRP) Formulation and Pre-planning of Lalitpur District" in support of DPNet and NSET The workshop aimed to enhance preplanning of DPRP and establish a Thematic Group for the preparation of the DPRP for Lalitpur District.
The event was chaired by Mr. Rudra Prasad Pandit, CDO of Lalitpur, and the Master of Ceremony was Mr. Amar Deep Sunuwar, Deputy CDO of Lalitpur. The participants included representatives from different agencies of federal government, provincial and local government, Security forces Nepal Army, Nepal Police, Armed Police Force, National Investigation Department (NID) and development partners such as NSET and DPNet and private sector entities.
The workshop began with the national anthem, followed by an introduction by the participants. Mr. Rudra Prasad Pandit, CDO of Lalitpur and Cha extended a warm welcome to all attendees. The program was then followed by presentation of esteemed presenters.
Mr. Amar Deep Sunuwar, Deputy CDO, delivered his presentation titled "Presentation on Disaster Preparedness and Response Plan for Lalitpur District 2023 (ललितपुर जिल्लाको विपद् पूर्वतयारी तथा प्रतिकार्य योजना २०८०) Nepali" During his presentation, Mr. Sunuwar emphasized several key points regarding the district's vulnerability to various disasters throughout the year, including earthquakes, heavy rainfall, avalanches, landslides, and floods. He stressed the need to reduce human, structural, and economic losses in Lalitpur District.
To enhance disaster preparedness, Mr. Sunuwar proposed measures based on past experiences and data assessment. These measures included raising community awareness, promoting coordination between stakeholders, and ensuring efficient management of disaster response funds. He highlighted the importance of prompt response, avoiding duplication, and adopting a "one-door policy" to prioritize life-saving initiatives during and after a disaster.
Furthermore, Mr. Sunuwar emphasized the mobilization of security forces and other stakeholders, while also outlining the clearly defined roles and responsibilities of government agencies, security forces, development partners, private sectors, banking institutions, media, and academia. He identified major hazards in Lalitpur District, such as earthquakes, fires, forest fires, landslides, floods, urban floods, epidemics, road accidents, hailstorms, and lightning.
In assessing the district's preparedness, Mr. Sunuwar examined the availability of health centers, human resources, ambulances, engineers, rescuers, logistics arrangements, volunteers, and means of transportation. He also highlighted the existing capacities of Lalitpur, including funds, health centers, education centers, water supply, logistics, and lifeline management.
To facilitate effective disaster management, Mr. Sunuwar proposed a work division among political parties for fund collection and human resource mobilization. He stressed the importance of collaboration among local governments and the involvement of the Red Cross Society for logistics, volunteers, and search and rescue operations.
Additionally, Mr. Sunuwar outlined emergency preparedness strategies, including the establishment of the District Emergency Operations Center (DEOC), Local Emergency Operations Center (LEOC), and information centers. He emphasized the importance of conducting review and reflection meetings, rapid response and assessment, and the appointment of Disaster Risk Reduction (DRR) focal persons. Furthermore, he highlighted the formation of thematic groups involving development partners to ensure comprehensive disaster preparedness and response in Lalitpur District.
Mr. Surya Bahadur Thapa, Chairperson of DPNet, delivered a presentation on the "Monsoon Preparedness and Counteraction Plan." He commenced by introducing DPNet as an umbrella organization comprising INGOs, NGOs, and UN agencies with primary focus on coordinating and networking, knowledge sharing, capacity building, and policy advocacy. Mr. Thapa mentioned that DPNet serves as the member secretariat of the National Platform for Disaster Risk Reduction (NPDRR), which consists of nine thematic groups. Mr. Thapa highlighted the significant contributions of DPNet in the field of disaster management. Previously, DPNet took the initiative to prepare and publish the Nepal Disaster Report in 2009, which is now undertaken by the Ministry of Home Affairs. Moreover, DPNet has taken over the organization of pre-monsoon workshops, a responsibility previously held by the Nepal Center for Disaster Management (NCDM). Currently, the Ministry of Home Affairs is responsible for organizing these workshops.
Regarding the monsoon situation in Nepal, Mr. Thapa noted that it begins in June. The main objectives of the Monsoon Preparedness and Counteraction Plan revolve around assessing past data and fostering coordination among various stakeholders, including the federal government, local government, private sectors, and development partners. The potential hazards expected during the monsoon season in Lalitpur District are floods, landslides, epidemics and damages in infrastructure.
Mr. Thapa emphasized the actions that need to be taken to address these hazards. These include conducting assessments based on past data, learnings and current situations, categorizing hazards, arranging logistics, identifying risk zones, assessing lifeline facilities, and gathering specific data on vulnerable groups such as senior citizens, children, women, marginalized individuals, and people with disabilities. Additionally, he highlighted the importance of having adequate health facilities, manpower, and machinery such as dozers and excavators.
Furthermore, Mr. Thapa stressed the usefulness of data and statistics in the aftermath of a hazard, citing past experiences where the unavailability of data posed challenges. He emphasized the significance of collecting data related to open spaces, community centers, party palaces, schools, and other relevant areas. Proper information circulation during disasters was identified as a crucial aspect of effective monsoon management.
The challenges in monsoon management were also discussed by Mr. Thapa. These challenges encompass negligence, lack of coordination, inadequate preplanning, insufficient information, awareness, and circulation, as well as the failure to integrate development into disaster risk reduction (DRR) strategies. Addressing these challenges is vital for ensuring effective monsoon preparedness and response.
Dr. Raju Thapa, Vice Chairperson of DPNet, delivered an informative presentation on the "Overview of Disaster Risk and Monsoon Preparedness." Dr. Thapa began by showcasing a picture of a landslide area and emphasized the significance of preplanning in disaster management. Dr. Thapa further engaged the participants by sharing various images depicting the geographical and seismological scenarios related to earthquake risks and the damage caused by past earthquakes.
During his presentation, Dr. Thapa elaborated on the seismic gaps present in Nepal and shared research findings regarding earthquake scenarios and the potential damage that could occur in the future. He also discussed the flood scenario specific to Lalitpur district. Dr. Thapa highlighted the issues associated with unmanaged urban settlements, emphasizing the irregularities in building constructions that pose seismic hazards.
Furthermore, Dr. Thapa addressed the sensitivity of the lacustrine deposits in the Kathmandu Valley to different disasters. He emphasized the importance of proper disaster preparedness and prevention measures in such areas. Dr. Thapa also raised concerns about the haphazard construction of roads and bridges, which can contribute to disasters if not properly planned and executed.
Dr. Thapa stressed the importance of allocating adequate resources for disaster preparedness. He explained that reducing investment in preparedness measures may result in exponentially higher losses after a disaster occurs. This underlines the significance of proactive planning and resource allocation to mitigate and manage the impacts of disasters effectively.
Mr. Surya Narayan Shrestha, Executive Director, NSET delivered an informative presentation on the "Overview of Disaster Risk and Monsoon Preparedness" shared comprehensive disaster data from 1971 to 2019, focusing on Nepal and the Lalitpur district. He highlighted that while fire, floods, and landslides are recurrent disasters, earthquakes, although infrequent, have significant impacts.
Mr. Shrestha also discussed the relevant constitutional laws and policies related to disaster management in Nepal, including the Nepal Constitution, Local Government Federation Act 2074, Disaster Risk Reduction and Management Act 2074, 15th Periodic Plan (2076/77-2080/81), and the Disaster Risk Reduction National Act.
An overview of the Disaster Preparedness and Response Plan (DPRP) was provided by Mr. Shrestha, emphasizing its objectives and the importance of effective planning. The development of the plan involves several phases, including stakeholder identification, discussions among stakeholders, resource monitoring, thematic discussions on specific areas such as search and rescue equipment, emergency logistics, and emergency shelter. Workshops are conducted to develop the plan, followed by orientations and amendments as necessary. Thematic groups were identified as key frontline stakeholders and organizations involved in the DPRP. Nine thematic groups were formed and operationalized, with seven thematic areas identified specifically for Lalitpur. These areas include coordination and information management, food, non-food items, water, sanitation and hygiene, health and nutrition, education and protection, and rehabilitation and reconstruction.
The upcoming plan includes thematic group meetings, draft preparedness, and the development of a preparedness plan. The expectation from thematic groups is to provide information as soon as possible, set meeting dates, and present their respective plans.
During the question and answer session, strategic planning was highlighted, covering four areas: understanding risk, disaster risk governance, disaster risk reduction and investment, and effective disaster preparedness and counteraction planning. The previous year's counteractive plans, challenges faced, implementation details, and a review of the previous plan were also discussed. The adequacy of the thematic areas was raised as a question, with consideration given to the possibility of adding or redesigning thematic areas as needed. The Bipad portal, which serves as a collective information platform, and the workforce aspects, including funding and the management information system/reconstruction management information system operated by the CDO, were also clarified. Throughout the presentation, Mr. Surya Narayan Shrestha provided a clear methodology and framework for understanding and implementing the DPRP.
Mr. Amardip Sunuwar facilitated the placement of thematic group tags on seven tables, and the organizations themselves chose to remain in the groups that aligned with their areas of expertise. They were then encouraged to share their concepts and plans within their respective thematic groups.
Open Discussion Session
Mr. Babu Raja Maharjan, the President of the Nepal Red Cross Society, highlighted the importance of the previous Disaster Preparedness and Response Plan (DPRP) that was submitted to the Ministry of Home Affairs (MoHA) and prioritized by the CDO. As part of the plan, there was an increase in security forces' simulation exercises and human resources. Additionally, it is crucial to incorporate 23 different aspects in the guidelines, including the consideration of volunteer guidelines for future planning. These volunteers have received training in first aid and CADRE, reflecting a valuable lesson learned from previous years. Managing human resources effectively is of utmost importance. The previous DPRP was categorized into eight parts, which should also be taken into account when developing the upcoming plan.
Mr. Manoj Bahadur Nyachhyon, representing the Lalitpur Chamber of Commerce and Industries, requested the consideration of food arrangements.
Mr. Prastuti KC, from Habitat for Humanity, emphasized the need for a market assessment regarding food, rehabilitation, and reconstruction as part of the preparedness plan. This is crucial as supplies are often limited during emergencies. It is also important to focus on strengthening the capacity of volunteers.
Mr. Hari, representing the Lalitpur District Administrative Office, highlighted the existing coordination gap with the hospital. He suggested that the implementation procedure should be carefully considered to address this issue.
Mr. Niranjan Shrestha, representing the Soil and Watershed Management Office, stressed the importance of integrating water management into the preparedness plan. He suggested that water management should be included as a thematic group.
Mr. Hem Bahadur Shrestha, from the APF (Armed Police Force), stated that the APF is a frontline stakeholder in emergency situations. He emphasized the need for effective mass management in disaster preparedness. He also suggested the development of a collective plan for disaster preparedness. Additionally, he stressed the importance of equipment management for effective counteraction, noting that the current search and rescue equipment can only address 7 to 8 types of disasters.
Mr. Dinesh Prasad Thani, the District Coordination Officer, clarified that local government holds the authority to approve infrastructure planning and should take the lead in applying building codes. He suggested inviting political representatives as they are also involved in these matters. He recommended reviewing thematic groups and ToR for further planning. While coordination is not prioritized, he emphasized its importance in ensuring effective implementation.
Mr. Prakash Kafle, representing OXFAM, acknowledged the organization's limitations in working specifically in limited areas, as it is primarily a humanitarian organization. However, he assured support in the planning process.
Mr. Dinesh Gurung, from the DCA , expressed commitment to participating in thematic group discussions.
Dr. Dol Prasad Chapagain, from Kathmandu Upatyaka Khanepani Limited, highlighted challenges faced, including the identification of vulnerable buildings without taking steps to dismantle them. He suggested the need for clear classification of disasters and the formation of clusters with experts and resources. He also recommended the provision of rewards for effective mobilization of human resources in responding to disasters.
Mr. Siddhi Bikram Shah, representing the District Police Office , stated that the strength and capacity of the police force would be reflected in the thematic group discussions. He proposed utilizing the mobile network and involving NTC (Nepal Telecom) and Ncell to facilitate communication during emergencies. He also highlighted the importance of capacity mapping at the valley level and brainstorming a plan for managing and involving the police force in disaster management. He emphasized the need for an accident management plan, considering both minor and major accidents.
Mr. Amardip Sunuwar requested all participants to voluntarily join thematic groups by providing their names. He mentioned that subsequent meetings would be organized and participants would be informed accordingly. This workshop aimed to facilitate smart planning for disaster preparedness and the counteraction plan for 2080.
In his closing remarks, CDO Mr. Rudra Prasad Pandit, highlighted the importance of pre-planning formulation and revitalizing the Monsoon preparedness and counteraction plan for the year 2080. The 15th strategic plan was concluded during this workshop, which focused on three key areas. Firstly, there was a reflection on past experiences and lessons learned. Secondly, the current needs and priorities were identified and addressed. Lastly, future plans and coordination strategies were discussed. The workshop emphasized the integration and mainstreaming of feedback and suggestions into the planning process to minimize the social, economic, and environmental impact of disasters. A major aspect was the consideration of wastewater management and drainage systems in policy development, as well as the inclusion of forest fire management and addressing the needs of the most vulnerable populations, particularly women and children. Furthermore, the workshop emphasized the importance of integration, coordination between local governments and districts, and both horizontal and vertical coordination to ensure effective planning and response efforts.