Discussion Program on Bajhang Earthquake Agriculture Resilience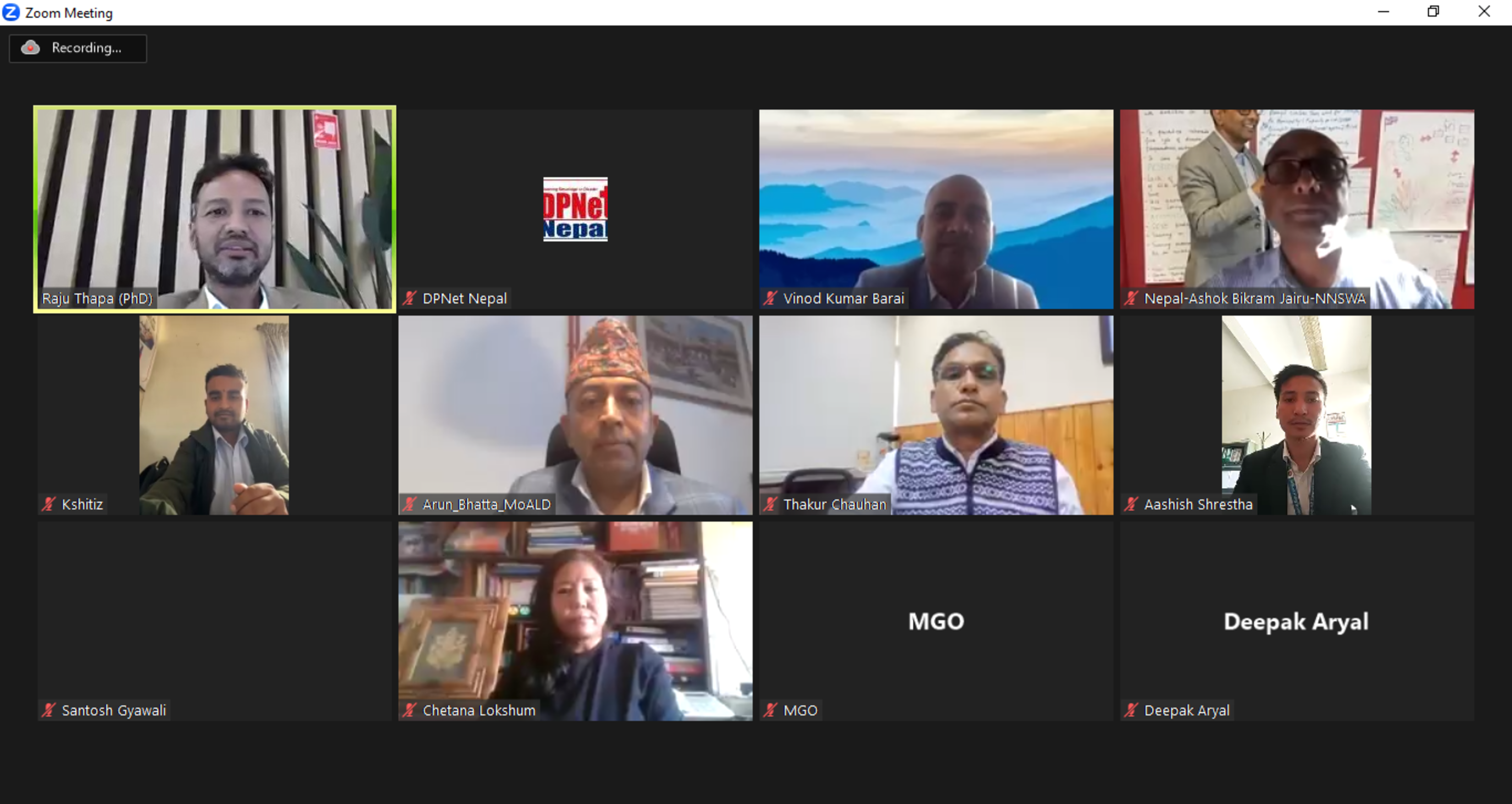 On October 19, 2023, DPNet Nepal hosted a virtual discussion focused on the Bajhang Earthquake Agriculture Resilience. Collaborating with the Ministry of Agriculture and Livestock Development (MoALD) and the Food and Agriculture Organization (FAO), the event focused on the recent seismic events in Bajhang district: a 6.3 magnitude earthquake and a preceding 5.3 magnitude quake, which impacted grain storage and livestock housing.
Mr. Arun Prakash Bhatta of MoALD emphasized the importance of a prompt assessment post-Dashain and the need for inter-agency collaboration. Dr. Raju Thapa, Acting Chair of DPNet, outlined the earthquake timeline, relief efforts, and introduced the LEGS initiative and SEADS approach for crisis management in agriculture. The discussion also highlighted the challenges posed by the government's one-door policy on relief distribution. Representatives from DCA, USAID, Mercy Corps, NNSWA, and FAO-Nepal discussed their respective roles, challenges, and strategies. Under Secretary, Mr. Rishi Raj Acharya from MoFAGA and Joint Secretary Ms. Sabnam Shivakoti from MoALD further stressed the importance of coordinated assessments and the role of development partners and local government in agricultural resilience efforts.
For the discussion video, please click the link
https://www.youtube.com/watch?v=OpOsWjIQmsg
News in details
DPNet Nepal organized a virtual discussion session on "Discussion Program on Bajhang Earthquake Agriculture Resilience" on October 19, 2023, using an online platform. This event was a collaborative effort between DPNet, the Ministry of Agriculture and Livestock Development (MoALD), and the Food and Agriculture Organization (FAO). The primary focus of this meeting was the recent seismic activity in Bajhang district, including a 6.3 magnitude earthquake and a preceding 5.3 magnitude quake. These events led to substantial damage to grain storage and livestock housing. It's important to note that many individuals tend to underestimate the overall impact of such disasters when they only consider human casualties. Bajhang district faces challenges due to its low human development index and high poverty rates, making it crucial to provide both immediate relief and long-term resilience efforts. The emphasis is on addressing livelihood challenges, particularly through improving agriculture and conducting damage assessments.
Mr. Arun Prakash Bhatta, Under Secretary of the Ministry of Agriculture and Livestock Development, initiated the discussion by emphasizing the urgent need for an assessment immediately after Dashain to evaluate the situation. He also emphasized omitting duplication of work between agencies and called for collaboration with development partners in the recovery process.
Dr. Raju Thapa, Acting Chair of DPNet, provided a detailed update on the Bajhang earthquake. He highlighted that a 5.3 magnitude foreshock was followed by a 6.3 magnitude main shock, the fore-shock's early warning allowed people 26 minutes to prepare before the main shock, resulting in fewer casualties. However, the series of earthquakes disrupted daily life activities and had far-reaching impacts on social, economic, psychosocial, mental health, and infrastructure. Relief efforts commenced on October 4, with coordinated distribution through a one-door system. Subsequent aftershocks, including a 4.5 magnitude event on October 5, a National Council meeting and a visit from the Prime Minister to assess the situation. However, heavy rains on October 7 worsened the situation, prompting a coordination meeting on October 8 involving local government officials, CDOs, and humanitarian agencies. On October 9, the District Disaster Management Committee decided to revise the one-door policy for relief distribution, involving NGOs, INGOs, and the Red Cross at local levels, with the exception of cash distribution. By October 10, the local government had completed the initial damage assessment, and the seismometer network was expanded to improve earthquake monitoring. Relief distribution accelerated under the revised one-door policy. Dr. Thapa also noted the significant impact on health infrastructure, with 45 health service buildings affected, including seven completely damaged and 38 partially damaged. He expressed concerns about farmers in the region who were in the process of harvesting paddy crops but lost their storage facilities due to damage. With no proper storage options for the harvest season, the affected farmers faced further losses due to recent rain and hailstorms. Dr. Thapa introduced the LEGS initiative, which aims to support the livelihoods of livestock-keeping communities in crisis situations. LEGS provides a framework for international standards, enabling humanitarian organizations to swiftly safeguard and rebuild livestock assets, covering areas like destocking, veterinary support, feed supplies, water provision, livestock shelter, and livestock distribution. This approach is designed to protect and rebuild vital livestock-related resources in emergencies, prioritizing the welfare and sustainability of livestock assets. Additionally, Dr. Thapa introduced SEADS, an innovative agricultural crisis response approach. This tool assists users in assessing the suitability, necessity, and feasibility of crop-related responses, aligning interventions with the specific context. SEADS facilitates the prioritization of crop-related response strategies to effectively achieve livelihood objectives and provides a mechanism to track project adherence to established standards and measure the impact of crop-related crisis response initiatives. Ultimately, SEADS aims to make agricultural crisis management more efficient and outcome-oriented, benefiting affected communities and their agricultural resources. Dr. Thapa emphasized that applying these standards in the current emergency situation in Bajhang opens the door for their implementation in larger events, creating both a need and an opportunity for collaboration.
Mr. Dinesh Gurung from DCA emphasized that this is the phase of immediate response. We are currently prioritizing life-saving efforts and collaborating with DPNet on immediate assessment and recovery. As part of our emergency response, multipurpose cash is a priority. However, it has not been implemented due to the government's one-door policy. We are coordinating to provide support in the form of a standard minimum expenditure basket of Rs 15,000 to 400 families. Mr. Santosh Gyawali, USAID emphasized the need for a government request to involve USAID in the area. Mr. Gyawali emphasized that, as of now, USAID is solely providing support to partner organizations and continuing to execute existing programs in earthquake-affected districts, citing the absence of communication from the government.
Mr. Deepak Aryal from Mercy Corps highlighted their involvement in the implementation of a home-grown school feeding program, collaborating with school students and farmers in Bajhang and Bajura. He mentioned their intention to expand their work in that region, with immediate plans to do so following the festive season. Mr. Ashok Bikram Jairu, Executive Director, NNSWA highlighted that their organization was ready to provide cash assistance but faced challenges in doing so, possibly due to a government-imposed one-door policy, which caused significant delays. He also mentioned that they have distributed blankets to 115 families in Masta Rural Municipality, Bajhang, specifically targeting lactating and pregnant women and the vulnerable group. Their focus also extends to Bajura district. He explained that they provided 100 non-food items through Provincial Emergency Operation Center (PEOC) immediately after the earthquake, but these contributions have not been recognized or where these materials distributed is unknown.
Mr. Thakur Chauhan, Project Coordinator at FAO-Nepal, stressed that the occurrence of events such as rainfall, landslides, and hailstorms after the earthquake during the crop harvest season has led to losses and damages. Within the food security cluster, a series of decisions has been made. Recognizing the low HDI and high poverty levels in the area, the plan is to provide hermetic bags to 2,400-2,500 households. To carry out this initiative effectively, collaboration is essential. Various teams, including government representatives and DPNet Nepal, need to work together to assess the situation. This assessment involves the preparation of checklists and questionnaires, utilizing SEADS and LEGS standards immediately after Dashain. According to Mr. Chauhan the results of this assessment will guide long-term efforts for agricultural and livestock recovery.
Mr. Rishi Raj Acharya, Under Secretary at the Ministry of Federal Affairs and General Administration (MoFAGA), highlighted that their ministry is actively engaged with the early recovery cluster following a meeting after the earthquakes in Bajhang. Mr. Acharya emphasized that both rural and urban municipalities are proactively addressing early recovery issues, with a specific focus on agriculture and livestock. He pointed out that they have experienced losses and damage to storage facilities, impacting the food and livestock sectors. Furthermore, Mr. Acharya explained that the Nepal Red Cross Society has requested approval from their ministry to provide cash assistance of Rs. 15,000 to over 600 households. He stressed that the ministry's team is collaborating with local government authorities to facilitate the restriction on cash support in the name of one door policy. To streamline and improve the process, MoFAGA is serving as a catalyst, recognizing the significance of rehabilitating various area including agriculture, livestock, and food storage to prevent future food insecurity. Mr. Acharya emphasized the need to place rural and urban municipalities at the center of these efforts, as they can provide critical information and play a vital role in enhancing the overall mechanism. He further noted that the ministry is fully prepared to support the assessment process.
Ms. Sabnam Shivakoti, Joint Secretary at the Ministry of Agriculture and Livestock Development, shared insights following the recent incidents in Bajhang and Bajura. She mentioned that meetings have been convened to address the situation, with a key focus on minimizing redundancy and maximizing support from various sectors. The primary objective is to assess immediate losses, determine necessary emergency responses, and plan for future actions. Ms. Shivakoti stressed the importance of conducting evaluations that encompass losses and damages related to seeds and livestock. These evaluations will serve as a roadmap for future assistance efforts. Additionally, she highlighted the critical need for coordination among different sectors. Ms. Shivakoti also mentioned that, based on the assessment's findings, a decision could be made regarding the provision of further recovery plans. Given the approaching paddy harvesting season, there is a heightened emphasis on immediate interventions related to this such as providing hermetic bags. Lastly, she underlined the significance of acknowledging the assistance provided by various organizations.
Youtube Link: https://www.youtube.com/watch?v=OpOsWjIQmsg