26th Anniversary of DPNet-Nepal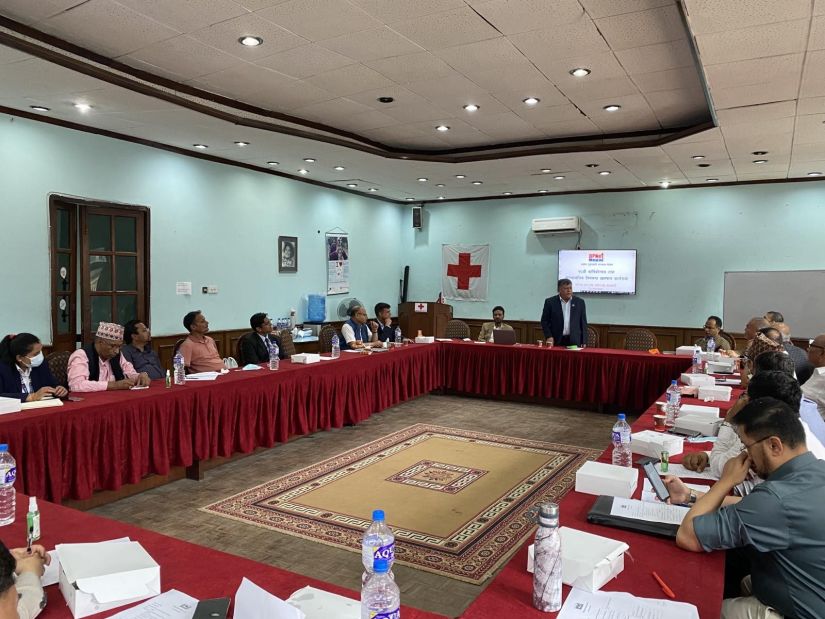 The 26th Anniversary of DPNet Nepal was organized on 8th June, 2022 at Nepal Red Cross Sabha Hall, Kathmandu. The program was Chaired by Dr. Raju Thapa, Acting Chair, DPNet whereas the Chief Guests of the program was Dr. Gangalal Tuladhar, former Education Minister and DRR&M Expert and the Special Guests of the program were Mr. Rishi Raj Acharya, Under Secretary, MoFAGA, Dr. Dijan Bhattarai, Under Secretary, NDRRMA and Mr. Kedar Neupane, former Secretary and Chief of Disaster Management Division MoHA. Mr. Kilash Rijal, General Secretary, DPNet highlighted the objectives and facilitated the program. The participants were from DPNet Board, Technical Advisors, Advisors, NPDRR Thematic Groups, Government, Member organizations and staff.

Major Highlights:
Dr. Raju Thapa
During the past one year, DPNet had signed up 8 partnership agreements whereas 6 projects had been already implemented and 2 are still ongoing. It has conducted 23 board meetings along with 9 more member organizations, published 12 E-bulletins, uploaded 989 resource material in an online resource center and 67 various DPNet activities news. It formed a Provincial DPNet Committee in Gandaki Province and facilitated the formation of a nine thematic committee of National Platform for Disaster Risk Reduction (NPDRR). It also developed disable friendly website update and optimized webpage. It also organized first historical National Conference on DRR (NCDRR) and coordinated in preparation of official statement and position paper for GPDRR 2022. It also coordinated to celebrat IDDRR-2021, world humanitarian and 7th Memorial Day of 2015 earthquake. Similarly, it organized 5 workshops, 3 trainings, 3 orientation cum consultation, 4 sphere sensitization programs. In the course of knowledge management it has translated 3 companion standards of the sphere. The other programs related to CSO, role of private sector, nature based solutions, monsoon disasters and other policy programs were organized in this year.
The future plan of DPNet comprises optimizing virtual DRR platform, online resource center, localization of NPDRR and sphere standard, support and coordination with NDRRMA, organizing national conferences and coordinating to participate in APMCDRR.

Dr. Dharam Uprety, Technical Advisor of DPNet
Early warning systems are a set of capacities needed to generate and disseminate timely and meaningful warning information and community based EWS is a community driven approach where collection and analysis of information is led by community people. There are many multi-hazard approaches to strengthen the community based EWS such as risk knowledge, risk monitoring, building community capacity and risk communication dissemination. The monsoon usually starts from 13th June to 23rd September. But this year it started a week earlier. Pre monsoon/monsoon leads to flooding of roads, water logging, road-induced disaster, water visibility, problem in visibility of air and so on.

The presentation included the probability of rainfall in Sudurpaschim and Lumbini Province, Monsoon forecasting, probability of monsoon this year, rainfall monitoring of Nepal, risk communication system, normal rainfall, downstream flooding, rainfall threshold, coordination between agencies, and frequent change in weather. The key recommendations were complete halt of road transport, update of EWS, increase manpower and human resources, develop system of nowcasting and dissemination of nowcasting and proper procurement of emergency material. Nowcast shows the recent weather data. Since, DHM has now made many polygons which helps to provide EWS frequently.

Dr. Dijan Bhattarai, Under Secretary of NDRRMA – Monsoon Preparedness Action Plan - 2079 draft
The draft included the history of disasters like flood and landslides and other disasters. It included about the monsoon preparedness, flood and landslide vulnerabilities, loss and damages due to disaster in Nepal, trend of flood and landslides, last year disaster and monsoon data's, reconstruction and resilience, experiences and learnings, insurance provisions, probabilities of loss and damages due to disaster, role of the authorities, relief fund and budget and so on. As the document is yet to be finalized, constructive feedback and suggestions are still welcome.

Dr. Gangalal Tuladhar, former Education Minister and DRR&M expert
Congratulate DPNet for 26th Anniversary and thanked Dr. Raju Thapa, Dr. Dijan Bhattarai and Dr. Dharam Uprety for the fruitful presentation. Everyone should focus on enhancing knowledge, understand the disaster and work according to science based DRRM. There are many experts in the disaster field, but everyone practices the same response. We have enough plans, policies and strategies regarding DRRM, now we should focus on localization in all 753 local levels. The prioritization of all these levels should be on proper budget mobilization, addressing vulnerable communities, providing relief funds on time, updating the whole system and other innovative decisions. The authorized agencies in all three levels should be very strong and focus on development in a particular sector rather than changing the better positions only. We should learn the experiences of practicing DRRM from other countries as well.

Mr. Rishi Raj Acharya, Under Secretary from MoFAGA
The very first priority is localization of DRRM, sphere standard and humanitarian standards. MOFAGA is taking initiative to provide training to all 753 local levels to the newly elected members and share knowledge about DRR mainstreaming. This year the vulnerable areas due to monsoon should be monitored and provide every necessity on time. It would be always better if MoFAGA and DPNet coordinate and collaborate to work together in future as well.

Mr. Kedar Neupane, Joint Secretary, Chief of Disaster Management Division MoHA
Weather forecasting plays a vital role in disaster preparedness. Early warning systems should be more updated and active with all proper information of disaster probability. The responsibilities of all three tires of government should be clear and the first responder i.e. local level should be capacity enhanced. The other first responders should always focus on DRRM rather than prioritizing other things. Technical people need to focus on proper DRM. There are problems in disaster relief funds such as funds not getting in time, fund misuse and so on, so experts should get engaged during distribution. DPNet should always monitor the glitches and play the role of watchdog as well.

Major Comments:
Entire DPNet web page should be in Nepali lanague as well. It should be DPNet next year's plan.

Disaster related posters should also be added in the website such as earthquake safety posters, lightning posters. The poster section in DPNet's ORC category should be added.

DPNet should collaborate with various agencies more professionally and recommend concerned stakeholders in contextual issues.

If Nepal Disaster Report (NDR) is not publish on time, DPNet should facilitate the process.

DPNet should have intense discussion on one-door policy and relief distribution mechanism.

DPNet should organize training and sensitization program on contextual issues in a regular basis.

DPNet should take lead to organize another mega NCDRR event to bring all stakeholders and lesson learned in a single place.

The work of DPNet should focus more on prevention, pre disaster and post disaster and the mental health during these events.

Gaps on data shared by DHM may create difficult in updating flood forecasting.

All 753 local levels should focus on frequent EWS and SMS. The level of alert should also be shared.

The forecasts and nowcasts should be functional. The risk zones forecasted actively with the help of GoN

The data extracted on all the reports should have proper references and there should be frequent collection of data.

DRRM should be inclusive and timely informed.

The vulnerable areas, physical infrastructures should be monitored. Urban development should be prioritized.

DPNet should strengthen the capacity of NCRS considering its internal disp·
Dr. Raju Thapa incorporated all the comments about mental health in DRR, strengthening capacity of NRCS, inclusiveness in DRR, clustering knowledge in disaster, online resource center, clustering knowledge and monthly dialogues. He then thanked everyone for participating in the program and formally closed the program.