25th Anniversary of DPNet-Nepal -"Role and responsibility of DPNet-Nepal in the present context"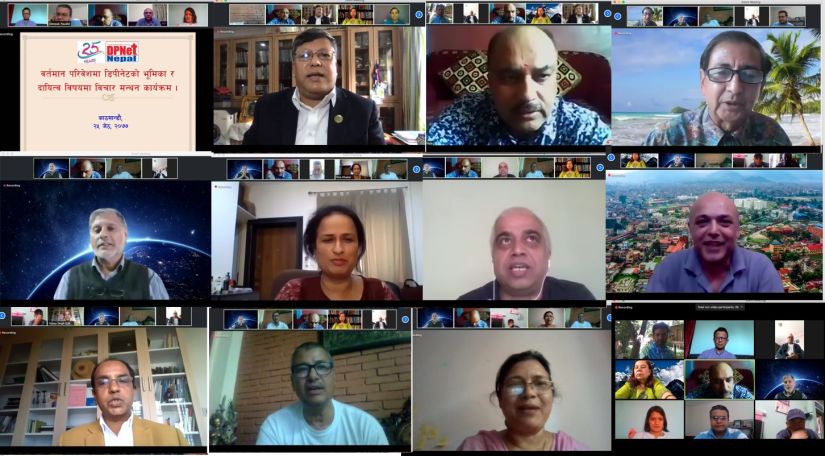 Background
DPNet-Nepal marked its 25th anniversary on 7th June 2020. On this auspicious occasion a virtual program entitled "Role and responsibility of DPNet in present context" was organized to extend best wishes among member organizations, advisers, former chairpersons, former board members/staff, partners/collaborating/supporting agencies, and well-wishers. The event scheduled on Zoom media was chaired by Mr. Surya Bahadur Thapa, Chairperson of DPNet. Whereas, Dr. Ganga Lal Tuladhar, Former Minister of Education and DRR&M expert and Mr. Anil Pokhrel Executive Chief of NDRRMA were present in the program as a Chief Guest and Special Guest respectively. Ms. Luna Khadka, Program Coordinator of DPNet initiated the program with the brief introduction of the DPNet and the program. She honored and thanked everyone who has nurtured DPNet in its 25 years journey.
Major Highlights
Mr. Ram Prasad Bhattarai, Vice Chairperson of DPNet delivered welcome remarks and thanked everyone for their participation and support to DPNet. Mr. Raju Thapa, General Secretary of DPNet-Nepal extended best wishes and briefly shared the major activities and achievement of the network during 25 years of its journey. He also shared his happiness in marking the 25th anniversary of the network.
Mr. Shyam Sundar Jnavaly, Adviser and Former vice-chairperson of DPNet-Nepal shared that the network needs to work more on the Knowledge management part, localization part-localizing DRR&M in Nepal. He also said that DPNet needs to focus on public-oriented DRR&M advocacy.
Dr. Dharam Uprety, on behalf of AINGTDM shared best wishes and said that DRR&M and DPNet-Nepal at national level are synonyms and we need to works in coordination for effective DRR&M in Nepal, DPNET should work as a think tank. He also shared his commitment that AINTGDM is together with DPNet.
Mr. Bishnu Timilsina, General Secretary of DiMaNN said that DPNet-Nepal has gained trust from the Government and it should play the role of guardian in the DRR&M sector.
Mr. Ram Chandra Neupane, Adviser and Former Chairperson of DPNet-Nepal shared that time flew very fast and DPNet has successfully completed 25 years journey. He further said that we need to work a lot on the advocacy part for DRR&M in partnership with the humanitarian agencies. He also said that there is no alternative to DPNet.
Mr. Vijay Singh, Deputy Country Director of UNDP shared that DPNet needs to review and reflect back the history. He also shared his happiness and added that he is satisfied with the work of DPNet; it has done very good policy advocacy initiatives. He also said that we need to integrate health components in our imitative.
Dr. Meen Chhetri adviser and former chairperson of DPNet said that the graph of the network is not constant so there is a need to work on gradually raising the graph of the network. He also shared his best wishes for the Journey of the network.
Prof. Dr. Bishal Nath Uprety former chairperson of DPNet said that we need to organize 25 years of DPNet and way forward workshop whenever possible. He also said that though DPNet is contributing a lot as a model in South Asia, we don't have an organization to support financially.
Ms. Mandira Singh Shrestha, representative of ICIMOD said that documentation should be made strong and DPNet needs to develop a strategy for 5 years including 4 thematic areas and other areas as well so that there could be the possibility of sustainable funding.
Mr. Pallav Pant, Technical Adviser of DPNet raised his concerns about integrating disability in DRR&M. He also emphasized on using the correct technical term for referring persons with disabilities.
Ms. Krishna Karkee, Technical Adviser and former General Secretary of DPNet shared that women participation should be encouraged; there are many women active DRR&M practitioners but not linked very much with the network, so we need to provide the opportunity in such forum. She also focused on preparing the roster of DRR&M expert and also think about organizing a discussion on monsoon preparedness on COVID-19 perspective and also developing the women leadership in DRR&M considering their capacity.
Mr. Ram Luetel, Technical Adviser of DPNet shared that there are lots of works of appreciation of DPNet. There should be a commitment of Government rather than I/NGO and other agencies to support DPNet.
Ms. Rita Dhakal Jyaswal, Former executive committee member of DPNet stated that we need to develop DPNet-Nepal as a resourceful organization and the network also needs to prepare the roster of DRR professional working in the community level to the central level. She also suggested that
Mr. Bamshi Acharya, Former Under Secretary, MoHA shared that we need to digitalize our work and information in the changing scenario considering post-COVID-19. He also said that we need to view our initiatives from a governance perspective.
Mr. Jagadish Kharel, Media person shared his commitment to work together with DPNet and thanked DPNet for the past collaboration with media. He also said that now we have many documents related to DRR&M so we need to focus on the implementation of legal documents and the reflection should be on the local level.
Dr. Kabiraj Paudel, Former Chairperson of Nepal Geological Society said that there is a long history of DPNet and NGIS. He appreciated the efforts and initiation of DPNet to date and also shared his expectation that DPNet will need to work on Scientific publications as well as other documentation parts.
Dr. Hari Darshan Shrestha, Technical Advisor, and Former Executive Committee Member shared that if DPNet can prepare a journal, it would be good visibility. He further shared that our efforts and achievement of 25 years can be documented through this. He also shared that our proposal should be strong and share with a wider audience rather than sharing in INGO and UNDP only.
Mr. Deepak Paudel, Technical Adviser and former treasurer of DPNet-Nepal said that there is a need for advocacy on DRR&M along with the government and sometimes being neutral and sometimes having little different views form the Government. He also said that there is a dual role of DPNet-Nepal, strengthening the NPDRR secretariat and strongly raising the voice sharing gaps of Government.
Overall, the speakers above congratulated the network and shared best wishes for the good initiation of the network for effective DRRM in Nepal. They emphasized the need for and importance of the effective role of DPNet in the current context. They also appreciated the role of DPNet in coordinating and collaborating with government agencies, I/NGO's, private sectors, formulation of DRR&M Act, National DRR Policy, 2018, DRR National Strategic Plan of Action and requested NDRRMA to allocate an annual budget for the operation and organizational development of the network.
Mr. Anil Pokhrel, Executive Chief of NDRRMA extended best wishes for the success of DPNet and also appreciated the work and initiation of the network. In his remarks, he said that the NDRRMA is developing its five years strategy and after its approval, there is a need for coordination and collaboration with all stakeholders for its effective implementation. We will be successful only we collaborate together. The partnership is not complete, that's why there is resource constraint, and it's my personal reflection. We are not able to connect to the private sector. The private sector is missing, let's bring private sector in this forum, NDRRMA is supportive. Together we can contribute to substantially reduce the loss and damage. Let's make the country safe and secure, together we can.
Dr. Ganga Lal Tuladhar said that the role of networks likes DPNet and DiMaNN is important in controlling the Pandemic COVID-19 and reducing the loss and damage due to monsoon disasters like flood and landslide. He also said that there is a need for effective implementation of the legal documents of DRR&M and also to strengthen the NDRRMA through the coordination and collaboration of all concerned stakeholders. He recalled the past about the initiatives to bring the DRR&M Act and to establish the NDRRMA. He also shared the experience of COVID-19. He also requested to work on a top-down approach and added that the responsibility of DPNet-Nepal is to strengthen NDRRMA and DPNet should also work to sensitize the Member of Parliament in Federal and Provincial level about the DRR&M. The work to fight for the right is ended so DPNet need to to work on the national level to enhance understanding disaster risk among Member of Parliament. Interaction on policy and political context relating to DRR&M can also be organized.
Vote of Thanks and Conclusion
Ms. Mridula Dhakal, Treasurer of DPNet delivered a vote of thanks to each individual for their participation and support to DPNet. Mr. Surya Bahadur Thapa, Chairperson of DPNet in his concluding remarks appreciated the contribution of supporting government and non-government agencies, organization, former/present executive committee members, advisers, well-wishers and thanked everyone. He also thanked everyone for fruitful suggestions.