Disability Inclusive Disaster Risk Reduction Training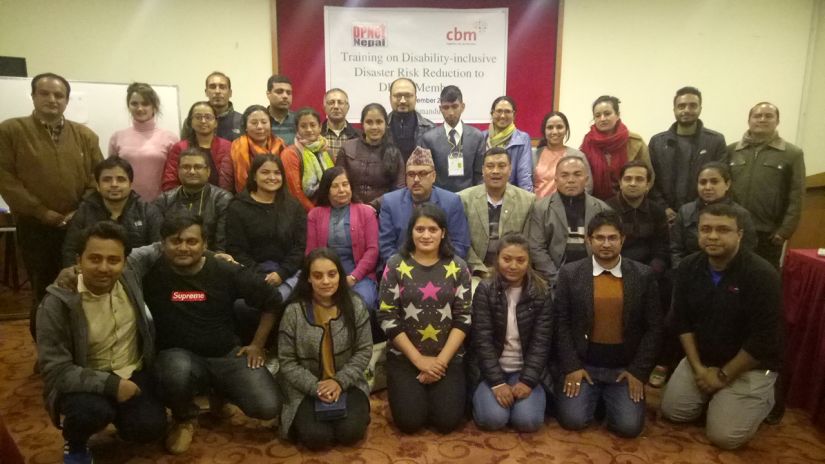 Disability Inclusive Training for DPNet-Members
The persons with disability are one of the most vulnerable groups and are disproportionately affected in disasters due to their difficulties in mobility, loss of assistive devices, access to information and social-cultural discrimination. Persons with disability are often been ignored and their needs and concerns are rarely addressed during the humanitarian response and neither are highly prioritized in the development plans, program, strategies and approaches. The Sendai Framework for Disaster Risk Reduction (SFDRR) provides multiple references to accessibility, inclusion and universal design, provides an outline that can lead to a safer, more resilient world for all. Nepal as a signatory of SFDRR has the responsibility to build a disability inclusive disaster-resilient nation.
In light of this context, knowledge sharing and sensitizing representatives of organizations working in the DRR about disability inclusion is highly essential to ensure the meaningful participation of persons with disability in DRR&M activities. Sensitizing DRR stakeholders on disability inclusion would be fruitful to address the concerns of persons with disability and mainstreaming disability issues in the development plan, programs and strategies. Thus, DPNet-Nepal with the financial and technical support of CBM had organized disability inclusive DRR training at Kathmandu on 6-7 December 2018 to sensitize and capacitate member organizations of DPNet-Nepal and strengthening their capacity on mainstreaming it into development planning. Similar training has been planned for the member organizations of DPNet-Nepal from Province 5, 6 and 7 on 16-17 December 2018 at Butwal.
The training was inaugurated formally with the objective sharing and welcome remarks by Mr. Ram Prasad Bhattarai Vice Chairperson of DPNet-Nepal, followed by the remarks of Mr. Shaurabh Sharma, Program Manager of CBM. Mr. Sunil Sun Shakya, individual consultant and Mr. Krishna Sunar, Program Officer, CBM facilitated the training sessions, whereas logistic support and Master of ceremony was conducted by DPNet-Secretariat.
Altogether, 27 participants from 27 member organizations, disaggregated as 12 female, Janajati-8, Madhesi-1 participated in the training. The two days training content was focused on the introduction of disability, DRR&M cycle, issues of disability during disasters, barriers of persons with disability in disaster risk reduction and management and ways to overcome the barriers. The provisions relevant to persons with disability in the DRR&M Act, Sendai Framework for DRR were also shared in the training. The training was organized in an interactive way including exercise, group work and video documentary. The Pre-test and post-test evaluation conducted at the beginning and end of day-1 and day-2 showed that the participants had enhanced their knowledge about the disability and DRR. After the successful completion of the training certificate of completion of DIDRR training was distributed to the participants.
The two days training was closed with the learning sharing of participants (one male and one female), lead trainer, remarks by Program Manager of CBM Mr. Shaurabh Sharma and closing remarks of Mr. Surya Bahadur Thapa, Chairperson of DPNet-Nepal.