Storm affected area-situation update from the 'Coordination and Communication Desk, Bara'-2nd April 2019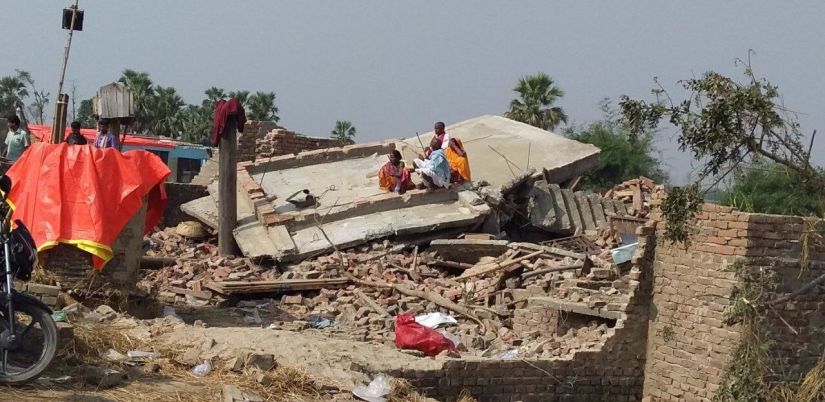 Situation update from the 'Coordination and Communication Desk, Bara'
2nd April 2019
An emergency meeting that comprises member networks of DPNet, DiMaNN, NCDMC, and other stakeholders on 1st April decided to establish a 'Coordination and Communication Desk' in Bara District aiming to lessen the duplication that might occur. With this, the desk came into the function from 2nd April 2019 just a day after the destructive storm hit Bara and Parsa district. The desk has started observing, analyzing and updating the situation. Below is some information we received through our observation.
Various stakeholders including Government Official, Political parties, Business Entrepreneurs, NGO/INGOs are involving in a relief operation.

Non-resident Nepalese Association (NRN) has also started distributing relief to the affected people.

As Bharbaliya and Porainiya are severely affected areas, most of the relief materials distributors are focusing in these areas.

Our coordination desk requested concerned stakeholders including Chief District Officer to coordinate effectively to distribute relief materials homogeneously in all affected area. Desk also requests all stakeholders to consult with DAO officials and local government before distributing relief materials to make sure that all affected families are getting relief materials in justifiable way.

Security forces have begun to make temporary houses for the affected people. Today, they are working with the Red Cross team. One hundred and fifty tarpaulins sent by Nepal Red cross have already been reached there and the three hundred pieces of tarpaulins sent by the government are likely to reach.

Generators have been placed in various places to light the night and recharge communication devices like a cellphone.

Tarpaulins are being compiled from the organizations of different districts, UNICEF, Nepal Red Cross Society.

The government of province 3 has decided to help Rs. 10 million for the construction of housing for the storm affected areas.

The province assembly of province 3 has decided to help the affected people by supporting a salary of three days.

The provincial government has formed a High-Level Committee to study the loss caused by the wind storm.

The cabinet has also decided to mobilize DDMC to provide immediate medicines, food grains, tarpaulins, medicines and treatment services for the management of the disaster.

The central government has decided that it will provide modern gas stove and solar panels in the affected areas immediately.

The provincial government of province 2 has decided to build a pre-fabricated house within 4 months for the affected families.

The Ministry of Health and Population has deployed the special team to monitor the treatment of injured people in the affected area.