Special General Assembly of DPNet-Nepal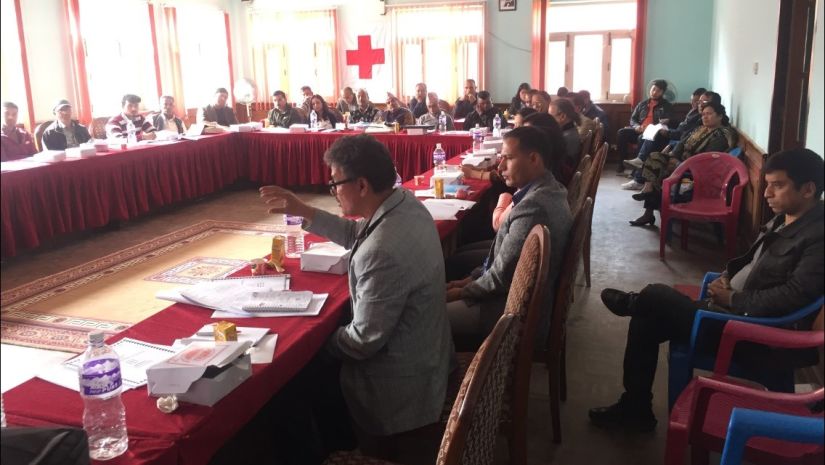 Special General Assembly of DPNet-Nepal
6th November 2019, With reference to the mandate of the 12th General Assembly of DPNet-Nepal, the Special General Assembly was organized by DPNet-Nepal. Altogether 45 participants representing member organizations of DPNet-Nepal participated in the meeting.
Major Highlights
The program was chaired and inaugurated by Mr. Surya Bahadur Thapa, chairperson of DPNet-Nepal. DPNet vice chairperson Mr. Ram Prasad Bhattarai delivered welcome remarks. The chairperson in his remarks shared the objectives of the Special General Meeting.
The main part of the program was started upon the confirmation of majority members and approving the agenda of AGM. Three representatives from the member organization were selected voluntarily to sign in the AGM minute. Mr. Raju Thapa, General Secretary, DPNet-Nepal shared the program report of the past fiscal year along with the current fiscal year to date and program plan for the remaining period of this fiscal year. He also shared the brief financial report on behalf of Ms. Mridula Dhakal, Treasurer, who couldn't participate in the program due to illness.
After that, the floor was open for discussion. Participants raised their concerns and suggestions, basically focusing on way forward for strengthening the technical and financial capacity of DPNet-Nepal, capacity building of member organizations.
The progress report, proposed program, and financial report were approved by the assembly with some inputs. The Special General Assembly provided authority to the executive committee regarding the appointment of the auditor along with his/her remuneration for the fiscal year 2076-77. The assembly also decided to provide institutional membership to the organizations having experience of five years or more in disaster risk reduction and management. Furthermore, the decision was also made to apply for healthy international free competition project bidding on the basis of need and importance, but not competing with member organizations.
The program was concluded with the closing remarks of Mr. Surya Bahadur Thapa. He thanked everyone for their active participation and constructive feedback and suggestion for strengthening the capacity of DPNet-Nepal.