Social Service Day 2020-Role of CSO's in DRR&M in Nepal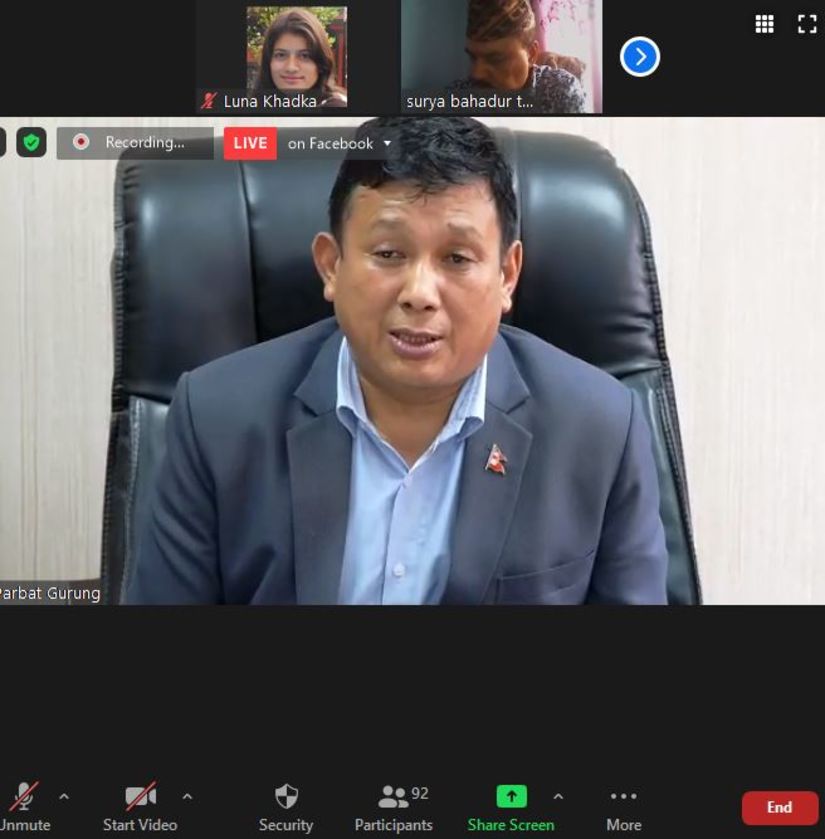 As per the decision of the Social Service Day Organizing Committee, a virtual program entitled "Roles of Civil Society Organizations in Disaster Risk Reduction and Management" was jointly organized by DPNet- Nepal, DiMaNN, and NGO Federation on 23rd September 2020 on the occasion of 41st social service day. The program was chaired by Mr. Surya Bahadur Thapa, Chairperson of DPNet-Nepal, and DiMaNN. Whereas, Minister for Women Children and Senior Citizen Hon. Parbat Gurung joined the event as a Chief Guest. Dr. Ganga Lal Tuladhar, Former Education Minister and DRR&M expert, Mr. Anil Pokhrel, Executive Chief of NDRRMA were present as a special guest and Dr. Chandra Bahadur Shrestha, Member of NRA, Dr. Padam Prasad Khatiwada, Vice Chairperson of SWC, Mr. Jeet Ram Lama, Chairperson of NGO Federation and Mr. Achyut Luitel, chairperson of AIN joined the event as a Guest. Mr. Surya Narayan Shrestha, Executive Director of NSET and Mr. Bishnu Timilsina, General Secretary of DiMaNN joined the event as a presenter of the program. Altogether, 101 participants representing, Government agencies, I/NGO's, UN agencies, and CSO's joined the program.
Major Highlights
Mr. Jeet Ram Lama shared the objectives of the program and welcomed all participants. He stated that the first responder during a disaster is the community people. SWC is trying to move in a new direction and if there are any cases of disasters, CSO's doesn't have a continue budget for disaster response and requested to develop policy ensuring allocation of 1 to 1.5% of the budget for disaster response. He also insisted on preparedness on DRR&M focusing on vulnerable groups along with the MoWCSC.
Minister for Women Children and Senior Citizen Hon. Parbat Gurung said that recently Sindhupalchowk and Baglung district is declared as a disaster-prone/affected area. He said that these days disaster event is discussed only when there is a human casualty and we have been facing disasters often. Still, we couldn't help the community to translocate them to safer areas. There are lots of agencies and experts working in DRR&M, however, disaster cases are increasing, we couldn't tell the people living in a disaster-prone area, to leave the place and support in safe resettlement. We should accept this weakness, why we couldn't inform the people about possible catastrophes. Our expertise and efforts will be considered only if we become able to save lives and property by informing community people in advance. We need to think about reducing the disaster risk rather than disaster response and focus on saving the lives of people. And only we can say we are doing social service. We couldn't give an integrated DRR&M plan to donor agencies. We all should be together to work for DRR&M. SWC and the ministry is ready to discuss the establishment of funds of I/NGO's for emergency response. We should reduce the advertising act like traveling in a helicopter, taking photographs during disaster response, and should be committed to real social service. We need to monitor the disasters and also visit the disaster-affected area and prepare reports and develop an action plan for the resettlement of disaster-affected people. Lets' develop a unified plan of all stakeholders for effective DRR&M.
Dr. Ganga Lal Tuladhar, former Education Minister and DRR&M expert in his remarks said that now we don't have an excuse to say we don't have legal documents, action plans, funding, etc, the constitution has clearly mentioned about DRR&M, DRR&M funding is maintained in all tiers of government. Now, people should don't die due to our negligence or fault. Monsoon disaster is overlooked due to the COVID-19 crisis. Women, children, older people are more vulnerable, so we need to mobilize first responders in a way that they will provide their service in saving and rescuing the people. Citing the examples of the landslide in Lidhi. Sindhupalchowk (where the community people have requested the authorities for resettlement before the disaster occurred) he said that government should be honest in saving the lives of peoples. Let's commit that we all will be honest and maintain transparency. NGO/INGO and all sectors should maintain governance. In concluding remarks he said that Government should think in a way that people are living god and it's our responsibility to save their lives.
Mr. Anil Pokhrel, Executive Chief of NDRRMA in his remarks shared the disaster data after the onset of monsoon 2020 in Nepal. He appreciated the role and contribution of CSO's in the formulation of the DRR&M Act 2017 and the establishment of NDRRMA. He further mentioned that we need to prioritize disaster risk reduction otherwise the disaster event will increase in upcoming days. The global framework also states that we alone cannot work in DRR&M there need to be three sets of solidarity, first the government agencies, second the CSO's and third the private sectors. For effective DRR&M we need to have a collaboration of these agencies. NPDRR is an appropriate and effective medium for this collaboration. Let's include the information related to disability, women, children, and vulnerable groups in risk information. Let's work together for supporting local authorities and local management in disseminating and integrating risk information. CSO's should have a strong role to reach 753 local levels for disseminating risk information. He also highlighted the role and contribution of different networks and federations on DRR&M. He further mentioned that we need to work jointly on the reconstruction of monsoon damaged houses. The major challenge of resettlement is the livelihood of the community people, we need to think in a way to make the resilient livelihood. CSO's has a comparative advantage of livelihood recovery and contribute to it. He concluded his remarks by stating that let's collaborate and work together for DRR&M in Nepal.
Dr. Chandra B. Shrestha shared the presentation about the role of CSO's in DRR&M, his presentation included NRA's policy of CSO's mobilization focusing on consideration of geographic equity, avoiding duplication, one-door policy for reconstruction, rehabilitation, and livelihood interventions. He also shared about the designated scope of work for CSO emphasizing rural and urban housing, economic recovery, and cross-cutting sections. Furthermore, he shared about the status of NRA on reconstruction, feeling of NRA about CSO's-quite happy with CSO's delivery, area of improvement-geographic coverage, and rigidity in the intervention. Similarly, he shared NRA could have done better by coordinating with SWC, and effective coordination mechanism. He requested DPNet-Nepal to brainstorm, how we can tailor the donor support by making the budget flexibility with reference to the country's need. He concluded the presentation stating that CSOs intervention should be demand-driven rather than donor-driven – which has not been accepted so far has remained the case.
Mr. Surya Narayan Shrestha, Executive Director of NSET, presented about the earthquake risk management and role of CSO's in Nepal. In his presentation, he briefly shared about the global earthquake model, disaster events in different Province between 1971-2019, and disaster scenarios between the same periods. He said that there was 20-25% of GDP loss in a major disaster year 1988 and the 2015 earthquake. Furthermore, he added that increased awareness, increased involvement, pilot/good cases, testing of innovative approaches and proactive policies, and institutional mechanism as a major achievement of several efforts on earthquake risk management/DRM. He also emphasized the existence of hazards and risks and the importance of risk reduction. The only way of reducing casualty due to earthquakes is to save buildings. He also shared about the strategy and approaches of earthquake disaster risk reduction, awareness and capacity building, improving emergency response capacity, NSET's role in earthquake risk management, critical gaps of Nepali CSO's, projects, and funding situation municipalities, the concept of innovative funding mechanism. He highlighted the need for capacity building at the local and national level by sharing the proportionate ratio of live rescues by Local: National: International as 1000:225:1. Furthermore, he added that 4278 NGO's have an active presence in selected 12 districts, whereas only 626 NGO's are only humanitarian focused, thus there is a need of more humanitarian focused NGO's and government needs to promote such NGO's. He concluded by stating the need for critical/innovative approaches and collective actions to reduce the risks drastically as a way forward.
Mr. Bishnu Timilsina, General Secretary of DiMaNN shared about the roles of CSO's in DRR&M focusing on CSO's perspective. His presentation included, short-term and long-term impacts of a disaster, CSO's role in policy advocacy-the journey from the natural relief calamity act till the amendment of DRR&M Act 2017 and formulation of DRR&M regulation. He also shared about the role of CSO's in upcoming days focusing on safe settlement, disaster governance, sustainable resource management, capacity building at the Province, and local level. He highlighted that CSO's are a supportive organizations of the state rather than competitive agencies and we should have a common goals, common plans, coordination, and communication.
Major Concerns
Disaster management is not possible until & unless we have a collaborative approach of all sectors & stakeholders. The coping capacity of DM largely depends on the active participation of the whole of society. So NGOs, CBOS & CSOS have an important role to manage disasters either by awareness-raising or capacity building of community. NGOs have to be spread equitably without overlapping following one-door policy. The national social welfare council has to play a pivotal role not to duplicate the functions of NGO/INGO & equitable concentration of its activities being transparent & accountable.

Despite our understanding that we need preparedness, we need mainstreaming, we need funding, we need capacity, we need institutions, etc. for DRR/M, it is still lacking behind. The serious question is "what are the actual barriers" that hinder effective DRR/M, which need to be removed. This needs our focus.

The main lack is the government does not give priority in practice in comprehensive disaster risk reduction/management and all stakes, including political parties emphasize increasing vulnerability (settlements/development/)! Gaps in research and development in DRR/M and its implication in development-policy integration.

All concerned are found focusing on post-disaster response, executing of risk communication is largely overlooked. e.g. heavy to heavy Rainfall is forecasted for 22-25 September 2020, but still, our vehicles are moving and burring in the road, the river level is increasing, but still, evacuation yet to start e.g. Kankai, Kamala river. So, transformation or transformative approach is required for DRR and resilience.

Better to share best practices of CSOs, civil societies, local government in the realm of DRR so that lesion can be learned to make the program more practical and effective.

CSOs should continuously work on strategic policy advocacy work (policy making, policy implementation, and policy monitoring); capacity building of Local governments and Local NGOs as technical organizations and government should plan a long term programming and funding commitment where INGOs, NGOs, and donors can also put their resources and all these should be led by all tires of government and NDRRMA should be technical organization and facilitative organization only.
Closing Remarks
Mr. Surya Bahadur Thapa, shared that DPNet-Nepal and DiMaNN have been working on DRR&M for a long time. He highlighted the slogan of social service day and shared that under the leadership of Hon. Parbat Gurung, the Social service day organizing committee was formed, where the various sector representative was included as a member in a participatory way.
In his closing remarks, he emphasized the implementation of legal documents. He said that we should conduct self-evaluation and review the gaps. NDRRMA is a powerful agency, so we should support it. NDRRMA also should initiate its steps in a collaborative way and it should be fully functional for effective DRR&M in Nepal. He thanked Hon. Minister and all Guest and participants for accepting our invitation and participating in the program. He also thanked the Chairperson of the NGO Federation for jointly organizing this program. He also thanked Atullya Foundation for providing technical support to conduct the meeting on an online platform smoothly.