Nepali Version of Sphere Handbook Launch Program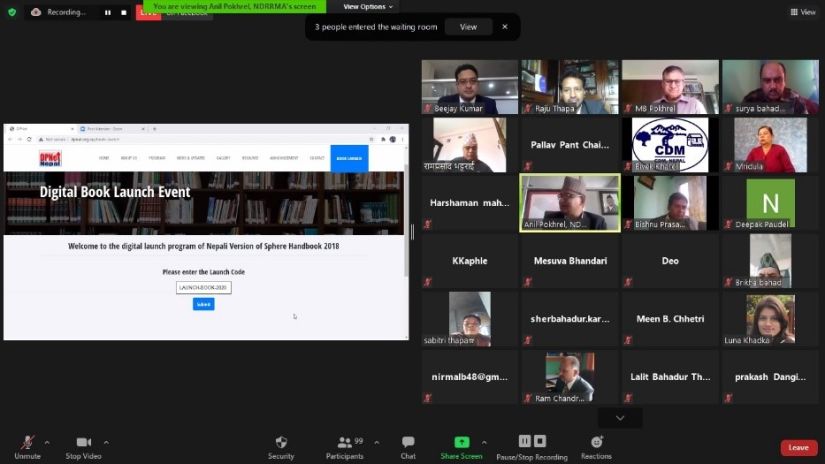 Nepali Version of Sphere Handbook Launch Program
Nepali Version of Sphere Handbook Launch Program was organized by DPNet on 2nd December 2020. The Sphere Handbook 2018 was translated in Nepali and published by DPNet with the support of a different contributing agency, Action Aid, Caritas, Christian Aid, Dan Church Aid, International Nepal Fellowship, Lutheran World Federation, OXFAM, Plan International, Save the Children, and World Vision International). Mr. Surya Bahadur Thapa, Chairperson of DPNet chaired the program whereas, Mr. Anil Pokhrel, Executive Chief of National Disaster Risk Reduction and Management Authority (NDRRMA) joined the program as a Chief Guest. Altogether, 103 participants representing government and non-government agencies joined the program. Most of the participants were a humanitarian practitioners working in the field of Disaster Risk Reduction in Nepal. Mr. Ram Prasad Bhattarai, Vice Chairperson of DPNet welcomed all participants and highlighted the importance of sphere standards in Nepal.
Executive Chief of NDRRMA, Mr. Anil Pokhrel, launched the Nepali translation of Sphere Handbook through the virtual medium by entering the book launch code in the website of DPNet i.e. dpnet.org.np and also displayed the hard copy of the handbook. He congratulated DPNet and appreciated the work of translating the important bulky document in Nepal, and also shared that it's a matter of pride that DPNet has the distribution right of the Nepali version of Sphere in Bhutan, Brunei, and Myanmar. He also said that the National Strategy for Disaster Risk Management 2009 is the first document by the Government of Nepal to recognize the Sphere Standard. It's a critical document to raise awareness and provide guidance for humanitarian assistance. He extended best wishes on behalf of NDRRMA and expressed his concern and importance of Sphere Standard for the disaster-prone country like Nepal.
Mr. Raju Thapa, General Secretary of DPNet and Coordinator of Sphere Coordination Committee (SCC) shared the initiatives to institutionalize and localize sphere standard in Nepal. He also shared that initiatives to produce adequate human resources on sphere standard at the national level and provincial levels were departure points to localize sphere standards in Nepal. He further added that as the sphere standards are directly relevant for a public health emergency such as the COVID-19 pandemic, with the Health and WASH chapters being the most important ones, his team worked rigorously to translate the standard in Nepali to localize the standard in an ongoing pandemic situation. He thanked all contributing agencies, SCC members, concerned stakeholders who become part of the sphere initiatives in Nepal. Further, he highly acknowledged the contribution of Sphere Trainer Subhashis Roy to produce trained human resources in Nepal and also thanked to Sphere Geneva Team for continuous support.
Mr. Murari Binod Pokhrel, Proof Reader of the Nepali version shared his experience in working for making the handbook flawless. He also shared his learning that, due to the pandemic the Translator, Proof Reader, and Designer could not sit together physically to pinpoint the required changes however they worked virtually in a new normal situation. He also said that though the translation work seems simple, it requires rigorous dedication to bring it in readable shape maintaining the essence of the English version. He thanked DPNet, translators, designers, and contributing agencies.
Representing contributing agencies, Mr. Gopal Dahal (Humanitarian Manager of Lutheran World Federation) said that after the hard effort, the handbook is published in Nepali and also shared his feeling that the translation work has contributed to disseminate the Sphere Standard beyond Nepal in Nepali speaking community. He also shared that the pilot version of the sphere was launched in 1998, and nine organizations were the sponsor of the sphere and still, seven organizations are working in Nepal to institutionalize Sphere in Nepal. A sphere is a tool for a right-based approach, a tool for fundraising, and a tool for advocacy. He thanked translator Mr. Badri Khanal, Proof Reader Mr. Murari Binod Khanal, for their effort in translation and making the book flawless. He also thanked the Facilitator of Sphere ToT Mr. Subhashis Roy for his selfless contribution in developing human resources for Sphere training in Nepal. He also acknowledged the work of Mr. Raju Thapa, and Ms. Luna Khadka (Program Coordinator of DPNet) for their rigorous effort in making the Nepali version available. He expressed that the translation work and presentation shared in this event will be a milestone for localizing and disseminating the key message of Sphere Standard in Nepal. He further expressed his commitment to support and contribute to institutionalizing sphere standard in Nepal.
In the program, altogether nine presentations were delivered by 11 Sphere ToT participants namely Ms. Luna Khadka, Mr. Amit Chakarwarty, Mr. Ram Nath Ojha, Mr. Bishnu Timilsina, Ms. Shakti Gurung, Mr. Navin Dahal, Mr. Nityananda Pandey, Mr. Man Dhoj Khatri, Ms. Santona Devkota, Mr. Prahlad Karki and Ms. Shubhakamana Mandal on different topics What is Sphere?, What is new in Sphere Handbook 2018? Humanitarian Charter, Protection Principle, Core Humanitarian Standard, WASH, Food Security and Nutrition, Shelter and Settlement; and Health respectively. Mr. Surya Bahadur Thapa emphasized the institutionalization of Sphere in Nepal through the localization of the standard in all Provinces and Local Levels to maintain the minimum standard during humanitarian assistance. He also shared the plan to coordinate with Province and Local Government, private sectors, and stakeholders to implement the Sphere Standard in Nepal. He thanked Chief Guest for his time and also thanked all contributing agencies for their financial contribution to conduct various sphere activities including in translation of the sphere handbook. He also appreciated the translation work and thanked Mr. Badri Nath Khanal and Mr. Murari Binod Pokhrel for translating and proofreading of the handbook respectively. Similarly, he thanked all presenters and participants of the program and Atuallya foundation for providing the technical support and closed the program.
The video of the program can be found in the YouTube link https://youtu.be/WACxcrUY8DI