National Symposium-Strengthening Disaster Risk Governance to Manage Disaster Risk-IDDRR 2020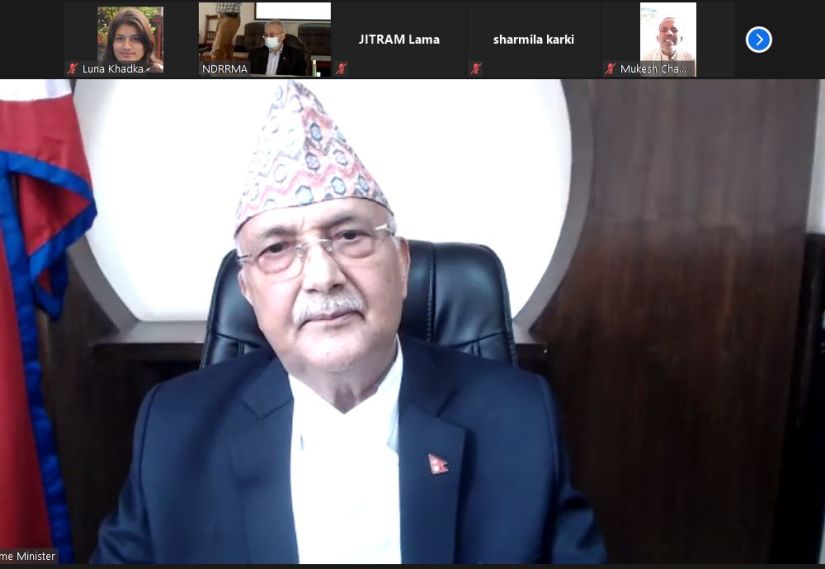 International Day for Disaster Risk Reduction
National Symposium
13th October 2020
Background
The virtual National Symposium entitled "Strengthening Disaster Risk Governance to Manage Disaster Risk" was coordinated by DPNet-Nepal and organized by the National Platform for Disaster Risk Reduction (NPDRR) on 13th October 2020 as the main event of International Day for Disaster Risk Reduction. Rt. Hon. Prime Minister K. P. Sharma Oli joined the event as a Chief Guest, whereas, Hon. Home Minister Ram Bahadur Thapa "Badal" joined the program as a Special Guest and the Secretary of Home Affairs Mr. Maheshswor Neupane joined the event as a guest. The program was chaired by the Chief Executive of NDRRMA Mr. Anil Pokhrel. He welcomed all participants in the program. Mr. Surya Bahadur Thapa, Chairperson of DPNet and Member Secretary of NPDRR briefly introduced NPDRR and moderated the inaugural and technical session of the program. The theme of this year IDDRR was "Disaster Risk Governance", whereas the Nepali translation was as विपद् जोखिम न्यूनीकरणमैत्री सुशासनः सुरक्षीत भबिष्यकालागि हाम्रो अभियान. Altogether, 412 people representing various agencies joined the program. The program was also delivered in sign language by a sign language interpreter.
Inaugural Session
Rt. Hon. Prime Minister K. P. Sharma Oli in his remarks said that there is a need for coordination and humanitarian feeling for DRR&M. He also said that the Sendai Framework for DRR has helped in working in an effective and concrete way and our initiatives should focus on preventing disasters. He added that the government is moving ahead for DRR&M in Nepal in wider vision and coordination with, Nepal Red Cross Society, NGO's and other organizations. Furthermore, he shared his hope to receive support from donor agencies and shared the commitment for collaboration, and thanked Mr. Richard Howard for sharing the commitment of the United Nation. He also highlighted the need to think and blame ourselves for our actions on degrading the environment which has led to climate change and disasters. He said that COVID-19 is now a global pandemic and has created havoc and disastrous situation to human lives. COVID-19 has impacted our economy and created hindrance in our journey of prosperity, development, inclusion, and modernization. We need to think in an innovative way to face the disaster problem and need to understand the interaction of human existence with the environment and other components. If we become late to integrate our efforts on DRR&M we have to face havoc. So, there is a need to think about building resilient infrastructures and settlements in disaster safe area. He also emphasized the need to enhance the early warning system and to identify the root cause of disasters. Similarly, he added that the law is a medium to work, if it doesn't address the need for the time we can amend or replace it. He also extended his best wishes for the recovery of COVID-19 infected patients and condolence to the family of people who lost their lives due to COVID-19. He concluded his remarks by stating that our development initiatives should be taken into consideration with possible disasters.
Hon. Minister Ram Bahadur Thapa, expressed condolence to the family who has lost their loved ones due to disaster. He said that today is the day to share the commitment to work on DRR, enhance our knowledge and sensitize ourselves on the issues of DRR&M. IDDRR is an opportunity to review reflect on our work and be more responsible and work dedicatedly for DRR&M. He also thanked all organizations working in DRR&M in Nepal. Furthermore, he added that the Government of Nepal has formulated legal documents for DRR&M and requested to contribute to the disaster recovery. He also shared that the initiatives in DRR&M will be shared in the National Symposium.
Mr. Jitaram Lama, President of the NGO Federation of Nepal extended his best wishes for the successful execution of IDDRR 2020 events and said that disaster governance is required to secure the lives and livelihood, health, education of people. He stated that various organizations are working along with the government for DRR in Nepal. Hazard mapping and logistics for disaster preparedness are required for saving the lives of people. Local communities are the first responders of disasters, so we have to work to capacitate the local community and local organization of DRR. We are ready to commit and contribute to happy Nepali and Prosperous Nepal. He also said that we need to call international organizations after disasters to ask for support and emphasized establishing own funds during emergencies.
Ms. Sharmila Karki, the Vice-Chairperson of Nepal Red Cross Society said that the pandemic has created a risk and human-induced disasters are increasing and climate change has worsened the situation of disaster. She added that governance is important for disaster risk reduction, disaster response, and to maintain gender and social inclusion. Furthermore, she said that the Nepal Red Cross Society (NRCS) is an axillary part of the Government of Nepal, and we are trying to strengthen the internal governance of the NRCS to work for disaster resilience in Nepal. She also added that inclusion has to be ensured in all government programs. She thanked DPNet-Nepal for coordinating for this event and requested all to make the governance friendly environment.
Mr. Richard Howard, the acting Resident Coordinator of UNRCO in his remarks said that the international community has marked the IDDRR over 30 years and this October 13 is not like other due to global pandemic. He also said that this year's IDDRR theme is disaster risk governance and good governance is nurtured by transparency and participation and disaster governance reduces the loss and damage. Furthermore, he added that Nepal is proactive with disaster governance citing the example of the formulation of the DRR&M Act 2017 and the establishment of NDRRMA in 2019. Similarly, he added that UNRCO is supportive of MoHA's initiation of data collection on the website bipad.gov.np. It's a central tool of evidence-based planning. He concluded his remarks by stating the commitment of the UN to provide support to the Government of Nepal.
Mr. Anil Pokhrel, Chief Executive of NDRRMA formally closed the inauguration session.
Technical Session
Six papers under the disaster risk governance themes were presented by DRR&M experts and professionals in the National Symposium.
Dr. Ganga Lal Tuladhar, Former Education Minister and DRR&M Expert presented the paper entitled DRR&M Governance in Nepal. His presentation included the legal instruments in DRR&M, institutional provision, coordination mechanism, present status, challenges, and way forward. He also shared the list of legal documents formulated by each province in Nepal.
Mr. Surya Narayan Shrestha, a commentator for this presentation said the presentation is comprehensive and it's difficult to comment. There are lots of committees at the local level, but it seems like they are not so effective. Agencies at the district and Province level should be clear in their roles, but confusion exists. He also said that there should be an effective resourceful unit at the local level for the effective implementation of the roles of different committees.
Mr. Rishi Raj Acharya, Under Secretary of MoFAGA, presented the Local Disaster and Climate Resilience Plan: Translating national DRRM priorities into local actions. His presentation included the global and national priorities in DRR&M, disaster risk governance, municipal disaster risk governance assessment tool 2020 (ongoing) developed by MoFAGA led IFRC supported CBDRM platform. He shared about the efforts in the decentralization of DRR&M through the formulation of legal documents and other plans and programs. Furthermore, he added the list of disaster-related legal documents and national priorities, efforts in localization which included the development of sample legal documents for the local level, urban DRR tool kit, etc. The institutional coordination structure and mechanism, mainstreaming process, priorities of the local level in disaster management.
Dr. Meen Paudyal Chhetri, a commentator for this paper shared the strong parts of the paper as well as the gaps. He said that Mr. Acharya has efficiently reflected his long experience in the paper, highlighted the importance of localizing DRRM, explained the nexus between the Federal, Provincial and Local Government, presented a brief account of DRR legislation, and tried to cover all aspects of DRRM as some of the strong points. Similarly, some of the identified gaps were; the author did not mention the problems in the course of the whole cycle of disaster governance by the local government(s), the legal basis of MoFAGA of engaging in DRRM, the role of I/NGOs, CBOs. He also said that positive aspects of disaster governance have been highlighted, negative aspects have been hidden and the author's own conclusion is missing.
Mr. Raju Thapa, General Secretary of DPNet-Nepal, and Mr. Durga Nath Upadhyaya jointly presented the presentation entitled "Humanitarian Disaster Governance in the Context of 2020 Monsoon Disaster". They shared the DRRM CSOs' opinion on the gap between existing humanitarian DRRM policy documents and its implementation in the context of the 2020 monsoon disaster response. The study was based on the primary data collected from the various DRRM professional DRRM CSOs. Some of the policy documents like NDRF, Rescue Relief Standard, Monsoon Preparedness, and Response Plan of Action were analyzed in the study. The study revealed that there is a significant gap between policy documents and their implementation. The study further recommended that stakeholders should engage in the implementation of all DRRM documents and Policy documents should be revised, if there are any providers that are difficult to implement.
Mr. Dinanath Bhandari's commentator of this paper said that the title is vague and it may be better to specify the title to capture the message of the paper/presentation. The overall question is whether this method is appropriate for this type of study. It is not clear why did the author found only 3 policy instruments relevant to humanitarian governance. Authors can analyze and gather evidence to criticize the government approach to COVID-19 response.
Ms. Shakti Gurung presented the Gender and Inclusive Disaster Management in Nepal. Her presentation included the global frameworks and commitments regarding gender and inclusion in DRR, Inclusion in DRR policy frameworks in Nepal, inclusive disaster management situation in ground level. The gist of the findings of WHDRRP consultations with women leaderships from various provinces (CDMC, Local Level, Province Level, Women Activist, CSOs); Covid-19 and monsoon disaster response was also shared. The major good practices in inclusive DRM shared included proactive engagement of Deputy mayors conducting discourses with their women ward members to update and share the situation of quarantine centers including the need of the ward members to manage their responsibilities and the concept of disability-inclusive DRR and inclusive DRR governance as an important agenda of discussions from national to local level. Recommendations for inclusive disaster risk management was also shared in the presentation.
Ms. Shanta Laxmi Shrestha's commentator of this paper appreciated the effort to develop this paper and said that the paper is comprehensive, it includes the global to ground level initiation. If we talk about disaster risk governance or DRR&M, we need to have effective efficiency and equity for inclusive implementation. We have done a lot at the policy level, but we are not able to bring in practice. Constitution has ensured inclusiveness, it's' in right but due to patriarchal and feudal attitude, we are not able to liberate. The discrimination is not reduced, we need a change in people's mindset not only in the documents. We need to have responsiveness in strategy, structure, and system for DRR. Reducing the disaster risk of people is subject, there should be GESI responsive implementation. We need to consider and internalize the right and responsibility of Disaster affected people during disaster response. Furthermore, she added that it would be better to present the paper in an advocative way. On behalf of CSO, it's our work to raise the voice in an advocative way so that voice of the voiceless will be heard. We human being male and female are not the same. We are different but equal, sexual, and reproductive health is not taken care of in disaster response. We need to internalize it. First priority should be given to safety and security. Normally we need to build back better but now we need to focus on build back better fairer.
Dr. Suresh Tiwari, Public Health expert presented the status of COVID-19, major achievement, challenges, and future strategy of Nepal. His presentation also included the status of COVID-19 throughout the globe and the SAARC region. He also shared the policy documents relating to COVID-19. Some of the major achievements listed were the capacity of Nepal to test 25000 samples/day, dissemination of COVID-19 related information through various medium, provision of allowance, life insurance, and training to health workers involved in the treatment of COVID-19 patients, availability of plasma therapy, remdesivir, etc in Nepal. The major challenges shared included, implementation, and maintaining uniformity in the policy, plans adopted by different government agencies, effective contact tracing, and case investigation, controlling and reducing the cases of COVID-19 during festival season. The major future strategies included complete lockdown of the local level where more than one percent of the population is infected, effective monitoring for the easy access and availability of ICU and ventilator services, etc.
Dr. Guna Nidhi Tiwari, Commentator of this paper said that overall, the information is well covered, and if we see according to the public point of view, the status of COVID-19 cases in Nepal is comparatively low than the global cases. Risk should be categorically specified as high, medium, and low in the way forward. The lockdown approach should be hot spot targeted rather than in a blanket approach. A multi-stakeholder approach and engagement of community leaders are needed for COVID control.
Dr. Tara Nidhi Bhattarai, Member Steering Committee of NRA and Professor at Department of Geology, Tri-Chandra Campus presented the presentation entitled "Managing Landslides: Issues of Responsibility Distribution in Federal System of Government". His presentation included the Factors promoting landslides, Landslides: causes and consequences, Landslide management: whose responsibility and Way Forward. However, due to a technical problem, he couldn't share the presentation completely.
Dr. Bishal Nath Upreti, Chairperson of NCDM, commentator of this paper shared that we are very back in terms of preparedness, we have made progress in response and have lots of legal documents and there is a need to implement it in practice. We have spent about 30 years in paperwork, now we need to go into action. He also said that unified risk mapping, hazard mapping, and risk-sensitive land use planning is required. Thematic experts are required for DRR&M. He also highlighted that the local level should make their own plan and a coordinated and unified approach is required for DRR&M. In the end, he said that there is no clearly mandated institution to look at after landslides in Nepal.
Mr. Surya Bahadur Thapa Chairperson of DPNet-Nepal/Member Secretary of NPDRR and moderator of this program said that the presence of the Prime Minister, Home Minister, and dignitaries have energized us to work for effective DRR&M in Nepal. He thanked DCA, IFRC, Nepal Red Cross Society, Practical Action, and USAID-Tayar Nepal for their contribution in marking the IDDRR 2020 in a remarkable way.
Mr. Anil Pokhrel, Chief Executive of NDRRMA focused on moving ahead with joint efforts by forming different stakeholders group as provisioned by the NPDRR guideline. He also emphasized on disaster risk transfer mechanism. He concluded the remarks stating that the opinion and words of the Home Minister and Prime Minister will be taken as guidance focusing on collaborative effort for DRR&M in Nepal.