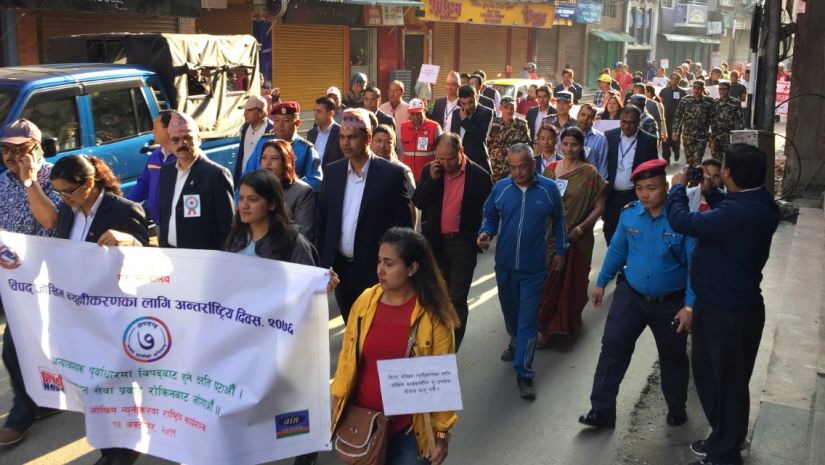 IDDRR Rally Note-2019
Background
With reference to the decision of International Day for Disaster Risk Reduction (IDDRR) technical committee to mark the IDDRR 2019 in a remarkable way, the Secretariat of National Platform for DRR (DPNet-Nepal) in coordination with Ministry of Home Affairs, AINTGDM jointly organized a rally. MoHA, AINTGDM members, Action Aid and Plan International supported the logistic part of the rally. The major objective of the rally was to initiate the week-long program for IDDRR 2019 along with the dissemination of DRR messages to the public. The rally was successfully organized on 13th October 2019. Though it was the last day of Dashain festival, a public holiday and the high-level visit of President of China to Nepal, there was wider participation of approximately 450 participants representing Government agency, Security agencies, DPNet-Nepal, Lalitpur Metropolitan City, AINTGDM, Private sectors, Academia, UN agencies and NGO's.
Major highlights of the IDDRR Rally 2019
The rally started at 7:15 AM was marched from Patan Durbar Square to Jawalakhel with the main slogan "reduce disaster damage to critical infrastructure and disruption of basic services" in the banner of Nepal government, National Platform for DRR and AINTGDM.

The placards and banner with the key message on DRR focusing on reducing disaster damage to critical infrastructure and disruption of basic services were displayed in the rally.

Mr. Surya Bahadur Thapa, Chairperson of DPNet-Nepal, shared that our initiatives in DRR&M are better than past and local levels are also focused on mainstreaming DRR. He also insisted that all stakeholders should have deep concern about DRR to mainstream it. Furthermore, he added that the rally is just an initiation but DRR programs will run throughout the year. He thanked all participants for their participation in the rally.

Ms. Indu Ghimire, Joint Secretary and chief of Disaster and Conflict Management division of MoHA, delivered her remarks thanking all participants of the rally. She stated that IDDRR is marked worldwide and Nepal will mark the day with a weeklong program about DRR. She also said that people may feel awkward about why we are talking about the disaster in this pleasant weather, but if there is heavy torrential rain the scenario might be different, so we should be better prepared for future possible disaster events. Furthermore, she added that our infrastructures are taking the lives of people, so we should be concerned about DRR while building infrastructures. She concluded her remarks stating that though we can't avoid disasters we should focus on minimizing risk and each and every individual should contribute for DRR to reduce the loss of life and property ultimately creating an environment to be safe from disaster.

Ms. Gita Satyal, Deputy Mayor of Lalitpur Metropolitan City, said that disasters are inevitable so methods to reduce the risk should be identified by ourselves. Our initiatives should not only be limited in the rally but also on sharing the message and sensitizing the community about DRR. She also said that Lalitpur Metropolitan city has initiated DRR and has been implementing building code since 2003, but just initiating doesn't bring success, the government and everybody should concerned about DRR and there also should be monitoring mechanism about the implementation of building code. In order to make the message of rally successful, our thinking must be reflected in our activities focused on reducing the risk of disasters.

Mr. Bhagirath Pandey, CDO of Lalitpur district, delivered his remarks and closed the program. He stated that as the slogan of this IDDRR, we should provide service without any disruption by reducing the disaster loss in infrastructures. He also added that our infrastructures should be disaster risk-informed and we should keep in mind to implement the lens of DRR in our development. He thanked everyone for their participation in the rally.