Discussion Program-"Maina Bulbul" Disaster Epic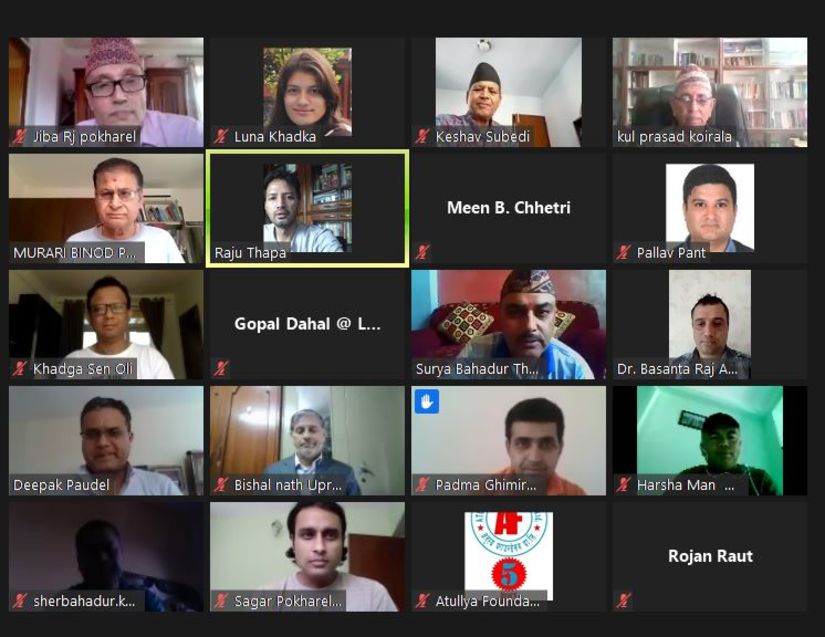 The presentation and discussion program on the Maina Bulbul disaster epic was coordinated by DPNet-Nepal and organized by NCDM on 18th October 2020. The program was chaired by Mr. Surya Bahadur Thapa, Chairperson of DPNet-Nepal. He shared a brief background of the program. Former Vice-Chancellor of NAST, Prof. Dr. Jiba Raj Pokharel, Former Vice-Chancellor of Sanskrit University, Prof. Dr. Kul Prasad Koirala, Professor Keshab Subedi, Former Chairperson of Engineering Literature Society, Mr. Mahesh Neupane were present as a guest. Whereas, Chairperson of NCDM, Prof. Dr. Bishal Nath Upreti, and Former Chairperson of DPNet-Nepal and NCDM, Dr. Min Bahadur Paudyal Chhetri were present as an organizer. Mr. Raju Thapa appreciated the multi-talent nature of Prof. Dr. Jiba Raj Pokharel and welcomed all participants. Altogether, 37 participants joined the virtual program.
Major Highlights
Prof. Dr. Jiba Raj Pokharel presented the gist of the Maina Bulbul Epic. The presentation by the author in Folk singing style "Jhyaure vaaka" supplemented with the strumming of guitar was really enthralling. The epic states the story of three generations how the servant/cattle grazing couple faced several disasters, and their son becomes DRR expert. He makes the villages disaster resilient one after another ultimately making the whole country disaster resilient. The epic can be summarized as below:
Maina and Bulbul happen to be servants in this epic. Bulbul loses his parents and his boss couple in the earthquake. Maina also loses her parents but her boss Kaji survives though he loses his wife in the earthquake. After a year of the earthquake grief, society returns to normalcy. Grown-up daughters and then boys get married. Later on, senior citizens who lost their spouses also get married. Kaji does not want to go for second marriage but after seeing his contemporaries getting married one after another, he also develops interest. But he does not find unmarried females as all of them had been engaged and decides to marry Maina. Maina elopes with Bulbul and comes down to Terai. They get a job of crushing stones to prepare aggregates. They make money enough to buy a plot of land in the midland and paddy plantation field in the lowland. They construct a house and a subsidiary shed. They have a son and a daughter. They get the elder daughter married. They had a happy life.
But their days of misfortune begin when their shed gets caught by fire. One of their buffaloes is also consumed by fire. As if this was not enough, ill Bulbul is swept by a landslide when Maina goes to lowland for paddy plantation. Maina faces earthquake, fire, and landslide one after another.
Later, Maina knows that disasters were occurring since time immemorial listening to the song of a local singer who had lost his wife in the disaster. She also knows that disasters can be faced successfully through adequate preparation made beforehand. She sends her son for study who becomes a disaster expert. He renders his settlement disaster-resistant but the neighboring settlement remains unaddressed because the settlement chief does not believe in it. He thinks that disasters are acts of God. As a result, there was no damage in Ram's settlement while the chief's settlement is badly damaged with the Chief himself injured. Ram becomes glad but it happens to be short-lived as his mother dies in the chief's settlement as she had gone to visit her friend. Ram feels like committing suicide but people encourage him to make all the settlements of the country disaster-resistant so that it will be a true present and condolence to his mother. He embarks on this national campaign and Ram finally renders the whole country disaster resilient. He installs the image of his mother in the center of the village turned disaster resilient. Later Ram ascends to heaven upon the call of his mother as he had finished his mission.
Mr. Keshab Subedi, a retired Professor of Nepali Literature of Tribhuvan University said that the epic written in folk style is the first of its kind in Nepal. He further added that the epic also illustrates the expertise and experience about geography, society, and disaster (also the writer seems inspired by these things). It also states what should we do to overcome the pain of Nepali society from such a disaster pain. The adversity and pain of Nepalese people from Mechi to Mahakali and different aspects of disaster is described through the poem and literature in this epic. The extra ordinary capacity and expertise of the author on disaster as well as literature about DRRM are portrayed in this epic. He also shared the challenges about urbanization and disaster and extended best wishes to the author for the epic and future writings.
Prof. Dr. Kul Prasad Koirala related the epic with the disaster Madan faced in "Muna Madan" epic, He shared his experience of meeting with the author. He shared that democratic literature will not last till eternity. He also said that the author has written the epic in folk style and appreciated the effort in writing the Architectural epic using classical meters and also a Corona semi-epic both in a day each. This is a new event in Nepal. He further added that the message of disasters are human induced and not a Godly act is shared through this epic and also covers the wider aspect of disasters. The writer brings the past experience and future together in the epic. Only limited people are informed about such epic, decision-makers are not informed, so they need to be informed about such literature. The key message of the epic is, if there is a will, anything can happen, one single person can make a change and build a disaster-resilient place. If 50 people are ready the whole country will be developed as a disaster-resilient nation.
Mr. Mahesh Neupane said that the author as an architect contributed to establishing an engineering literature society. We felt like, if we would become like the character of Ram, we would have done better. There are lots of books in Disaster, but the way I remember the Maina Bulbul, I can't remember other books. We even feel like it would be better if we could write the literature like the author to deliver the key message of awareness rather than writing the literature related to love.
Participants Comments
The epic is fit for all audiences and the character is amazing. I didn't imagine of such a good work from Prof. Dr. Jiba Raj Pokharel. The presentation is wonderful, he has linked the in-depth message. Being an expert is one part and the ability to disseminate the message through literature is another part. The author has a very good capacity in this regard.

The issue raised by "Maina Bulbul" is very relevant in disaster literature. Probably it's only one epic dedicated to DRRM.

The author is multi-talented, I always used to think, how can we link DRR&M through folk literature and the author has done the job wonderfully well.

The way the author express is very good. This epic will be helpful to sensitize about the disaster.

The mental effect due to disaster is high, we need to be prepared for the disasters mentally to be prepared for the prevention of disaster physically.
Remarks
Dr. Min Bahadur Paudyal Chhetri said that the author is a multi-talented, literature, Professor with lots of direct and indirect contributions to DRRM through research, as well. It's a new approach in DRRM. Thanks to the DPNet team for coordinating to organize this program. It will be a multiplier effect and requested DPNet and other organizations to provide space for such a program.
Prof. Dr. Bishal Nath Upreti shared that he knows the author since the last fifty years. He said that it's a wonderful approach to sensitize people through art and literature. We need to develop Maina Bulbul as a drama, like a movie. How can DPNet and other organizations help to develop this epic as a drama and movie or song by Gandharba. We need to take the Maina Bulbull out of the podium. DPNet, NDRRMA, and other organizations can help to do this. He further added that whatever we do, the legacy is our writing, so he requested and encouraged writing and reflection through literature.
Mr. Surya Bahadur Thapa said that earthquake occurs in the developed country also but due to poor infrastructure, the damage is high in poor countries. There is a need to respond and work on time instead of crying. We need to have an innovative and entertainment program for delivering the message. We need to push the government for the implementation of legal documents, it's the responsibility of CSOs as well. He thanked Prof. Dr. Jiba Raj Pokharel for bringing the important aspect of DRR&M through literature. He also thanked commentators and participants for joining the program and sharing the comments as well.