Country consultation program on Koshi Disaster Risk Reduction Knowledge Hub (KDKH) held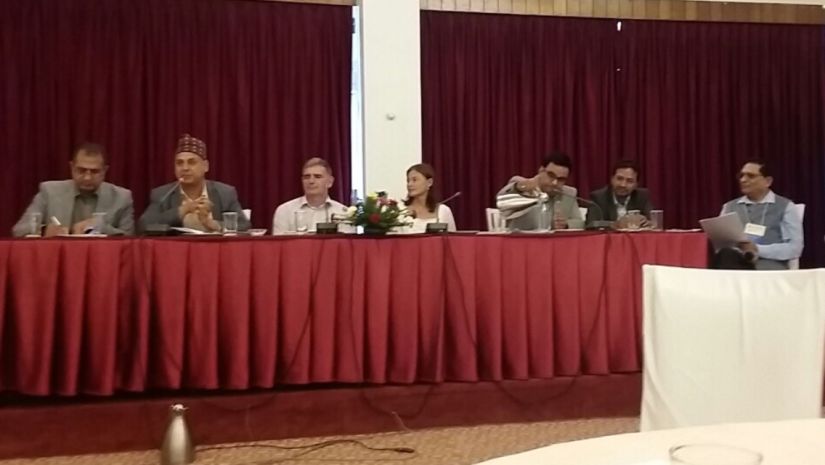 Country consultation program on Koshi Disaster Risk Reduction Knowledge Hub (KDKH) held
24th September- With its aim to strengthen the Koshi Disaster Risk Reduction Knowledge Hub (a transboundary collaborative initiative which fosters cooperation among the basin member countries – China, Nepal, and India – to address disasters and their management collectively), ICIMOD in collaboration with National Planning Commission and partnership with DPNet-Nepal, Tribhuvan University, International Water Management Institute, Lutheran World Relief, UNDP and UNICEF, conducted two days country consultation program entitled "Koshi Disaster Risk Reduction Knowledge Hub (KDKH) Nepal Country Consultation: Building a resilient Koshi basin" on 23rd and 24th September 2019. The program was supported by Australian Aid and Swish Agency for Development and Cooperation (SDC).
Mr. Shambu Prasad Regmi, Under Secretary and Chief of National Operation Emergency Center, Ministry of Home Affairs shared that the Disaster Risk Reduction National Strategic Plan of Action (2018-2030) has clearly defined the river-related disaster and plan to mitigate its effect.
Mr. Ram G. Kharbuja, Joint Secretary Ministry of Energy, Water Resources and Irrigation stated that KDKH hub can have an important role to contribute to trust-building among the Koshi River Basin countries.
Mr. Krishna Hari Pushkar, Secretary, Ministry of Internal Affairs and Law of Province 2 stated that they have the access to technical publications and knowledge hub could work with the Province 2 to make the information more useable.
Dr. Dil Bahadur Gurung, Member, National Planning Commission delivered his remarks stating that the National Planning Commission supports the formation of the country chapter for the Koshi DRR Knowledge Hub.
Similarly, Mr. Badri Dhungana, Joint Secretary, Ministry of Forests and Environment said that development plan and DRR must be integrated and the hub can function as a think tank that can support the development in the Koshi Basin in partnership with stakeholders in Nepal and its neighbors.
Dr. David Molden, Director General, ICIMOD delivered his remarks stating that disasters have no any administrative boundaries and to reduce risks collaboration across sectors and boundaries is needed and the Koshi DRR Knowledge Hub can play a role in reaching across the boundaries.
Mr. Raju Thapa, General Secretary of DPNet Nepal has briefed about the 'Online Resource Center' of DPNet and expressed the commitment to share the knowledge, experience and expertise gain from this center to Koshi DRR Knowledge Hub. He also briefed about the initiation and activities of "online Indo-Nepal Water Dialogue Group', which was created to share the information and build the trust among civil society organizations working in the field of Koshi river basin in both countries. Similarly, he also shared that DPNet will try to share the message and importance of KDKH among its member organization to motivate them about their contribution to the hub.
At the end, the workshop concluded with the expectation that each country chapter will share its progress and discuss challenges during the Annual KDKH Dialogue, scheduled on December 2019 in Kathmandu.