Workshop on Dissemination of LGBTIQ Issues in Disaster Setting to DPNet Members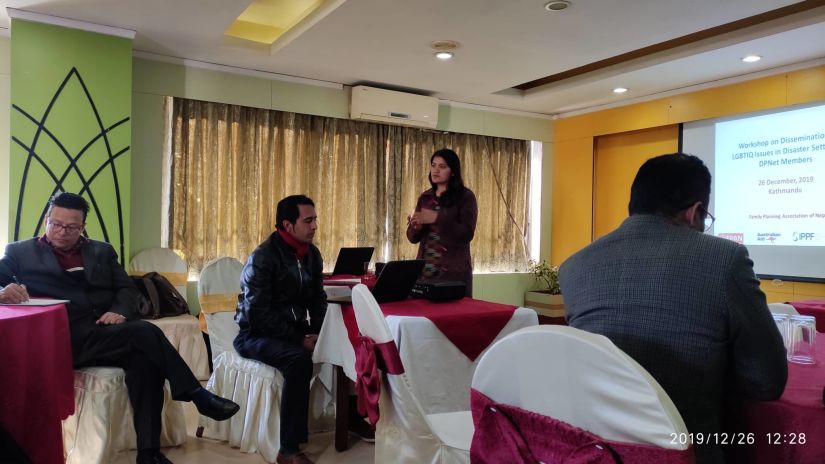 26th December 2019 Kathmandu, Workshop on Dissemination of LGBTIQ Issues in Disaster Setting to DPNet Members was organized by DPNet-Nepal jointly with the Family Planning Association of Nepal.
The program was initiated with the welcome and objectives sharing by Mr. Subash Shrestha, the program director of FPAN Nepal, followed by remarks of Chairperson of DPNet-Nepal, Mr. Surya Bahadur Thapa. Mr. Thapa said that the issues of LGBTIQ are not prioritized in the national and development sector, now we should not leave this issue and take as a part of our advocacy issues. He also said that the issues of LGBTIQ should be included in the National strategic action plan and also take the issues in National, Province and Local levels.
Dr. Om Maharjan and Mr. Subash Shrestha from FPAN delivered the presentation entitled "Importance of Sexual and Reproductive Health in Emergencies". In his presentation, he covered the introduction and necessity of SRH during an emergency, minimum standard in health action, interagency working group in reproductive health in a humanitarian setting, importance of maternal and newborn health in crisis. The Minimum Initial Service Package video was also shared in the program.
Mr. Sanjay Sharma from Blue Diamond Society presented the presentation entitled "Mainstreaming LGBTI Rights perspectives into Disaster Risk Reduction and Management (DRRM) and Mainstreaming DRRM into our work". In his presentation, he covered the impact of earthquake 2015 among LGBTIQ, initiatives of Blue Diamond Society after the earthquake, support for disaster relief, issues of LGBTIQ in Nepal, learnings from past experiences.
Ms. Manisha Dhakal from Blue diamond Society shared her experiences, focusing on the Humanitarian/Crisis situation in Nepal in the context of LGBTIQ. She shared her experiences relating to the epic "Ramayana", how the transgender people were left when Lord Rama asked every male and female not to follow him when he was exiled to the forest for 14 years. She also shared that Nepal is a third country to speak about LGBTIQ issues, but still, the law doesn't speak about the right about LGBTIQ to marry and the problem they are facing in having transgender citizenship. She also expressed that coordination and collaboration with the network will help them to raise their issues in a more concrete way.
After the presentation, the floor was open for discussion, where the various concerns were raised by the participants. The program was closed with the remarks of Mr. Subash Shrestha, stating that the support of every stakeholder is required to integrate LGBTIQ issues in the government programs.